India Seeks to Ease Biggest Hurdle for Factories With New Policy
This article by Archana Chaudhary for Bloomberg may be of interest to subscribers. Here is a section:
Under the new plan, a company need not purchase land or equipment but could lease them on long-contract basis helping lower costs and cut down time on setting up operations, secretary to the Department of Industrial Policy and Promotion Ramesh Abhishek said in an interview. Units located in
industrial clusters may be able to share infrastructure.

"We have to be competitive," said Abhishek, who's ministry has been working on the plan for over a year. "For this we need to upgrade our technology, lower costs, improve logistics, skill our labor. The industrial policy will bring all things together and will come out with recommendations on what needs to be done."

Prime Minister Modi's administration has been struggling to fulfill one of his key campaign pledge -- creating 10 million jobs a year-- that propelled him to power in 2014 elections. As the country heads to poll due early 2019, the main opposition Congress party is moving to cash in on the disenchantment over unemployment and rising social tensions.

The reform measure, likely to be one of the last few before the Modi seeks re-election, attempts to attract over $100 billion in investments into the country and kick start the economy. Quarterly growth is expected to have slowed in the three months ended September even as a liquidity crunch at its banks hurts business sentiment before state elections.
I've often made the point that China has what India needs and vice versa. At a time when the rest of the world is facing demographic decline India stands out as the one remaining mega-population centre that has yet to industrialise. India has long had a vibrant domestic economy and its companies are already competing effectively internationally. It also has a solid-knowledge based economy focusing on the healthcare and outsourcing sectors.
Modi's administration has been focusing on sanitation and basic services but with more than half of the 1.3 population under 25 what India needs is jobs. Lots and lots of jobs. There is no other way to achieve that goal without boosting trade and manufacturing. The multiplier effect of more manufacturing jobs, on the efficiency and mechanization of the agricultural sector cannot be overestimated making this an even more urgent ambition.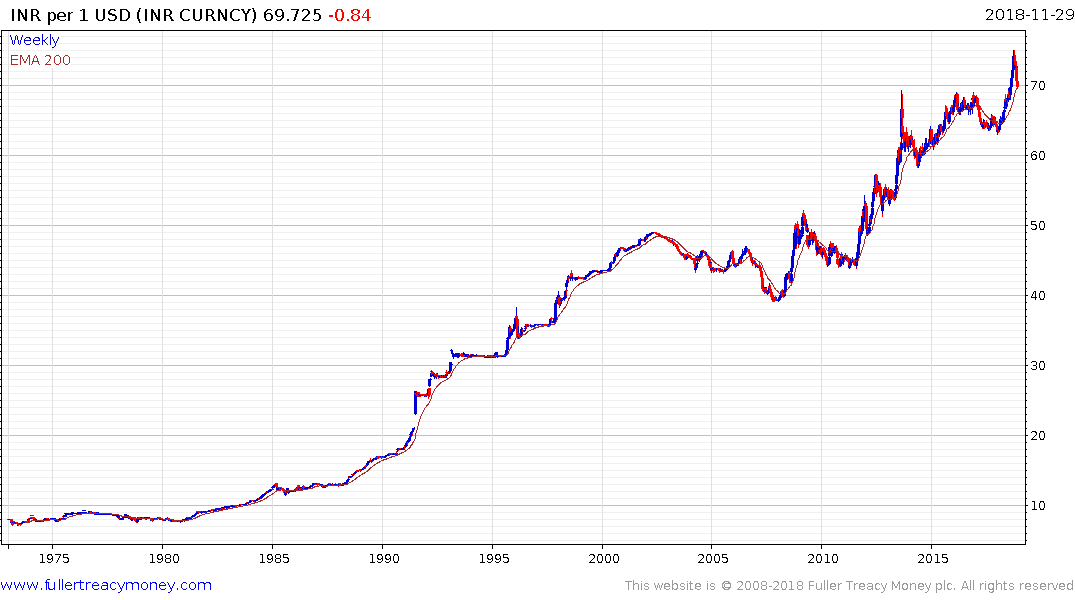 The evolution of a manufacturing sector is a development which could be instrumental in solving India's persistent current account deficits, which have plagued government finances for decades. While a medium-term goal any positive development in this area is likely to be positively received by investors.
Back to top