India and Pakistan Have Lost Control of the Story
This article by Mihir Sharma for Bloomberg may be of interest to subscribers. Here is a section:


There was a brief moment after the Indian Air Force's strike in Pakistani territory in the early hours of Tuesday when it appeared that a way to thread that needle had been discovered. Rather than restricting itself to attacking terrorist training camps just across the Line of Control that divides Kashmir, India for the first time in decades struck areas that were undisputedly part of Pakistan itself. Strategists in New Delhi seemed confident that they'd fundamentally shifted the red lines in Kashmir and expanded India's arsenal of possible retaliatory measures against Pakistan-backed militant attacks.

For that to be true, however, both Indian and Pakistani politicians would need to retain control of their (mutually incompatible) domestic narratives. The Indian government -- facing a tough re-election campaign in just a few weeks – had to be able to tell its electorate that it had made Pakistan pay, claiming unofficially to have killed as many as 300 terrorist recruits. Pakistan had to be able to assert the opposite – that the Indians had hit nothing but a forested hilltop before being chased off by Pakistani fighter jets.

That's why the Indian government was initially very careful to have its chief diplomat brief the press, rather than anyone connected with the military. India's foreign secretary also stressed that this was a "non-military" action, meaning that it wasn't directed at the Pakistani military, and that a central aim of the planning was to ensure there were no civilian casualties. Meanwhile, Pakistan's ruling party was busy mocking the Indian media's claims on Twitter, accusing journalists of watching too many Bollywood movies.

In general, as long as both sides focus on reassuring their domestic constituencies rather than contradicting each other's version of events, the chances of conflict are paradoxically lower. The problem is that in this crisis like any other, facts inevitably intrude.
The escalation in tit for tat attacks is not great for sentiment but both Pakistan and India have been very clear not to call these examples of aggression acts of war. That suggests there is a clear aim to contain the situation and they despite the requirement to placate domestic firebrands, the respective administrations are interested in de-escalating the situation.
So far, the markets have taken these individual examples of aggression in a relatively sanguine manner. That would change if rhetoric escalates. The clear risk that the effort to stoke nationalist fervour ahead of the Indian election will get out of control, particularly if violence against India's domestic Muslim population escalates.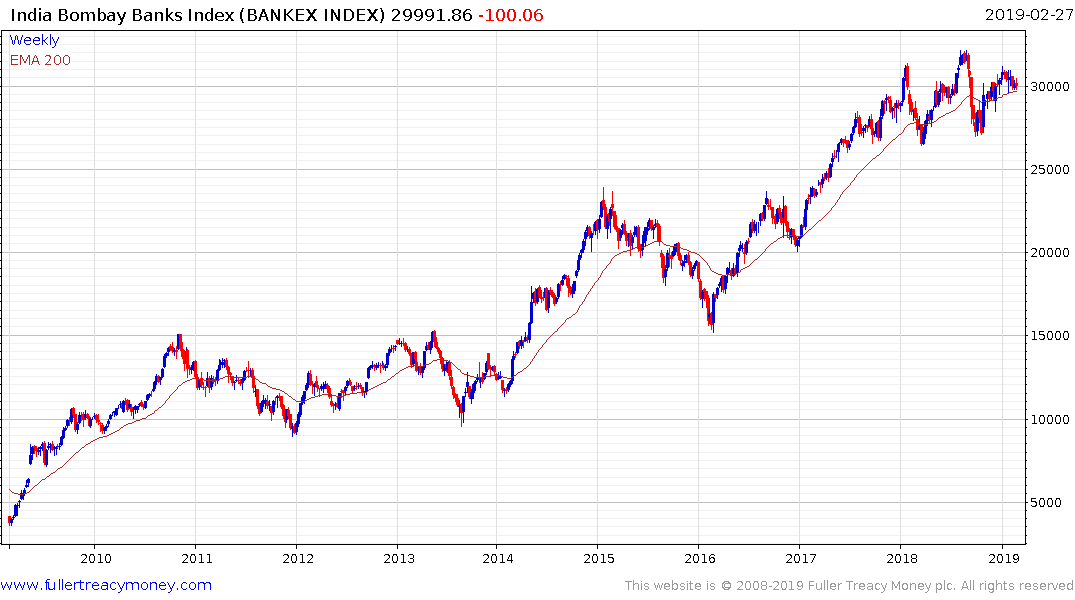 The Bombay Banks Index pulled back to test the most recent low and will need to continue to hold the 29,500 level if it is hold the consolidation which has been forming above the trend mean.
Back to top