In JPMorgan Fintech Bunker, Coders Are Too Focused for Foosball
This article by Hugh Son for Bloomberg may be of interest to subscribers. Here is a section:
The bank has overhauled its website -- an unveiling is planned for Wednesday -- to make it easier and more intuitive to use. It consolidates about 300 pages from the old site so a visitor doesn't have to hunt around to get things done. It also features a newsfeed with articles about personal finance. JPMorgan is slowly adding users to the new platform to gauge their reactions. It expects to add the rest starting this month and later release a new small-business banking website.

Tech competitors such as LendingClub Corp., On Deck Capital Inc. and Wealthfront Inc. threaten to disrupt banks' relationships with clients by making transactions easier or cheaper. Traditional financial firms are responding by building their own technology in-house, including robo-advisers that give automated investment advice, partnering with the financial technology companies or purchasing them outright. New York-based JPMorgan will spend $3 billion on technology investments this year.

"All the startups, all the fintech guys are pushing very hard because they see opportunity," said Parsey. "We have to take the banking world up to the same level as the rest of the digital industry. Beyond that, there are exciting ways to innovate how people feel about their finances."
Consumers are no longer willing to take their lunch break or precious after work time to go to the bank, or other such mundane chores that could so easily be accomplished online. That represents a major challenge for companies reliant on bricks and mortar locations to conduct their business. The Millennial generation overtook Baby Boomers as the largest US demographic last year. It will be an increasing priority for companies to aim products directly at this group not least as they enter their prime earning years.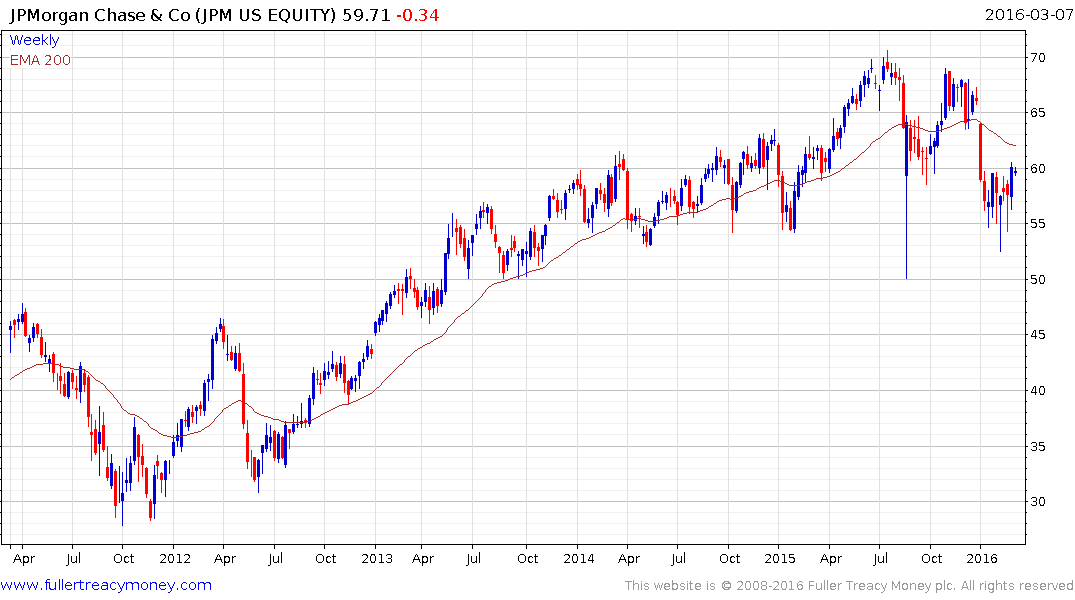 JPMorgan has long demonstrated its ability to evolve with the times and its significant investments in financial technology is a testament to that. That ensures it will be among those that prosper in the developing financial ecosystem. Those that come late to the sector will either have to pay a premium to acquire the technology or will be faced with the prospect of being left behind.

While the investment in fintech is likely to be a medium to long-term benefit, for the moment it represents an additional cost that comes on top of the increased regulatory burden the entire banking sector is facing. The share continues to unwind an oversold condition relative to the trend mean but will need to find support above the $55 area if support building is to continue to be given the benefit of the doubt.
Back to top