How Far Can the Catalan Rebellion Go?
This article from Bloomberg Businessweek may be of interest to subscribers. Here is a section:
Rajoy would need someone reliable to enforce the ruling. With the loyalty of the Catalan police force in doubt, that probably means the estimated 10,000 national police and Civil Guard officers who've been sent to Catalonia as reinforcements.

They have the numbers to remove Puigdemont, but it would trigger a rejection in the streets. More than 800 people were injured when those officers tried to shut down Sunday's vote, so there's a clear risk that the situation could spin out of control.

The Catalan police force adds another element of uncertainty. Sunday also saw a minor scuffle between Spanish and Catalan police, one Catalan officer was arrested for attacking a national police vehicle and tensions between the different forces are running high. If Spain took control of Catalonia, Rajoy would probably need support from the Catalan police to impose and maintain order.
The Catalan independence vote can be seen in the wider context of a condemnation of the severe fiscal austerity handed down by the European Commission and ECB, to countries on the Eurozone's periphery, in response to the credit crisis. Forcing governments to absorb the bad debts of private institutions, without recourse to a sharply devalued currency, has put great pressure on the populations of the respective countries and Spain's current political impasse is a real-time example of what that can lead to.

From a broader perspective, the ECB's quantitative easing program has boosted growth while its quantitative tightening between 2012 and 2014 contributed to deflation. Assuming they have learned their lesson, these events suggest the date for when the ECB will begin tapering has been pushed further back.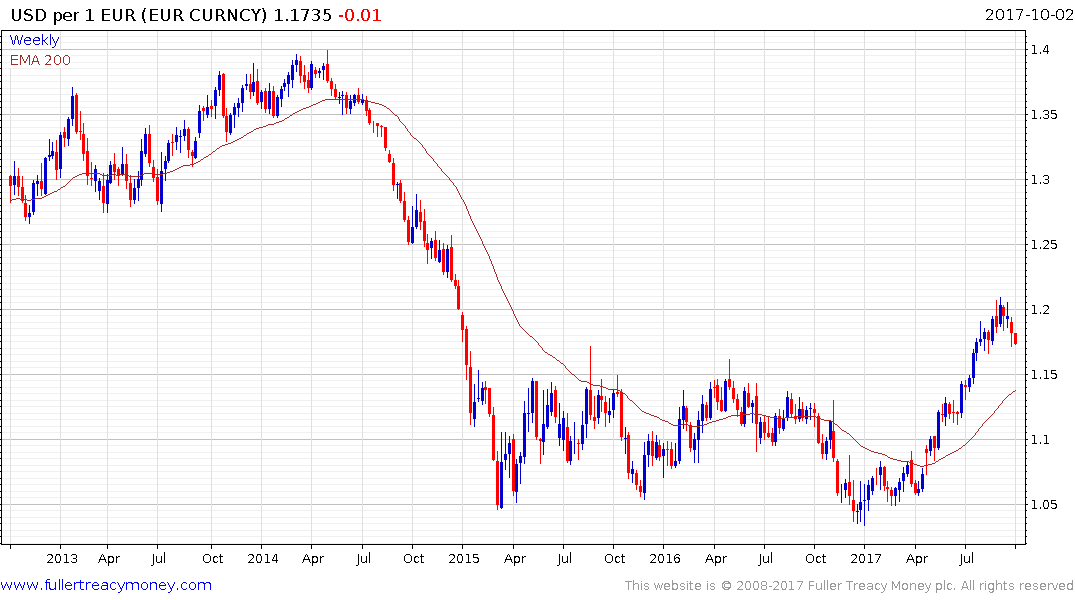 The Euro is currently unwinding its short-term overbought condition and will need to demonstrate support in the region of the trend mean to confirm a return to medium-term demand dominance.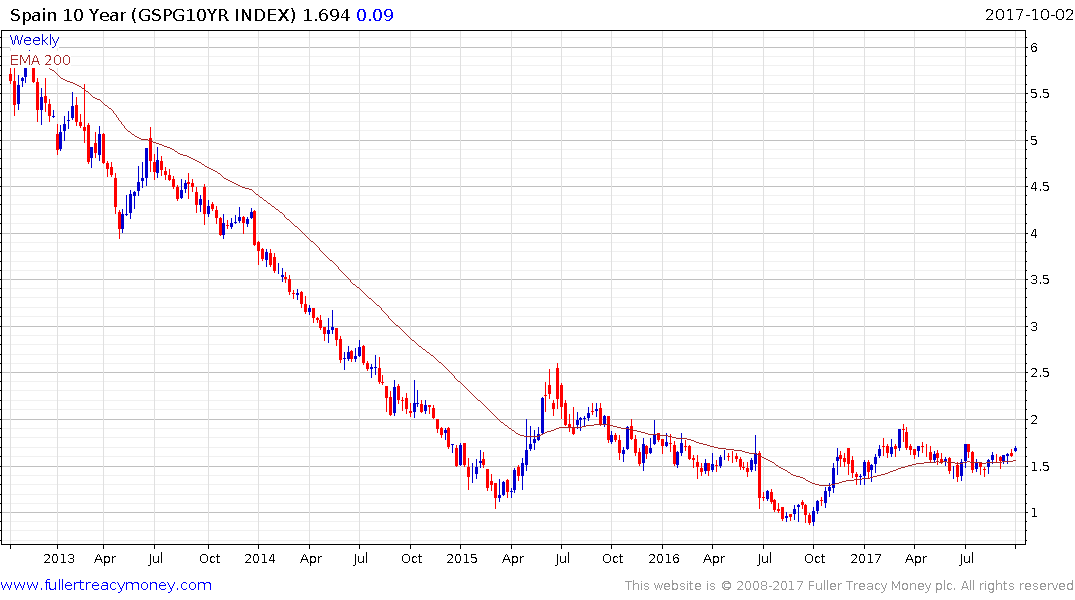 Spanish 10-year government bond yields are still trading richer than US Treasuries but the yield advanced today. The ECB's buying is the only thing keeping yields from rising in a more aggressive manner.
Back to top