Here's what we learned from ordering 213 curries at Wetherspoons
This article by Bryce Elder for the Financial Times may be of interest to subscribers. Here is a section:
The UK on-trade looks not dissimilar to the UK grocery sector, which too has a few dominant operators that take share from a weak underbelly of independents and supplier-tied franchises. The big grocers resemble the big pub chains inasmuch as they are all about buying power, efficient logistics, wage capping, centralised cost savings and economies of scale. It might also be noted that Wetherspoon's 4m square feet of productive floor space is about equal to the whole Tesco Express estate. And while Wetherspoon's revenue of £450 per square foot or thereabouts is half the level expected from a big-four grocer, its 7.7 per cent operating margin compares pretty well to Tesco's 1.8 per cent at group level last year.

It's a comparison endorsed by Tim Martin, Wetherspoon's founder and chairman, who is often found astride his hobby horse that supermarkets and pubs should be taxed equally. Mr Martin has been less vocal on whether pubs and supermarkets should be regulated equally.

Because here's the thing with supermarkets: they can't engage in local price wars. Every single UK branch of Tesco Express has to charge the same. That's because since 2002, the supermarkets have been bound by a code of practice drawn up in response to a Competition Commission review a couple of years before.
If the performance of Wetherspoons compared to Tesco is any guide the difference in competitive pricing laws has a considerable effect on performance. Meanwhile there is also a clear difference between what are the higher overall margins on discretionary spending and staple spending at supermarkets where competition is increasingly aggressive.


Wetherspoons surged higher in September and has paused over the last six weeks as that gain is consolidated. A sustained move below 1100p would be required to question medium-term scope for additional upside.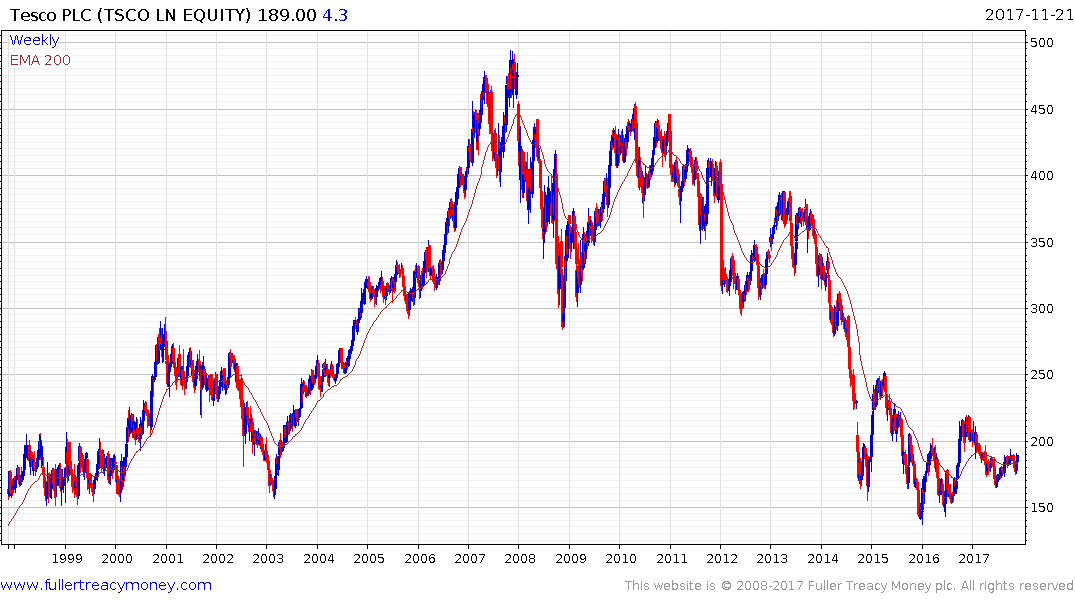 Tesco has developing base formation characteristics but a sustained move above 225p would be required to signal a return to medium-term demand dominance.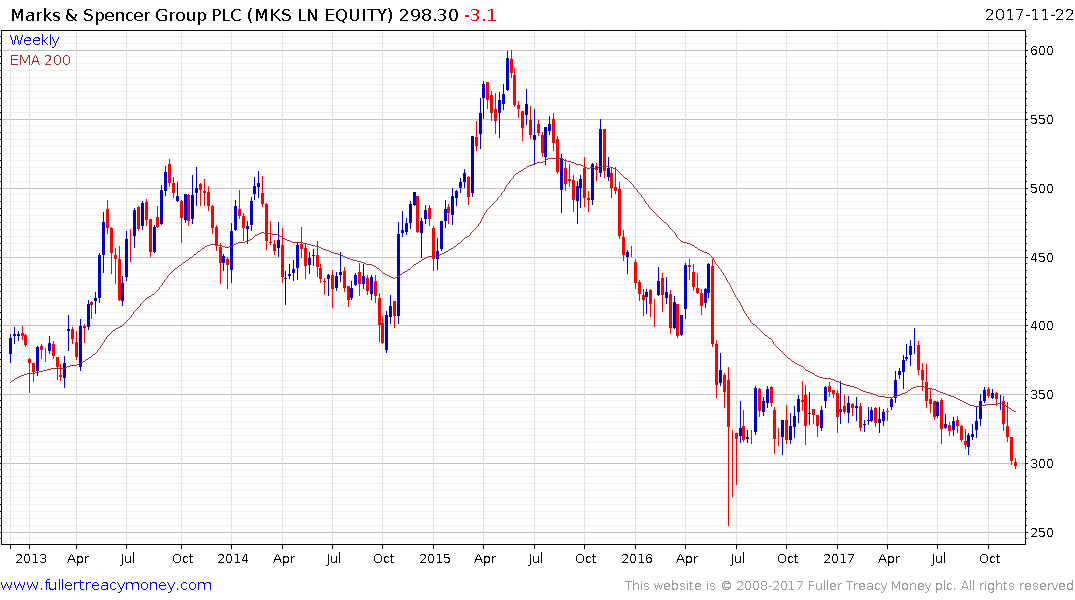 Marks & Spencer has fallen sharply over the last month and is now testing its lows near 300p. A clear upward dynamic will be required check selling pressure and to confirm support in the region of the 2016 lows.
Back to top