Medicare for All, Managed Care, and the Path Forward
THanks to a subscriber for this report from Raymond James. Here is a section:
Here is a link to the full report and here is a section from it:
To paraphrase Mark Twain, the reports of the death of managed care are greatly exaggerated. Policy announcements from DC are driving movement in the managed care space (see the chart below). Headlines related to Medicare for All are likely to continue for the foreseeable future, but it is still not going to become a reality in the next five years. Senator Sanders is viewed as a front-runner for the Democratic nomination and multiple Democratic candidates (Senators Booker, Gillibrand, Harris, and Warren) have cosponsored the bill. As campaign rallies are held, the topic is likely to continue to be raised. What the market has shown us this week is that the negative sentiment is not going to change as companies beat and increase earnings because the sentiment is impacted by Washington alone. Below, we highlight some potential catalysts to sentiment, discuss at a high level the probabilities associated with Medicare for All (MFA), and describe why bypassing the filibuster does not substantially impact the likelihood of MFA passing.

The temptation is to look at the business model which has prevailed in the healthcare sector for the last number of decades and to project demand forward in a liner fashion. After all, populations are aging, the majority of healthcare expense occurs in the last year of life and therefore there is the basis for a secular bull market. The problem with projecting trillion dollar revenue streams is someone sooner or later objects to the bill or competition leads to much compressed margins.
Today, we are seeing genetics companies providing solutions for rare diseases. The reason for this is not because they are the only use cases for the technology but because it is easier to get approval for previously unmet need. That is going to change as the market evolves. The big money in pharmaceuticals is in chronic conditions because they represents long streams of cashflows. Genetics can cure chronic diseases. It is only a matter of time before these kinds of products reach market. At that points beautifully modellable income streams will evaporate. That is one of the primary reasons for the large companies are buying startups and developing psychiatric treatments. The latter are less susceptible to competition.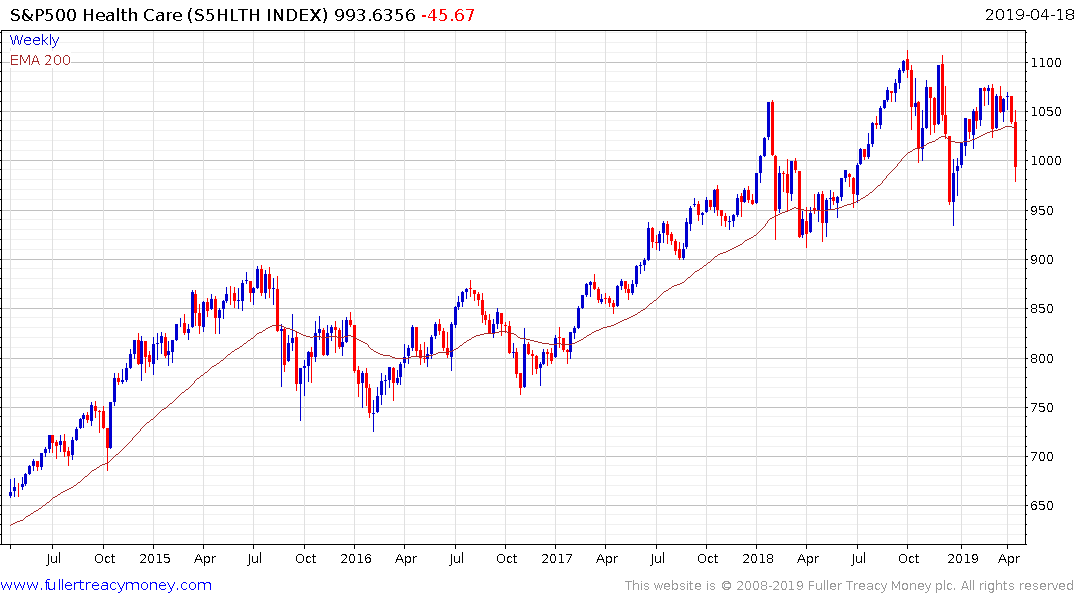 The current fuss over payments and Medicare-for-all is a sideshow compared to the long-term threat from competition. Nevertheless, the short-term issue with cross party support for at least some measure to contain drug prices is one of the primary reasons the S&P500 Healthcare Index is the only sector to be in negative territory this year. Moreover the trend is looking much less consistent than the wider market.
Back to top