Greek Bonds Extend Selloff, Pushing Yield Up Most in Two Years
This article by Lukanyo Mnyanda for Bloomberg may be of interest to subscribers. Here is a section:
The selloff spread today to other higher-yielding markets with Italian rates climbing the most since June. The yield on Greek 10-year securities reached a seven-month high after Alternate Finance Minister Christos Staikouras yesterday reiterated the country's intention to raise cash by selling seven-year notes. German 10-year yields slipped to a record amid concern the global economy is slowing.

"The main factor that is pushing Greek yields higher is the uncertainty, or their plan to exit the bailout early, and the market clearly isn't cheering for that," said Jan von Gerich, a fixed-income analyst at Nordea Bank AB in Helsinki.

"It's clear that they are not ready to make it on their own yet. If they need to finance themselves from markets in large volumes that is not going to work with current yields."
Last week, the 2-year bonds of Germany, Switzerland, Denmark, Finland, Netherlands, Belgium and Ireland were trading at negative yields. That kind of compression in risk premia might be explained as momentum driven but one really has to question a situation where you are paying a government to take your money rather than the other way around. Since then Irish 2-year yields are back in positive territory. However considering that this list represents some of the more secure sovereigns in the Eurozone, it is worth considering the outlook for some of the weaker countries most reliant on access to cheap capital.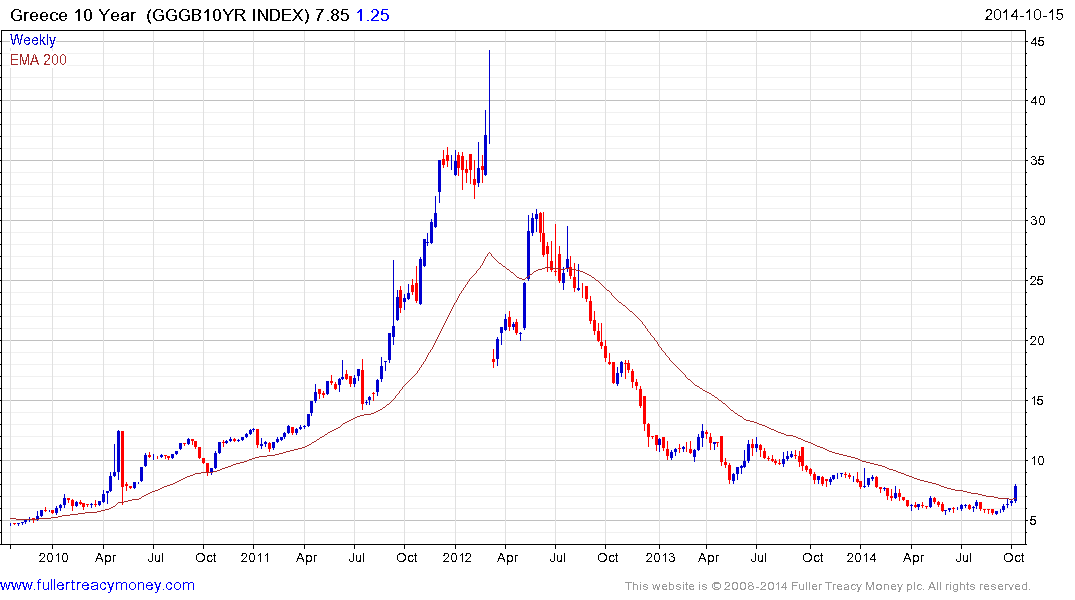 Greek 10-year yields pushed above the 200-day MA for the first time in more than two years this week suggesting investors have concluded discretion is the better part of valour when it comes to Greece's prospects of returning unaided to the bond markets. 10-years yields for Portugal, Spain and Italy also rallied today but not nearly to the same extent and progressions of lower rally highs are still evident.

As economic conditions in the Eurozone deteriorate and with some of the weaker sovereigns exhibiting stress, the ECB will come under increasing pressure to make capital available.
In the meantime the DAX Index extended the breakdown from its Type-3 top and indices that have not rallied as powerfully such as Italy are experiencing an even more rapid deterioration. Short-term oversold conditions have developed so there is scope for some steadying but the recent lows would have to hold on the next pullback in order to conclude more than a short-term low has been found.
Back to top