Gold Extends Gain as Inflation Risks and Virus Concerns Persist
This article from Bloomberg may be of interest to subscribers. Here is a section:
"Gold and silver's recent strong run of gains received a temporary setback on Friday in response to a sudden bout of taper tantrum following comments by Fed Chair Powell," Ole Hansen, head of commodity strategy at Saxo Bank A/S, said in a note. "At the same time, however, he talked down the risk of raising interest rates while also expressing concern over persistently elevated inflation."
Around the world, central banks are raising interest rates in response to inflationary pressures that are both more persistent and intense than many anticipated. Some countries will benefit from this turn of events. They have positive balance of payments, booming exports and their currencies are appreciating. That group is concentrated among the commodity exporters.
There are others which have negative balance of payments, where imports are surging and debt that is both large and with a short duration. The USA is chief among these countries. The Fed appears likely to taper the number of bonds it is purchasing before long, but raising rates is fraught with potential discomfort.
The cost of servicing the debt is a nonissue as long as yields are low but if the uptrend trend on yields persists that will become a pressing issue. It's a major obstacle to the Fed raising rates before the economy settles down.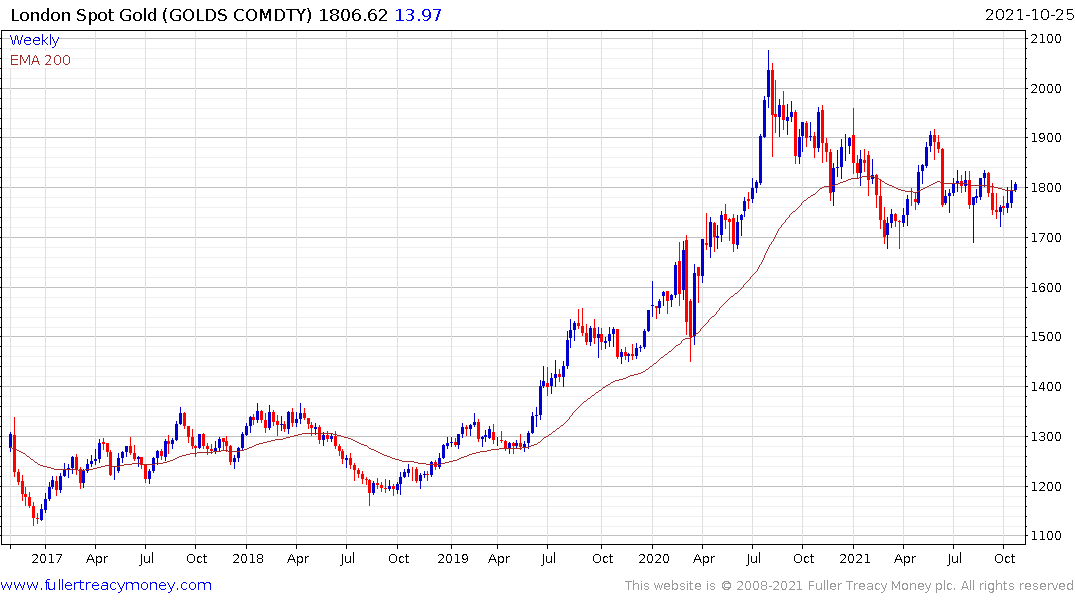 Gold is currently being viewed as a hedge against the very real possibility the Fed is in a debt trap. The price rebounded today following Friday's weakness to signal renewed enthusiasm as the medium-term sequence of lower rally highs is tested.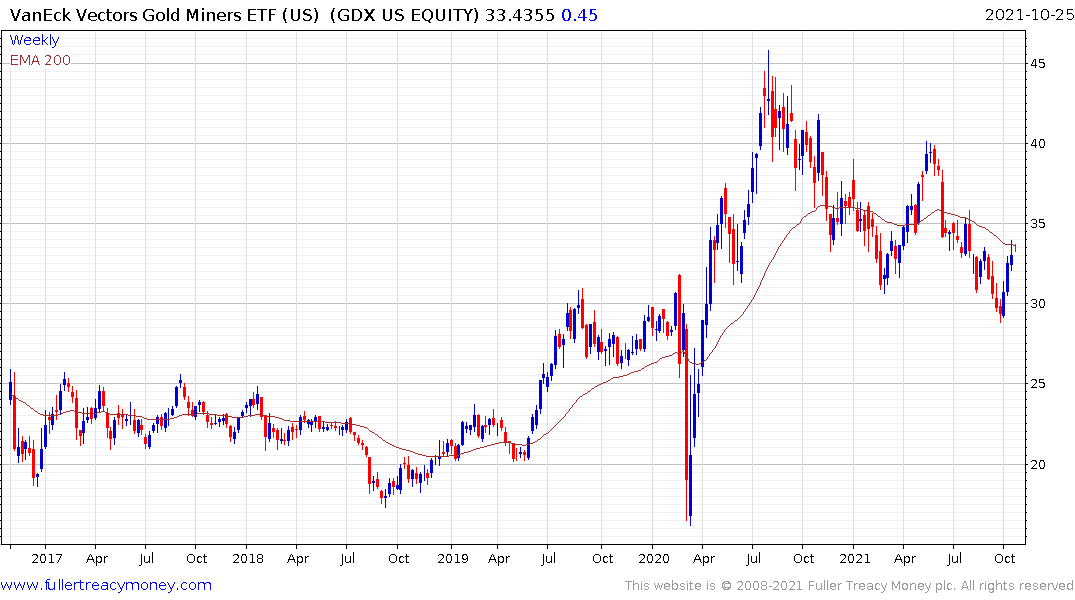 The VanEck Gold Miners ETF has broken as six-month downtrend and is now testing the region of the trend mean. The hallmark of the big gold bull trend between 2002 and 2011 was the 18-month consolidations followed by explosive breakouts. This pause has lasted almost 15 months and continues to look like a first step above the base.
It seems reasonable to assume that when gold next pops on the upside the junior gold miners ETF will complete its base formation.

The ProShares Inflation Expectations ETF (RINF) is also completing a base formation.
Back to top