Gold Dips After Traders Weigh Hiring Resilience, Factories Flub
This article by Justina Vasquez for Bloomberg may be of interest to subscribers. Here is a section:
"The jobs data was not really inflationary but very good for the stock market," George Gero, a managing director at RBC Wealth Management, said by phone Friday. "On the other hand, you don't see any kind of a sell-off because of all the global worries. So now it's a waiting game to see what will happen with interest rates and the stock market and all the worries."
I like that expression "all the worries". It implies the only reason gold can rally is because of worry about something else. There is some accuracy to that statement but the bigger point is a hedge is a risk mitigation strategy. If you are not worried about something as an investor, it is really time to take a close look at one's portfolio. The best definition of bravery I have heard is "feel the fear and do it anyway". That's about as close to the best maxim for investing I have ever seen. When we worry about nothing, and are supremely confident in our convictions, it is usually when we are at most risk.
Today, the slowdown in the global economy and tense relationship between the USA and China are what people are worried about. However, that is a sideshow compared to the unpredictable consequence of negative rates and yields, trillion-dollar deficits, liquidity issues in the repo market and the willingness of governments to experiment with virtual currencies to cover the massive debts they have accrued. Against that background, the rationale for a hedge that cannot simply be imagined into existence is quite compelling.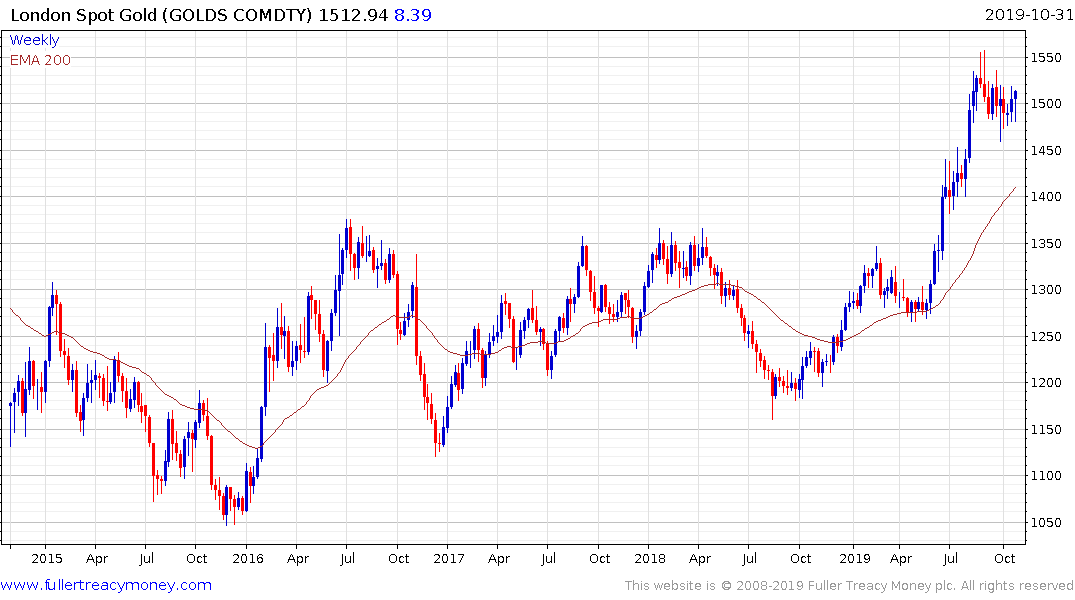 Gold has been putting in a very orderly consolidation since its initial breakout in the summer. The formation of a first step above the base is quite normal following the completion of a multi-year congestion area. Regardless of how long it takes, it acts as confirmation of the new bull market hypothesis.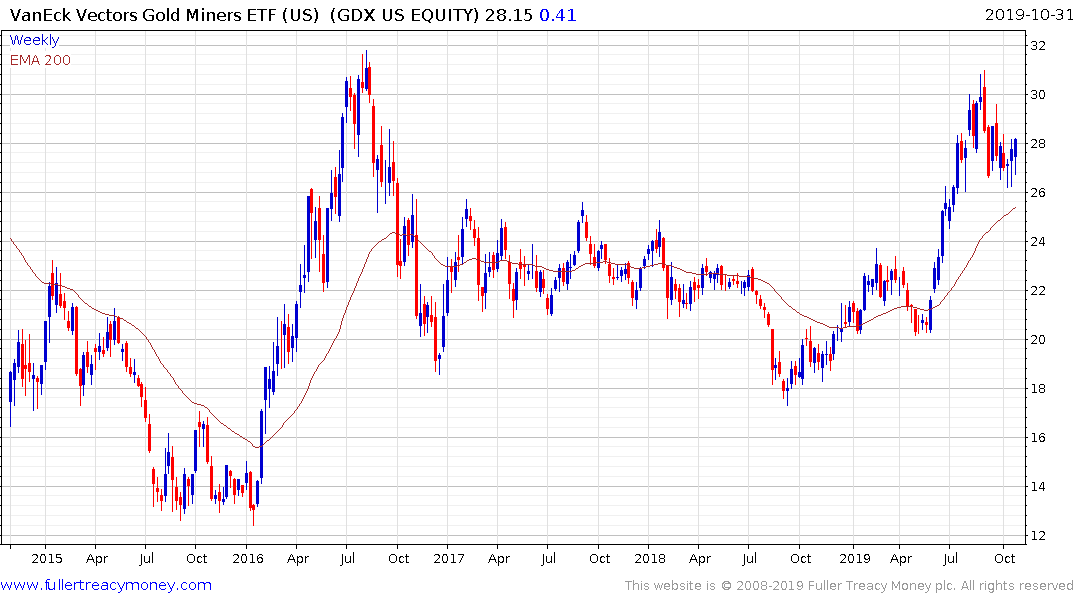 Gold shares have also been consolidating following the break of their three-year downtrend and a sustained move below the trend mean would be required to question medium-term scope for continued upside.
Back to top