Fed Lifts Rates a Quarter Point and Signals More Hikes to Come
This article from Bloomberg may be of interest to subscribers. Here is a section:
"The American economy is very strong and well positioned to handle tighter monetary policy," Powell told a press conference Wednesday following a meeting of the Federal Open Market Committee. "We are attentive to the risks of further upward pressure on inflation and inflation expectations." He also said that officials could move faster on policy tightening if needed.

The hike is likely the first of several to come this year, as the Fed said it "anticipates that ongoing increases in the target range will be appropriate," and Powell repeated his pledge to be "nimble."

"I saw a committee that is acutely aware of the need to return the economy to price stability," he told reporters, characterizing the mood around the table as policy makers debated the outlook. "It is determined to use its tools to do so."

In the Fed's so-called dot plot, officials' median projection was for the benchmark rate to end 2022 at about 1.9% -- in line with traders' bets but higher than previously anticipated -- and then rise to about 2.8% in 2023. They estimated a 2.8% rate in 2024, the final year of the forecasts, which are subject to even more uncertainty than usual given Russia's invasion of Ukraine and new Covid-19 lockdowns in China are buffeting the global economy.
The market took the first hike in this cycle in its stride and not least because it has been fully priced in over the last four months. Remaining nimble is going to be essential. Uncertainties abound, not the least of which is China's problem with containing the omicron variant is only just beginning. Predicting 1.9% by the end of the year implies at least a 25-basis point hike at every meeting. That seems ambitious in the extreme.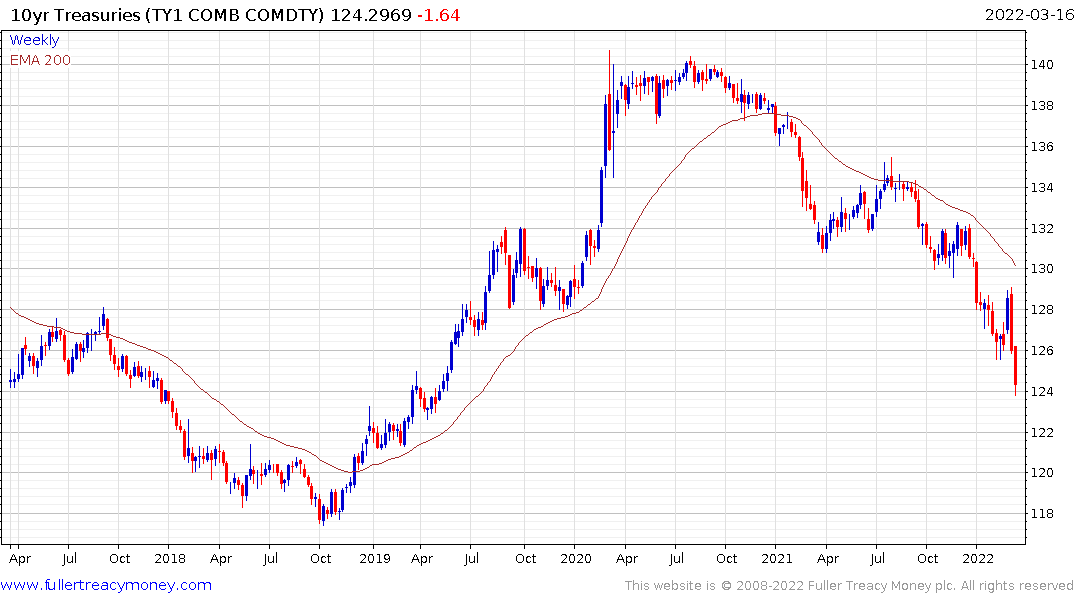 The 10-year futures are short-term oversold and appear likely to at least steady from this area.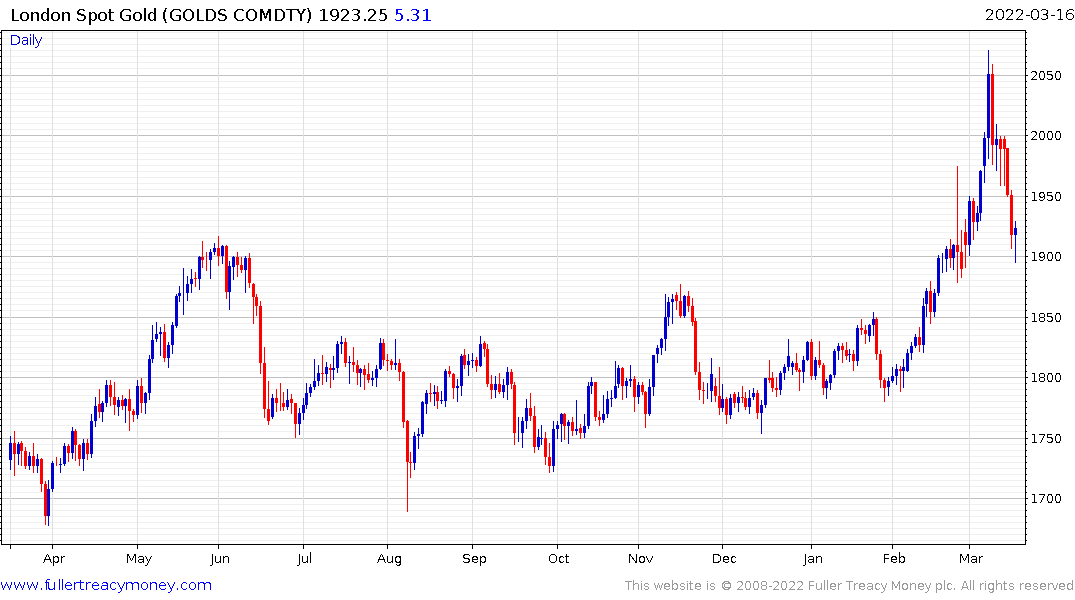 Gold reversed an earlier decline to bounce from the $1900 area.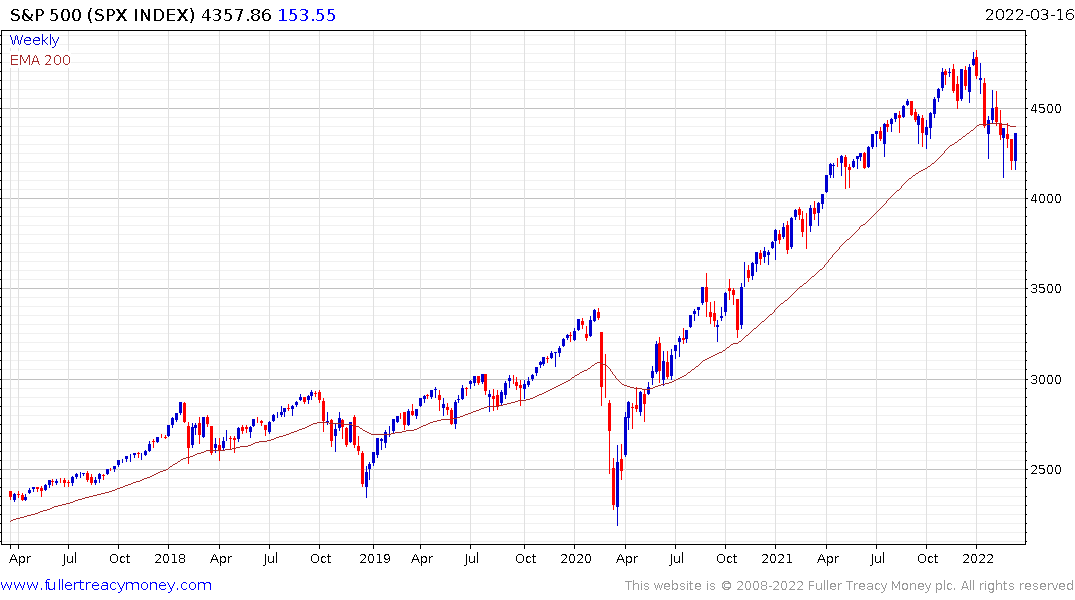 The S&P500 has held the late February low so far. It will need to sustain a move above 4400 to break the short-term sequence of lower rally highs and signal a low of more than very short-term duration.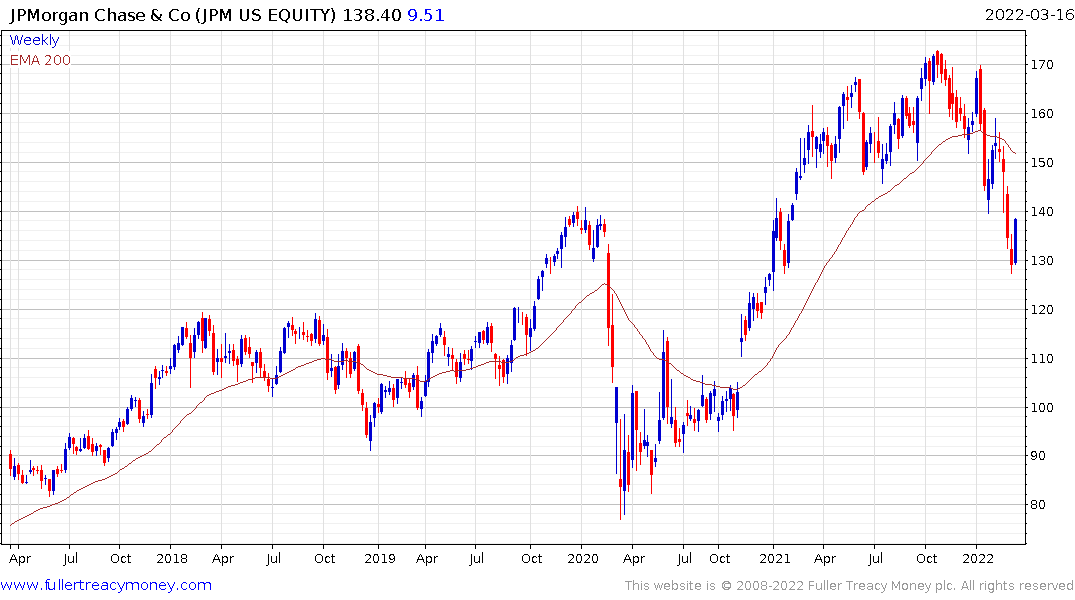 JPMorgan is bouncing from the region of the 1000-day MA.
Back to top