Farage's Brexit Party to Trounce May, Sporting Index Says
This article by Dara Doyle may be of interest to subscribers. Here is a section:
Nigel Farage's Brexit Party is poised to dominate the upcoming European elections in the U.K., according to spread betting firm Sporting Index.

The anti-EU party will win 28 seats, the firm said. Prime Minister Theresa May's Conservatives will win seven, while Labour will take 13 and the Liberal Democrats 12, Sporting Index predicted in an email in London on Tuesday.

Sporting Index has had a consistently strong record in predicting some of the key twists and turns of the Brexit saga. Last month, about two hours before the latest vote on May's Brexit deal, the spread betting firm forecast she'd lose by 60 votes. She was defeated by 58.

"The Tories look set to face the consequences over their handling of Brexit, with the Brexit Party and Liberal Democrats making significant gains due to their clear stance on one of the most polarizing events in British politics," Sporting Index's Phill Fairclough said.

On Tuesday, May offered lawmakers a vote on whether her Brexit deal should be subject to a referendum, in a last-ditch bid to save it. Last time MPs voted on a second referendum, there was just a 12- vote difference, with 280 backing a confirmatory vote on a deal and 292 against it.
There is a large contingent of UK voters who thought they would never be voting in a European election again. Presented with the opportunity to stuff the European parliament with Eurosceptics they are likely to leap at the chance. The UK isn't the only country where parties at odds with the European union's aim of further cohesion are likely to gain ground. France, Italy, Austria, Sweden, Denmark and Spain all have room for electoral upsets. Perhaps the greatest irony is from next week the continent will have a more Eurosceptic voice than Westminster.
That's one of the greatest challenges the EU has. Its institutions are little more than talking shops, producing regulations often resented by citizens, while the big decisions are made at the European Commission, whose members are nominated by governments rather than directly elected. It adds up to the democratic deficit Eurosceptic parties have been complaining about for years. It is the democratic deficit that makes this a prime target for protest votes since voters don't think they are any real repercussions.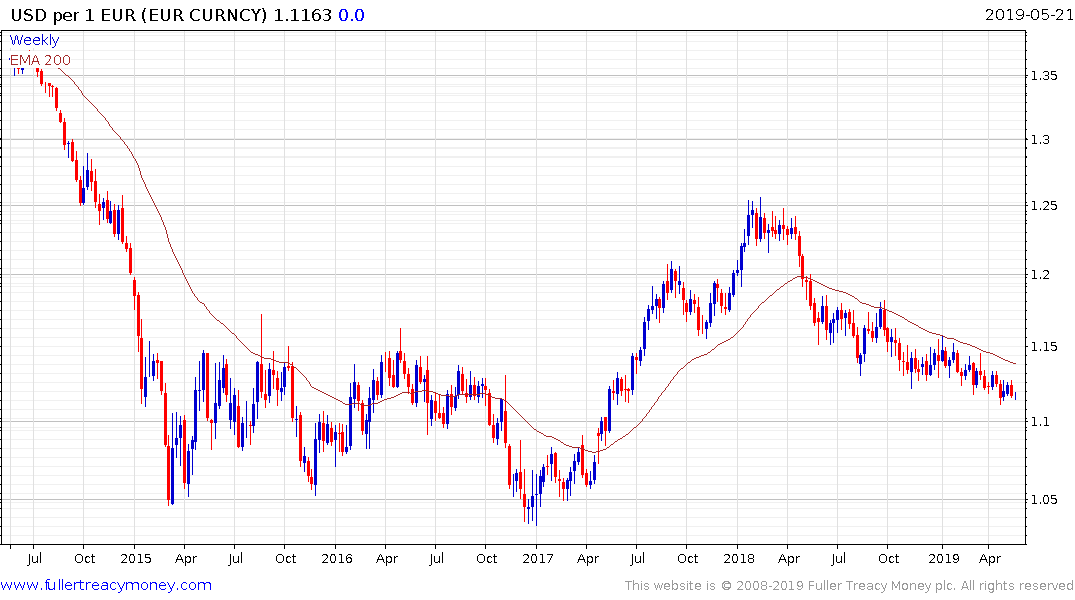 The Euro continues to hold its almost unbroken sequence of lower rally highs and a sustained move above $1.125 would be required to question supply dominance.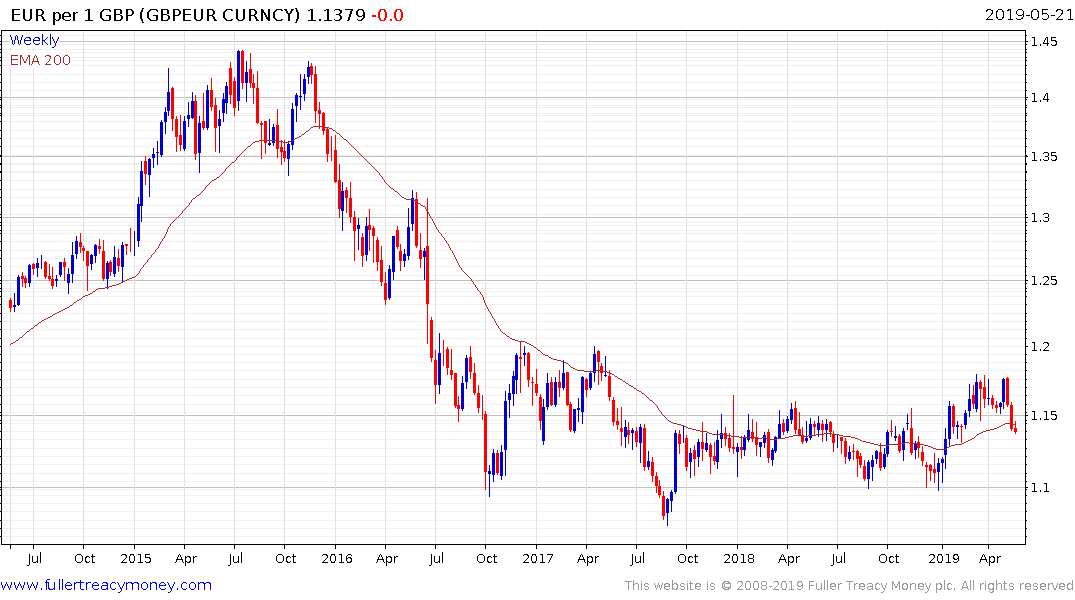 The Pound has failed to hold support in the region of the trend mean and a clear upward dynamic will now be required to question potential for a further test of underlying trading. This is the first clear signal this year that investors are willing to once more explore the possibility of a hard Brexit.
Back to top