Email of the day on wind farms
In my trip last week across the Texas Panhandle, I observed a continuing explosion in the number of power-generating windmills (picture is from last year's trip). Last year, vast numbers of these were not operating - this year, most are, suggesting that the power lines to major cities (e.g. Dallas-Ft. Worth) are now working and that purchase contracts are now in place. I spoke at length with a friend who farms a dozen or so square miles there about this subject, which he is very knowledgeable about.

Ah, but all is not well. The company that built hundreds of windmills in around 2002 up in the (windy) OK Panhandle has gone bankrupt, and the windmills are being torn down for scrap. Alas, the cost of these reclamation efforts are not fully covered by the original reclamation bonds bought by the now-bankrupt company, meaning either the farmers who own the land or the government (taxpayers) will have to cover the cost. Meanwhile, the productive farmland that was used for these remains unusable and unproductive until they are torn out, including their huge concrete bases. A 15-year life is not what anyone was promised...

?When a farmer agrees to allowing windmills to be built on his land, he is effectively giving up on irrigating that land using modern, efficient center-pivot irrigation systems. Dryland wheat yields 1/4 that of irrigated wheat in the best rain years (which are few and far between), and 10% or less in dry years (lots of years). Most now grow at least some corn, and corn is not a dryland crop in these parts. Yes, he could go back to the horribly inefficient and water-wasting row irrigation method, but that has serious long-term aquifer depletion issues, as well as cost of pumping and labor cost increases. The windmills themselves, the power lines, and the access roads all reduce the crop acreage. Annual payments to the farmers make up for some of this, and some farmers do make money on the windmill contracts, but many smart farmers are turning down the offers.

Despite all this, the building boom continues, and like all booms, will ultimately lead to substantial overcapacity, bankruptcies, finger pointing, and pain. With over 50% of the power generated being consumed by power line losses, it is not clear that such projects will ever create significant profits before government (taxpayer) subsidies are counted.
Even in the windiest locales onshore wind has a hard time being economic and the turbines installed 15 years ago bear little resemblance to those being erected today. European manufacturers have been promoting offshore turbines the size of skyscrapers. They are betting on scale to achieve efficiency gains and Denmark's Dong Energy made headlines a few months ago by winning contracts to install offshore turbines with no subsidies from the German government. Of course, it remains to be seen if it can in fact deliver on its promise.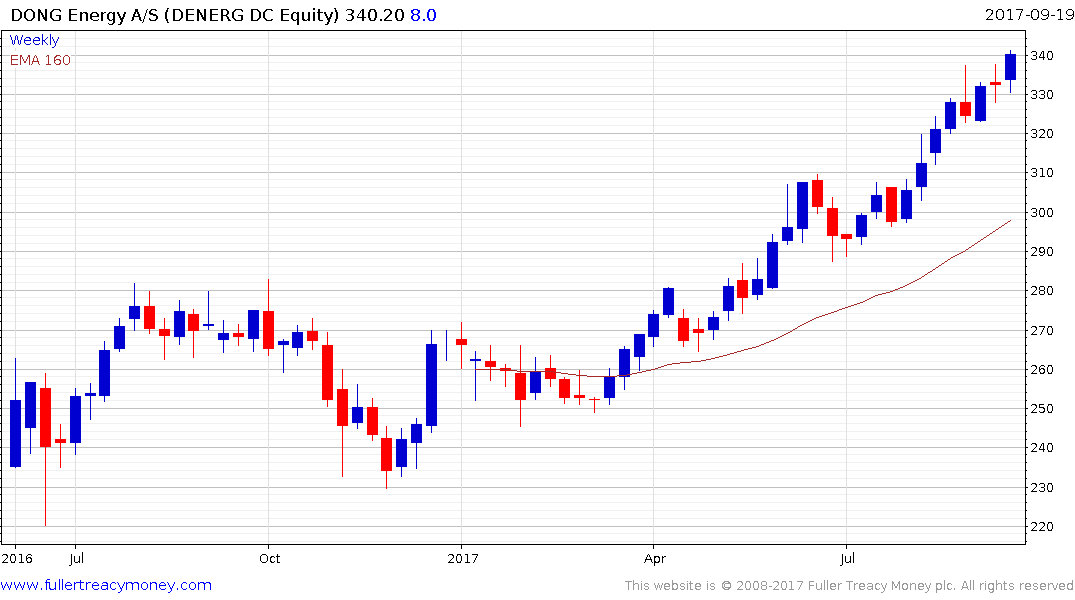 Dong Energy remains in a reasonably consistency uptrend and a sustained move below the trend mean would be required to question medium-term scope for additional upside.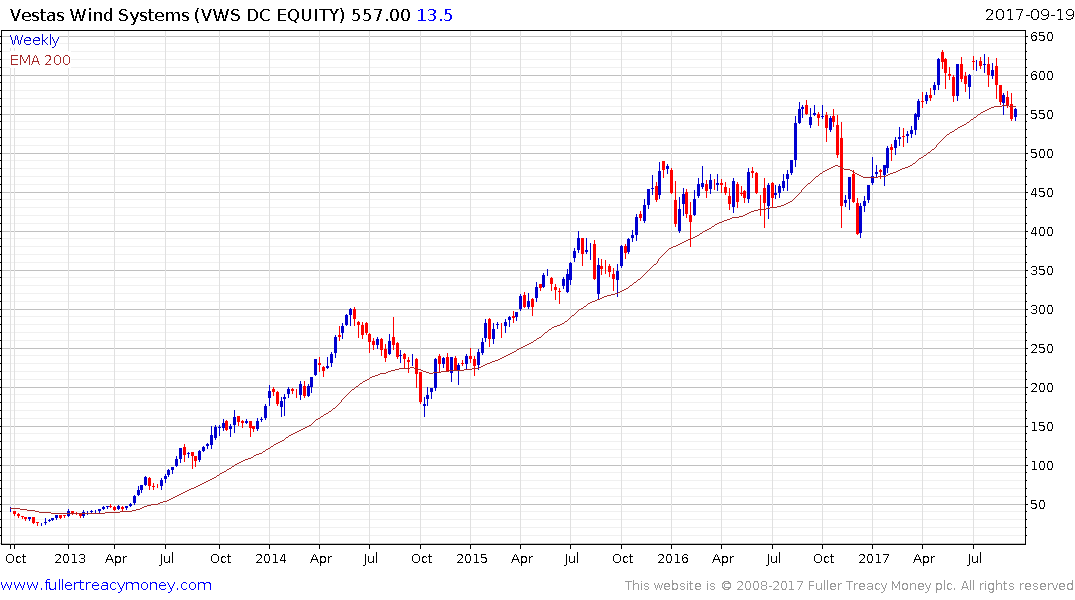 Vestas Wind Systems has returned to test the region of the trend mean over the last month and will need to find support in this area if medium-term potential for additional upside is to be given the benefit of the doubt.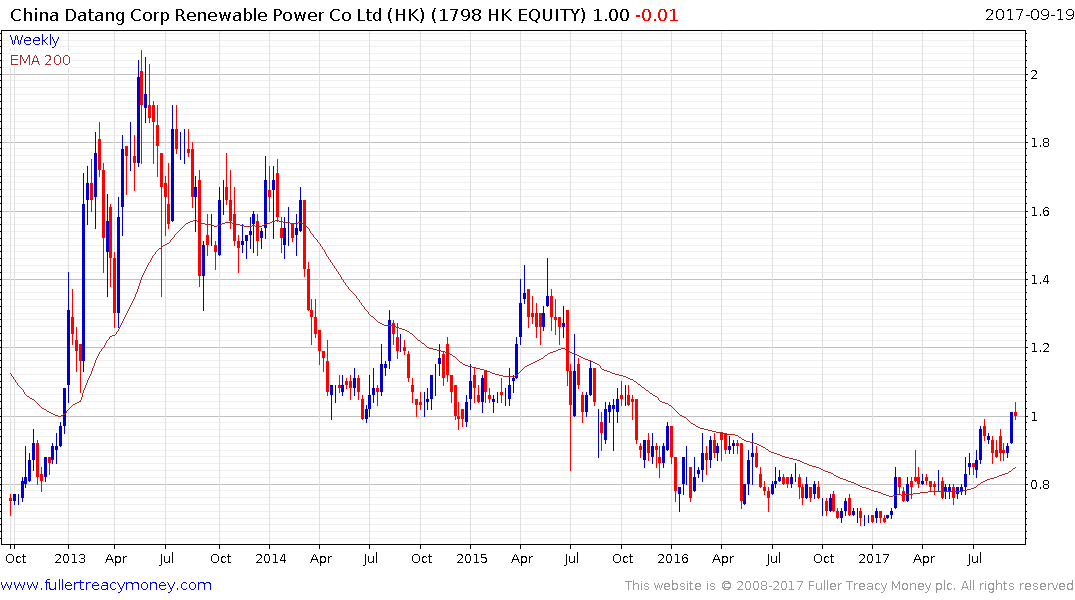 China Datang Corp Renewable Power and Dongfang Electric Corp both appear to be on recovery trajectories.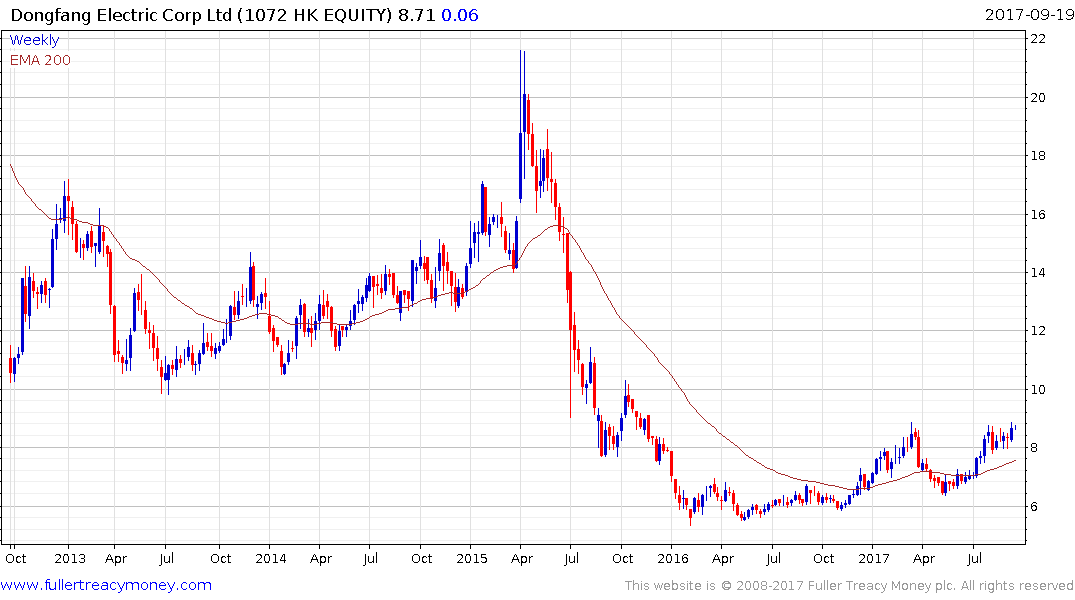 What occurs to me is that if wind turbines are contributing to less efficient farming then that should be bullish for grain and bean prices. However, there is little evidence of a bullish catalyst just yet in the charts of corn and wheat.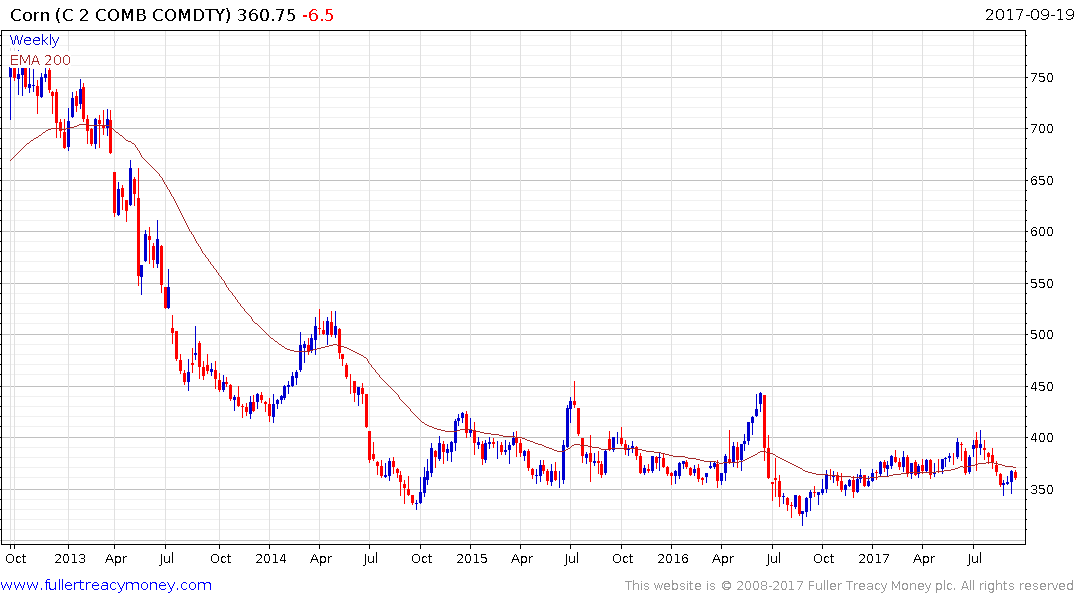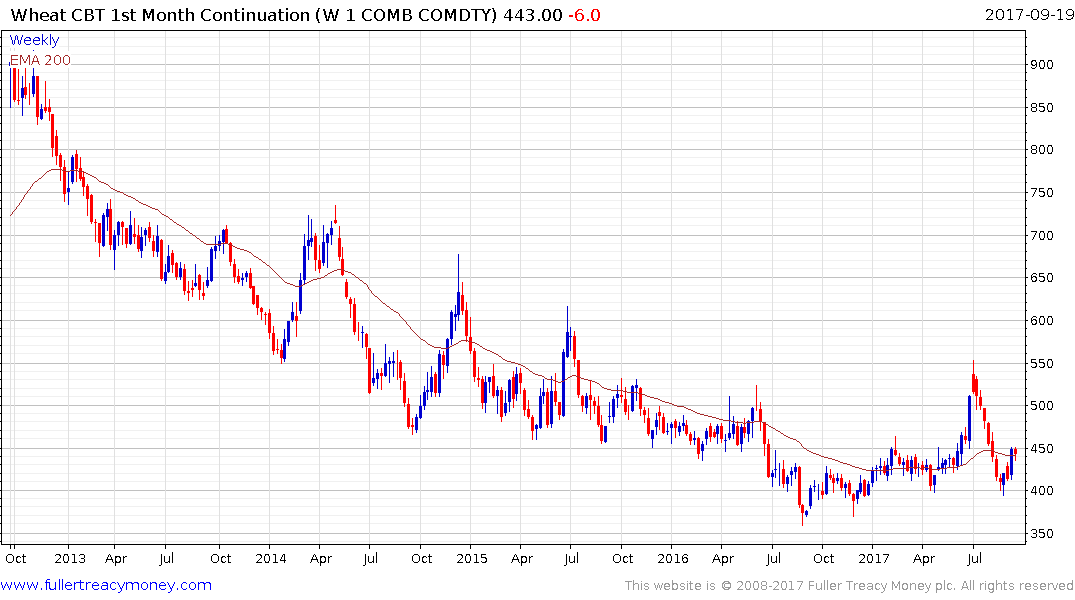 Back to top