Email of the day on viruses representing a greater risk than bacteria
I remain interested in your commentary on health issues, in part because that is the area in which I work. I do not share your fear that antibiotic resistance will be a black swan event, capable of disrupting markets. Bacterial pathogens are nowhere near as transmissible as respiratory viruses; transformation of viral pathogenicity is a far greater concern than bacterial multi drug resistance as a game changer, mainly because of the rate of spread of viral infection such as influenza, Ebola etc. Witness the influenza pandemic of 1919 which killed more people than WW1. We have had multidrug resistant TB in countries such as Indonesia for many years, yet no markets have collapsed. There is less risk of catching the latter for one. MDR bacteria are more a risk to patients in hospital; yet when there are outbreaks, they are usually contained by better contact precautions. From a QI perspective we should not be complacent about bacterial antibiotic resistance, yet in contrast with AB therapy for many bacterial infections, we have very few effective antiviral agents, a situation that has changed little for ages. One bright light though is nanotechnology (seems to be a catchier name than molecular biology). Nanoviricides is one company in that space. Their product line is preclinical trial but getting close. Are you aware of any others with similar potential?
Thank you for this informative email and I agree that a new virus would have an instant effect relative to the slowly developing problem of antibiotic resistance. The threat from the latter is not that we have a pandemic like influenza in 1919 but rather that bacteria become a future threat that saps growth potential because people stay sicker for longer or die because the drugs to treat them do not exist. In that scenario it could be a slow burn crisis that would drag on economic potential and is a particular risk to high population emerging markets.

I share your enthusiasm about nanotechnology/molecular biology and biotech generally. A great deal of enthusiasm was priced into a very benign perspective until prices started coming down a year ago. Following a major pullback there are far fewer overt bulls of the sector. However the movement of the share prices has had no impact on the pace of innovation and biotech sector remains a growth market.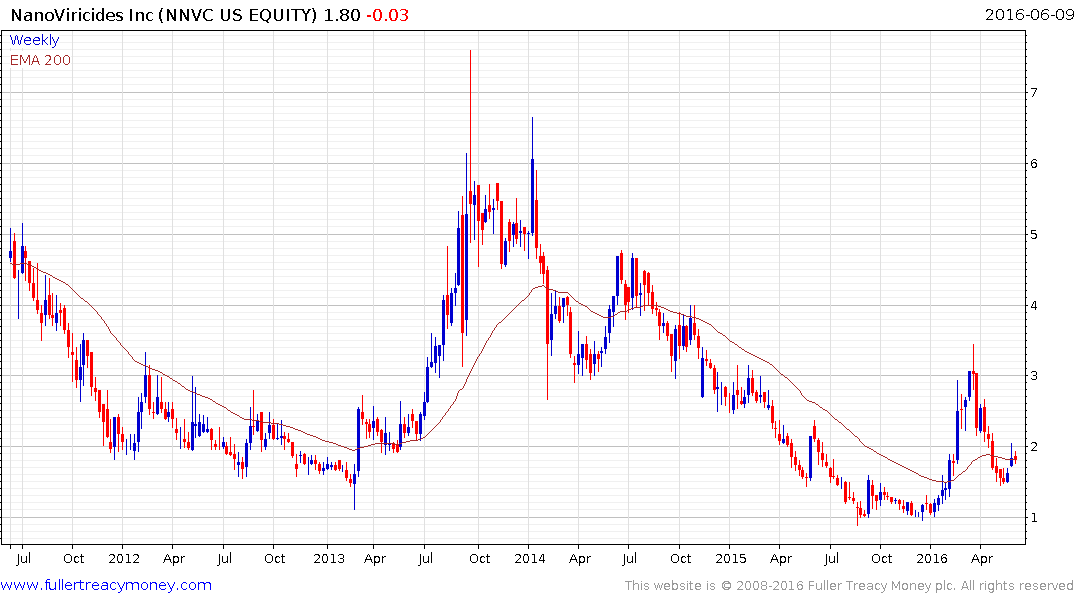 Nanoviricides has found support at the lower side of what has been a volatile trading range over the last few years and a sustained move below this year's low, near $1, would be required to question potential for additional higher to lateral ranging.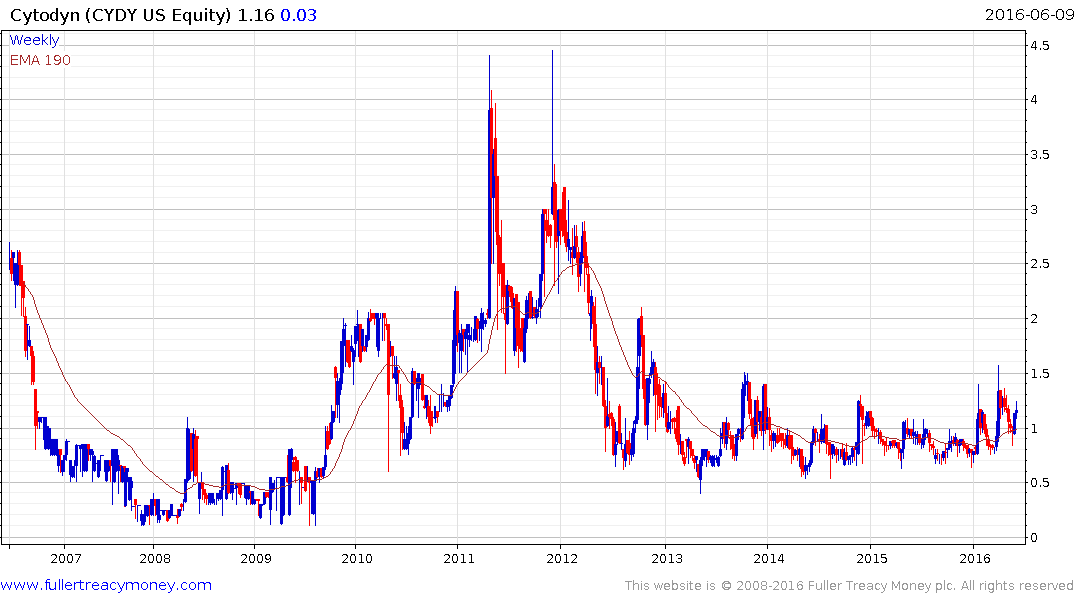 Most companies concentrating on researching viruses focus on immunodeficiencies relating to HIV/AIDS. Cytodyn is an example. It has a market cap of $135 million and has been ranging mostly below $1.50 since 2013. A progression of incrementally higher reaction lows is evident within the base suggesting accumulation is underway. A sustained move below 80¢ would be required to question that view.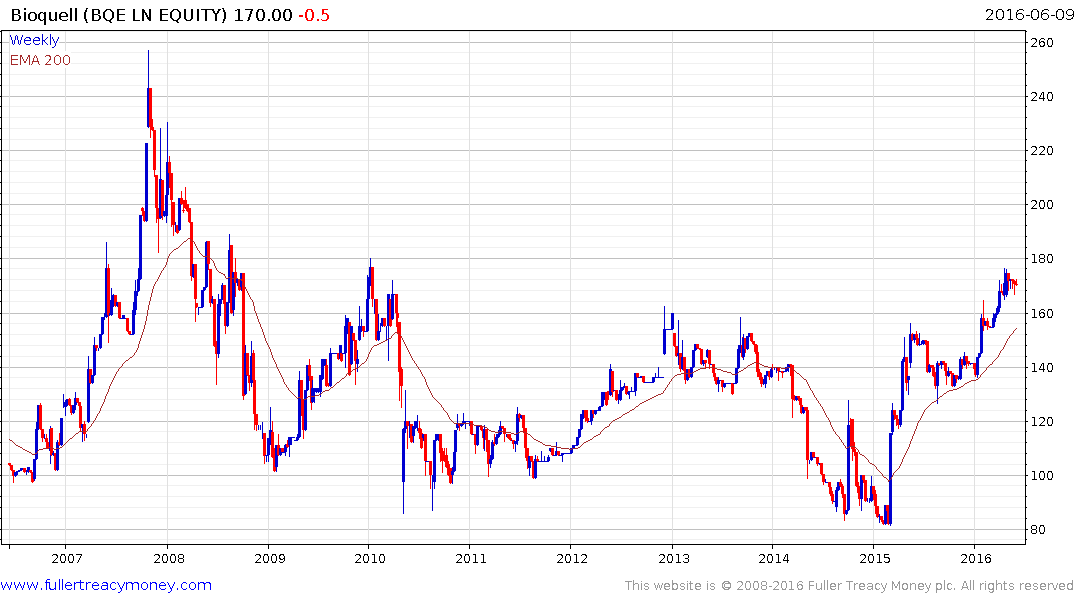 UK listed Bioquell with a market cap of £72 million and an historic P/E of 114 is another development stage company. It concentrates on bio-decontamination using hydrogen peroxide vapour to biodeactivate microorganisms such as bacteria, viruses and fungi. The share has priced in a lot of good news since bottoming in early 2015 and it is now testing its 2009 high near 180p. Some further consolidation of recent gains looks likely but a sustained move below the trend mean, currently near 150p would be required to question the medium-term upward bias.
Back to top