Email of the day on Australian banks and debt
Australia has announced they are increasing petroleum reserve stocks. Small steps in the global oil market. We have lots of gas not much Oil. Government argument oil prices are low. Think I can see political / defense US / Australian ambitions in this move.

The Governor of the RBA made a speech a few months back the RBA will support all local banks. That investors should feel confident about the security of their bank deposits and securities. Can I trust these comments? I almost fell out of my chair when Glenn Stevens made this statement
Thank you for this email which may be of interest to other subscribers. It makes sense that Australia should build up an oil reserve when prices are cheap. It certainly beats doing it when prices are high and a significant reserve is a geopolitical imperative during a time when stress between the great powers of our day is only likely to increase.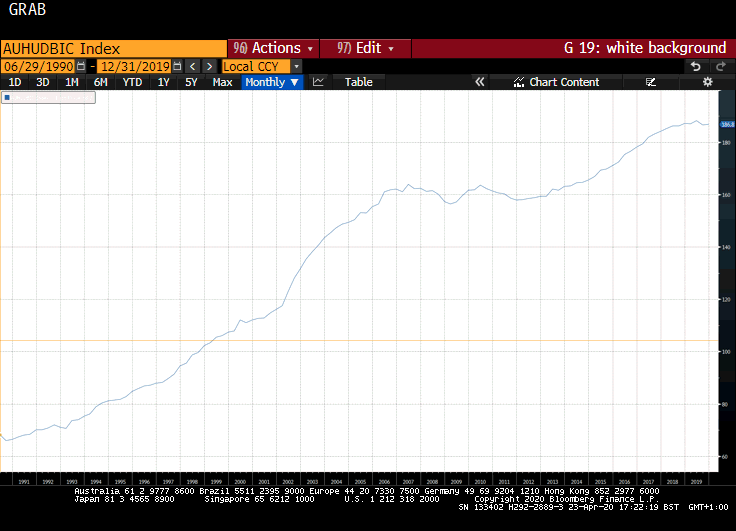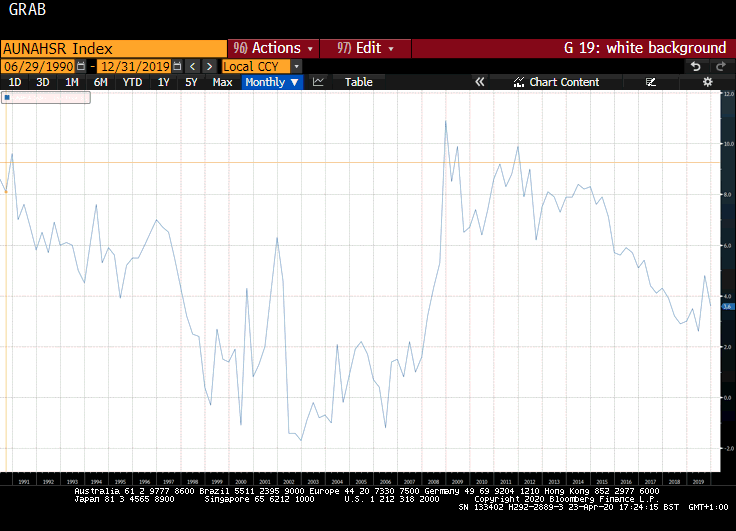 Generally speaking, whenever a central banker or senior government official has to express faith in the banking system there is a big problem. Australia's household debt as a percentage of income has been rising inexorably over the last forty years and stood at 186.8% in December. That has helped support the housing market.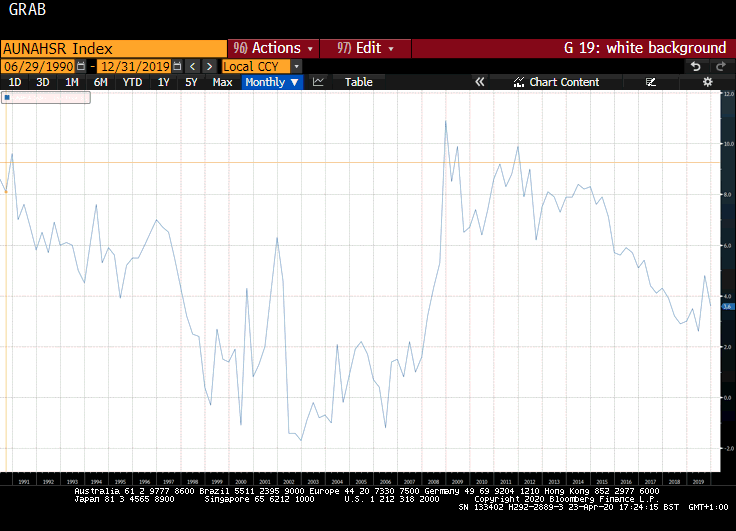 Meanwhile the personal saving rate was contracting ahead of the virus-induced recession but was still above the negative levels posted ahead of the credit crisis when last updated. The recession is likely to represent a significant draw on personal savings and will likely lead to constrained demand afterward for at least a few quarters.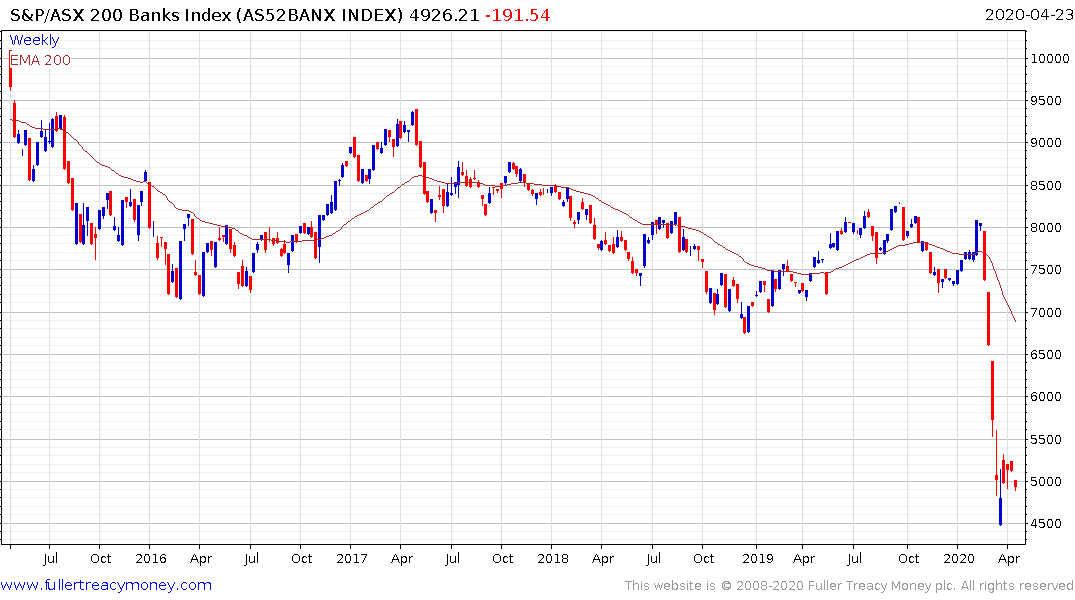 The S&P/ASX 300 Banks has barely bounced and is susceptible to additional weakness.

The wider S&P/ASX 200 Financials Index has also accelerated lower but a potentially lengthy period of support building will likely be required before a move to higher levels can be sustained.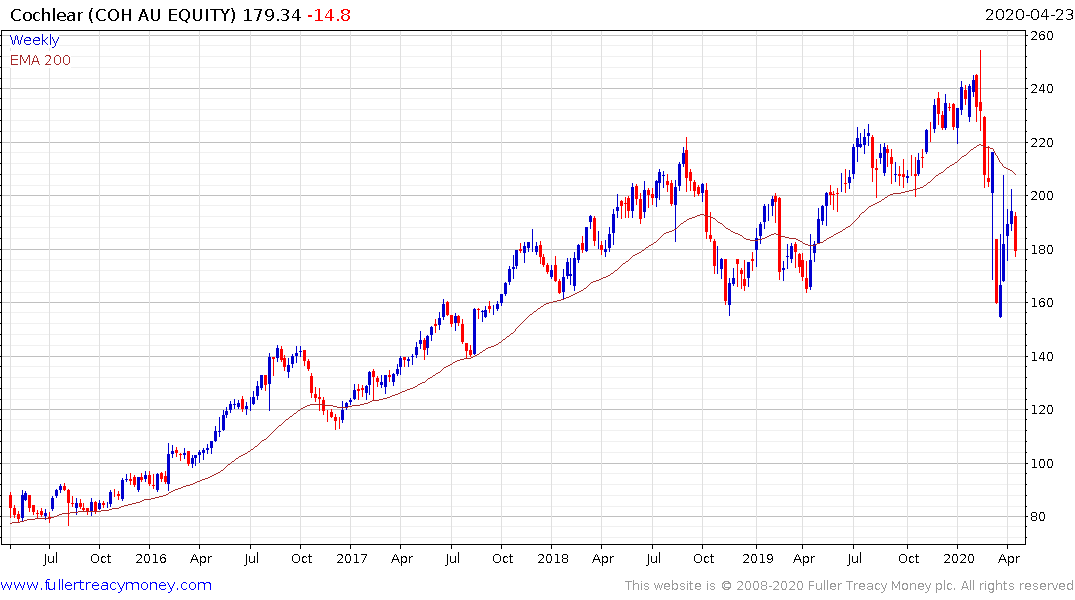 The healthcare sector has been the clear leader in Australia's recovery from the 2009 lows. However, it is now in need of close monitoring. Cochlear has dropped below its trend mean and will need to hold the low near A$160 to defray the risk of a completed top formation.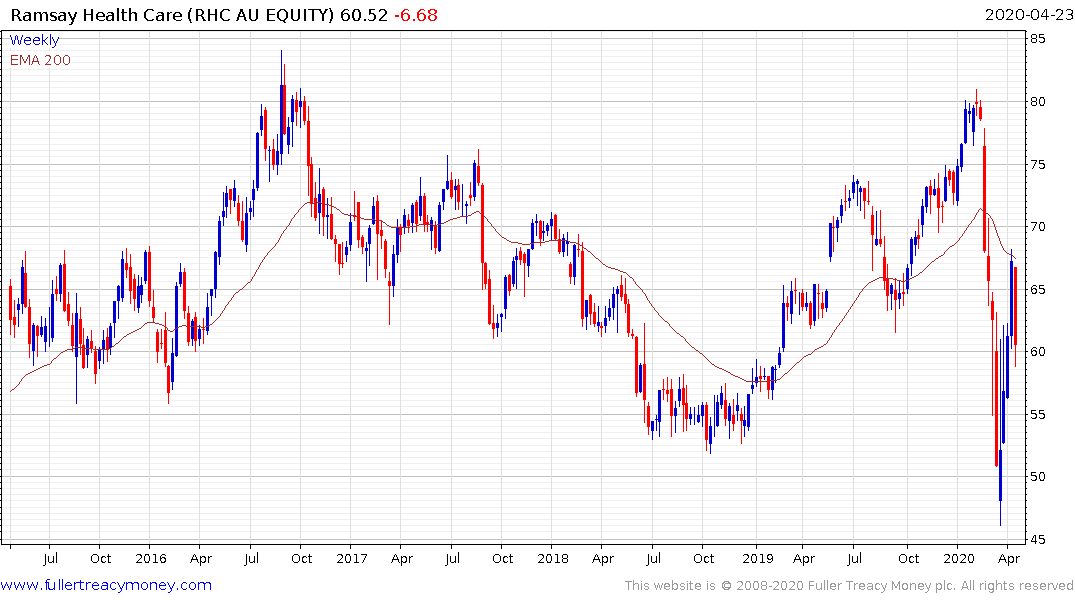 Ramsay Healthcare has been ranging below A$80 since 2016 and encountered resistance in the region of the trend mean this week.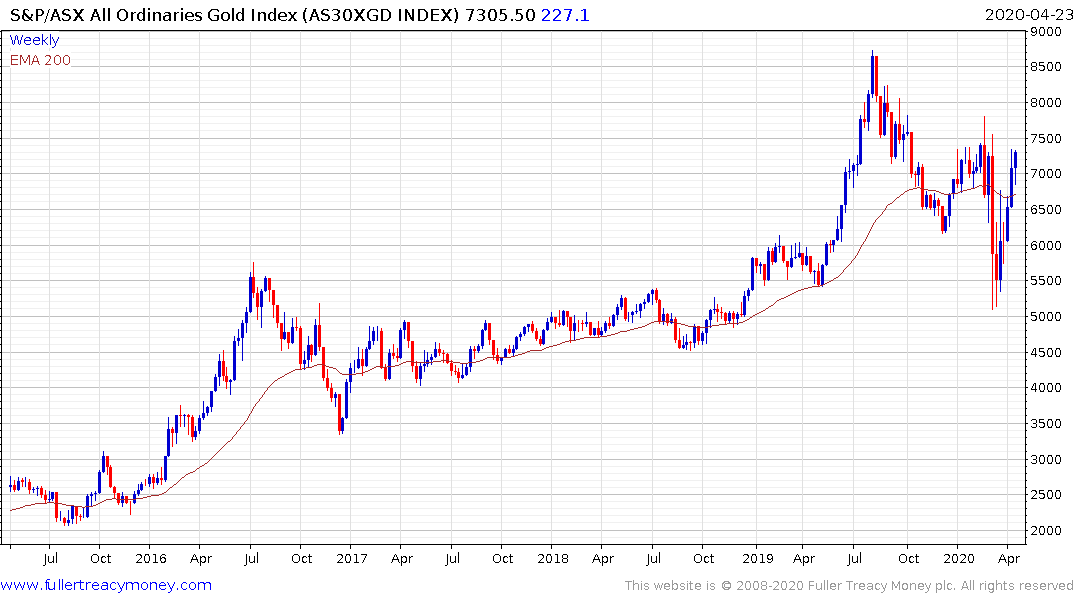 The S&P/ASX All Ordinaries Gold Index led the recovery in gold miners between 2016 and 2016 but underperformed until quite recently. It has rebounded impressively from its March low and is now testing the yearlong sequence of lower rally highs.
Back to top