Dairy Farmers Think Almond Milk Is Bogus But Americans Love It
This article by Leslie Patton and Lydia Mulvany for Bloomberg may be of interest to subscribers. Here is a section:
Almond milk is boosting the nut's popularity, too. Last year, Americans bought $890 million of the stuff, three times the amount of soy milk's $286 million, according to IRI. By contrast, consumers bought $9.2 billion of lowfat and skim milk. Retailers have caught on to the trend. Starbucks Corp. is adding almond milk to its lineup of non-milk alternatives, which already includes coconut and soy milk. And as of last month, Dunkin' Donuts offers it in all its stores.

Milk alternatives have faced scrutiny for not containing very many nuts or natural ingredients. WhiteWave Foods Co.'s Silk brand of almond milk, for example, also contains sugar, salt, gellan gum and sunflower lecithin.

A lawsuit filed last year against Blue Diamond Growers, which supplies Dunkin' Donuts, said its almond milk contained just 2 percent almonds. Blue Diamond's U.K. website confirms the product's almond content. Water and sugar are listed as ingredients before almonds. Alicia Rockwell, a company spokeswoman, declined to comment.

Among the biggest almond-milk sellers are WhiteWave and Blue Diamond, along with retailers like Target Corp. and Aldi Inc. that have private-label brands. Niche companies are also riding the wave, like NüMoo Nut-Milks, which makes an organic, cold-milled chocolate almond milk.
Almond milk with its low fat / high protein / low glycemic index credentials tends to tick a lot of boxes for the current trend of health conscious diets. As a result it is boosting demand for the nut amidst what has already been a growth trend in Asian consumption. In a battle of marketing against regular milk it is winning and gaining market share. A clear health scare or drop in Asian demand would likely be required to check that trend.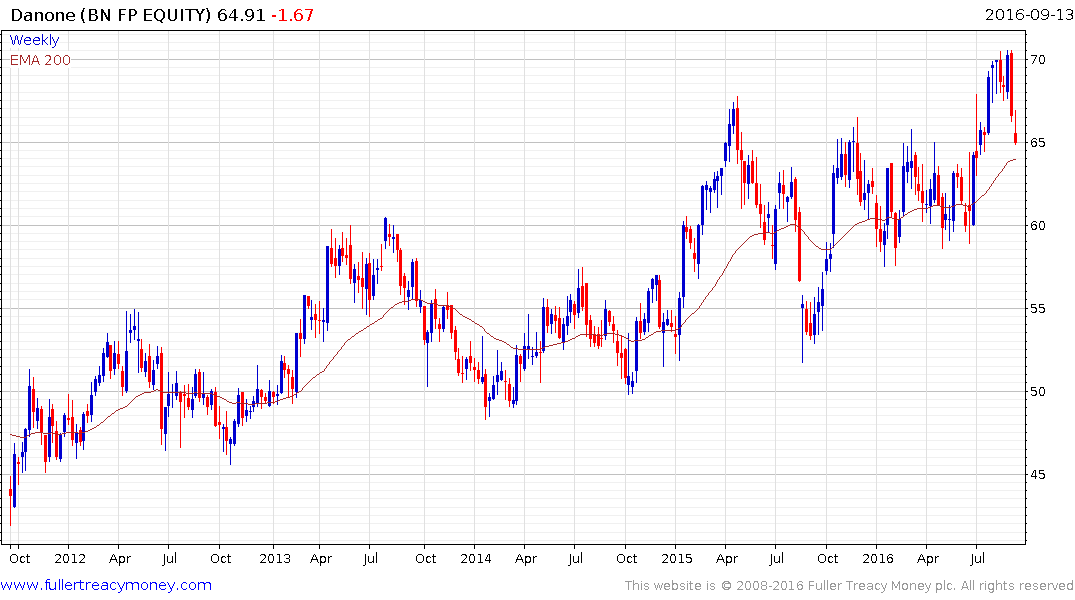 Prior to WhiteWave's IPO in 2012 the unit, with its range of bean and nut milks as well as the Horizon organics range, represented about 16% of Dean Foods revenue. The company was acquired by Danone earlier this year which gives it a growing foothold in the US market and rounds out its international exposure. The share (Est P/E 21.16, DY 2.46%) has pulled back sharply over the last two weeks to close the overextension relative to the trend mean and the upper side of the underlying range but will need to bounce from the €60 if medium-term potential for higher to lateral ranging is to be given the benefit of the doubt.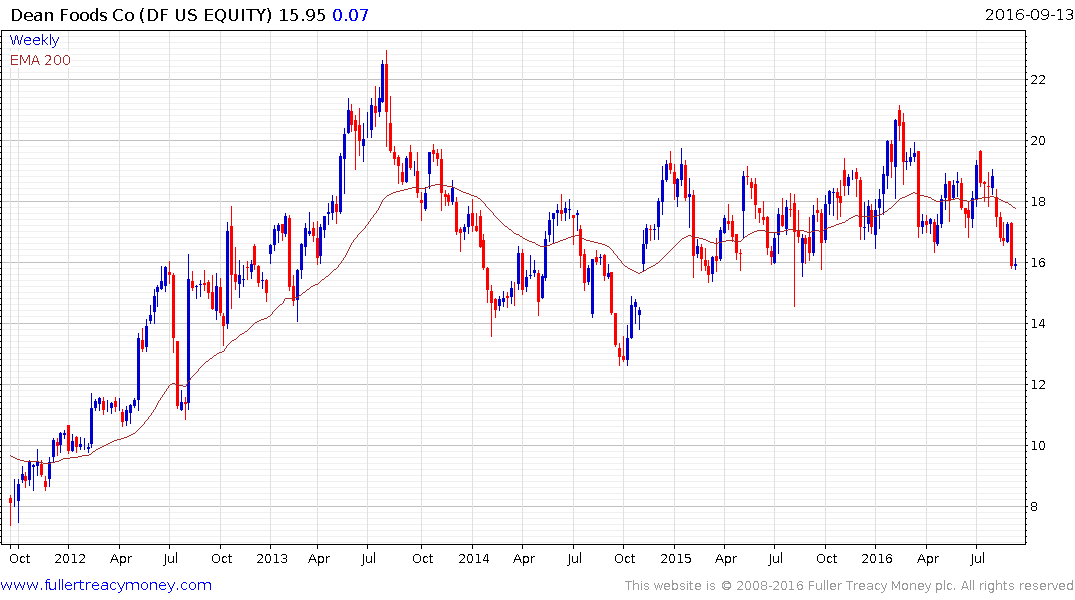 Meanwhile Dean Foods (Est P/E 10.18, DY 2.26%) has been confined to a volatile range for three years and dropped last week to break a progression of incrementally higher reaction lows. A clear upward dynamic will be required to check the slide. This performance would suggest the divestment of its growth oriented subsidiary has robbed the company of a source of revenue that could potentially have offset the decline in conventional milk and dairy sales.
Back to top