China Warns Trump Against Using Taiwan for Leverage on Trade
This article from Bloomberg News may be of interest to subscribers. Here is a section:
China warned Donald Trump against using the One-China policy regarding Taiwan as a bargaining chip in trade talks, a swift response that indicates Beijing is losing patience with the U.S. president-elect as he breaks with decades of diplomatic protocol.

"Adherence to the One-China policy is the political bedrock for the development of the China-U.S. relationship," Foreign Ministry spokesman Geng Shuang told reporters in Beijing at a regular briefing on Monday. "If it is compromised or disrupted, the sound and steady growth of the China-U.S. relationship as well as bilateral cooperation in major fields would be out of the question."

Trump said in an interview broadcast on Sunday that his support for the policy --- which has underpinned U.S. behavior toward Taiwan since the 1970s -- will hinge on cutting a better deal on trade. He has repeated his accusations against China since election day, telling a crowd in Iowa last week that China would soon have to "play by the rules."

Policy makers in Beijing initially had a more subdued response after Trump departed from diplomatic convention earlier this month and spoke by phone with Taiwan's president. Now things are getting more serious: The official Xinhua News Agency warned that world peace hinges on close and friendly ties between the U.S. and China.

"For China, there is no balancing of trade and Taiwan," said Wang Tao, head of China economic research at UBS AG in Hong Kong. "Taiwan is considered the utmost core interest of China, not for bargaining."
China has been flexing its military muscle in the South China Sea for the last few years to the alarm of its neighbours but with very little push back from the rest of the world. Additionally it has been steadily increasing what it is spending on arms, with the total soaring from $123 billion in 2010 to an expected $233 in 2020.

Corporate hacking on an industrial scale, coupled with a refusal to enforce patents as well as flooding the international market with below cost of production steel and cement suggests there are many issues on which an assertive government can challenge the country. Little wonder then that it is boosting military expenditure.

The prospect of a US foreign policy less eager to negotiate on China's terms represents quite a departure from the status quo and not least since China is one of the largest holders of US Treasuries. On the other hand domestic Chinese investors are voting with their money and increasing numbers are investing abroad. Attempts to curtail that practice are only likely to increase demand.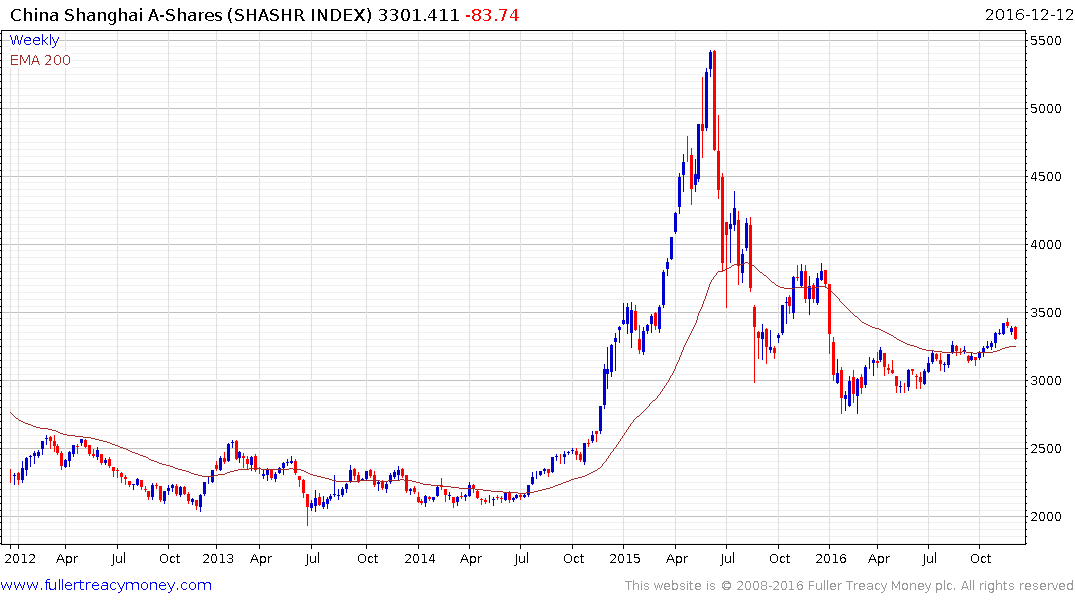 The Shanghai A-Share Index has held a progression of higher reaction lows all year and is currently unwinding a short-term overbought condition relative to the trend mean. A sustained move below 3100 will be required to question medium-term scope for continued higher to lateral ranging.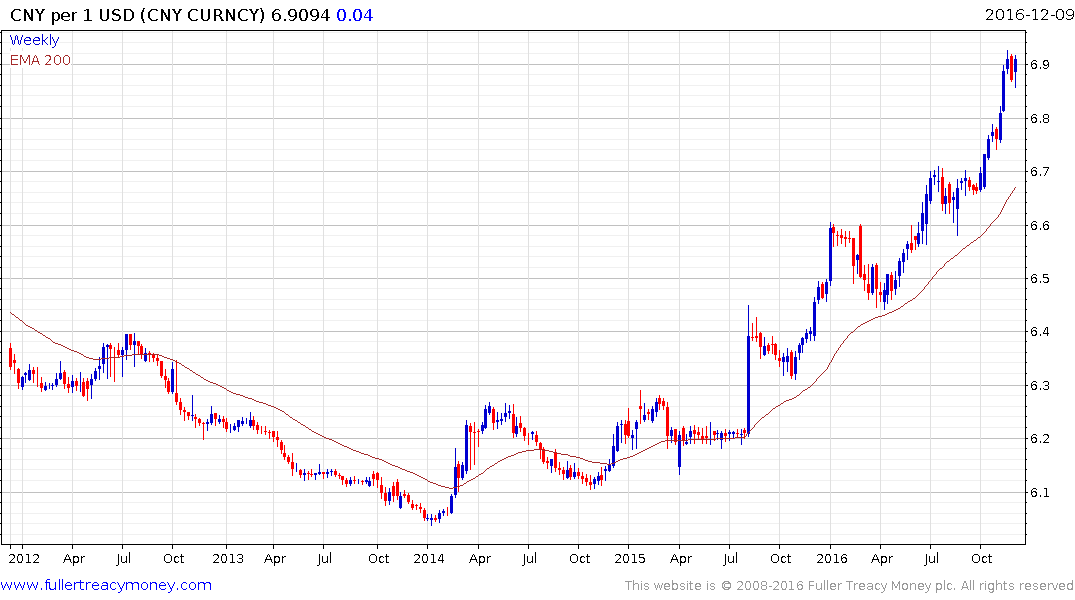 Meanwhile the Renminbi has paused in the region of CNY6.9 but a break in the medium-term progression of higher reaction lows would be required to question Dollar dominance.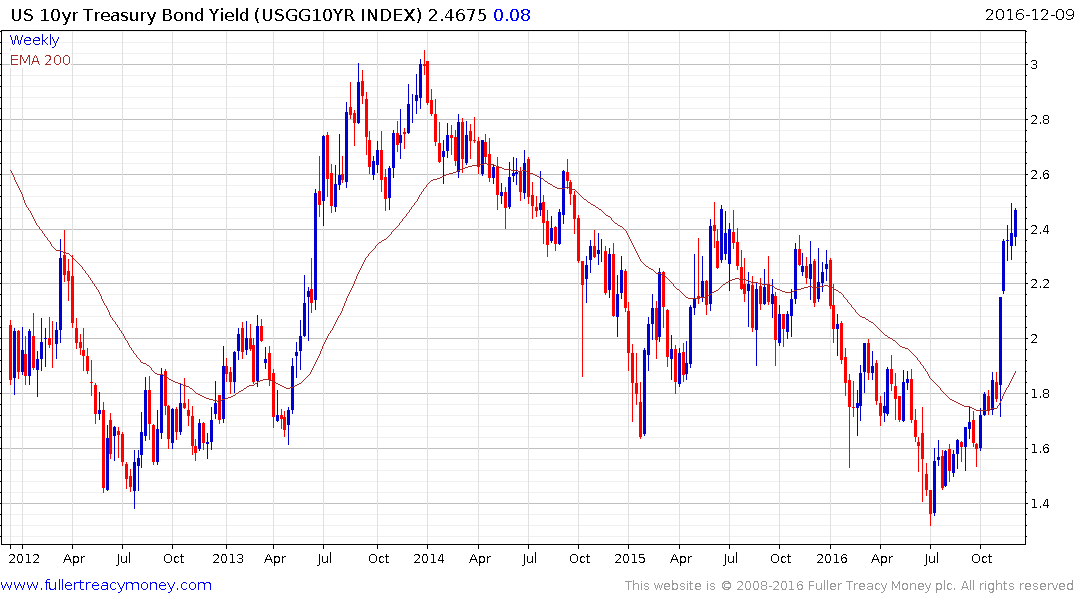 US Treasury yields are currently testing the psychological 2.5% level and a wide overextension relative to the trend mean is evident following such a powerful short-term move. Potential for a reversionary rally in prices has increased but a sustained move below 2% would be required to question medium-term supply dominance.
Back to top