China Uses Police, Censors, Covid Easing to Stem Protests
This article from Bloomberg may be of interest to subscribers. Here is a section:
The softer tone followed unrest over the weekend that was triggered by a deadly fire in the city of Urumqi last week. The protests sputtered Monday night, after Beijing deployed a heavy police presence to clamp down on gatherings. Cities including Shanghai, Hangzhou, Nanjing and elsewhere also saw fewer demonstrations, while censorship of protest-related discussions ramped up across the social media platforms that had been used to vent public anger.

Some concessions have quietly emerged. People who stay home don't need frequent Covid tests, the state news agency said on Tuesday, a retrenchment from the previous reliance on mass testing to track the virus. The elderly and students taking online classes were exempted from daily tests in Guangzhou.

Government restrictions imposed in Beijing to trace the source of Covid or identify those infected generally must not exceed 24 hours, officials said.

China's government is adopting a carrot-and-stick approach to containing the recent outpouring of emotion on the streets. Vaccinating large numbers of elderly people and quietly circulating information that the Omicron variant is less deadly have been two policies deployed over the last 48 hours. At the same time, the streets have been flooded with police and protestors are being made aware, both publicly and privately that there are costs to challenging the status quo.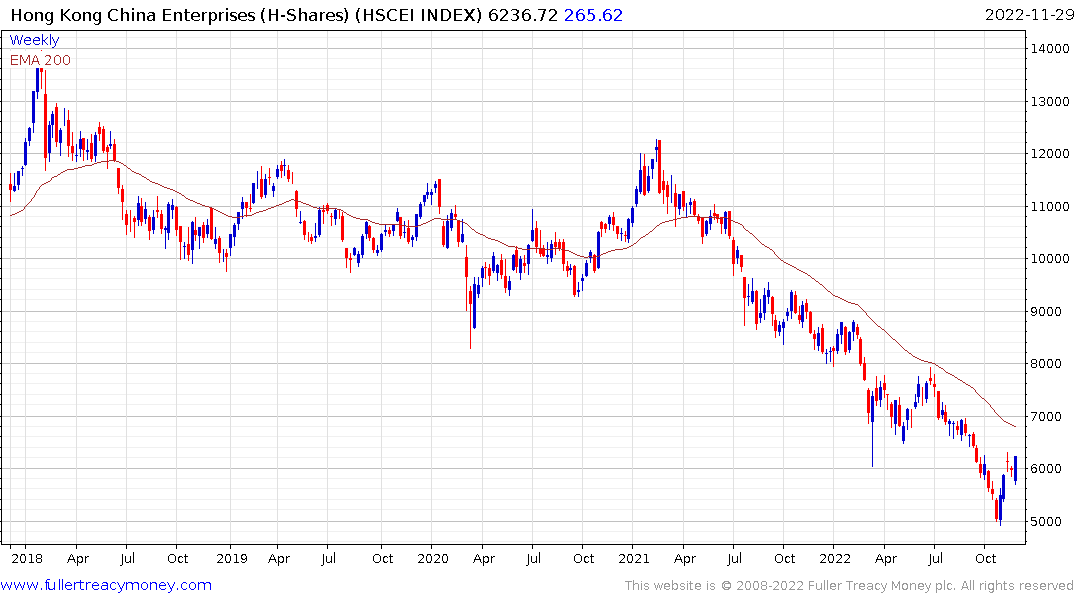 The China Enterprises Index posted a higher reaction low and another island reversal today. That suggests the rebound from the region of the 2008 lows is still underway. The first area of potential resistance in the 200-day MA, near 7000.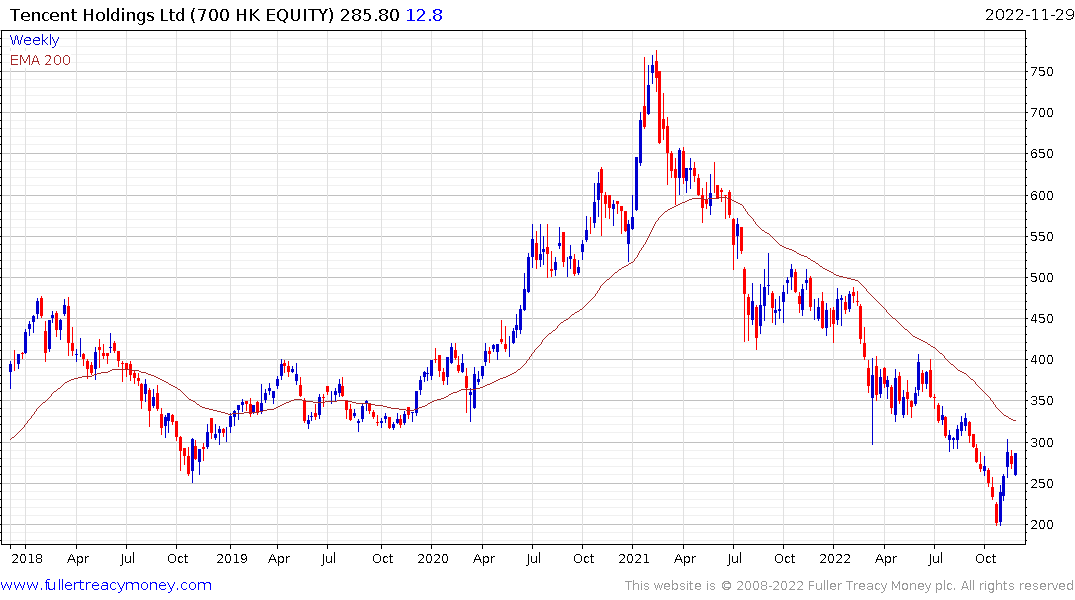 Tencent's game sales continue to improve. The share is now challenging the 21-month downtrend.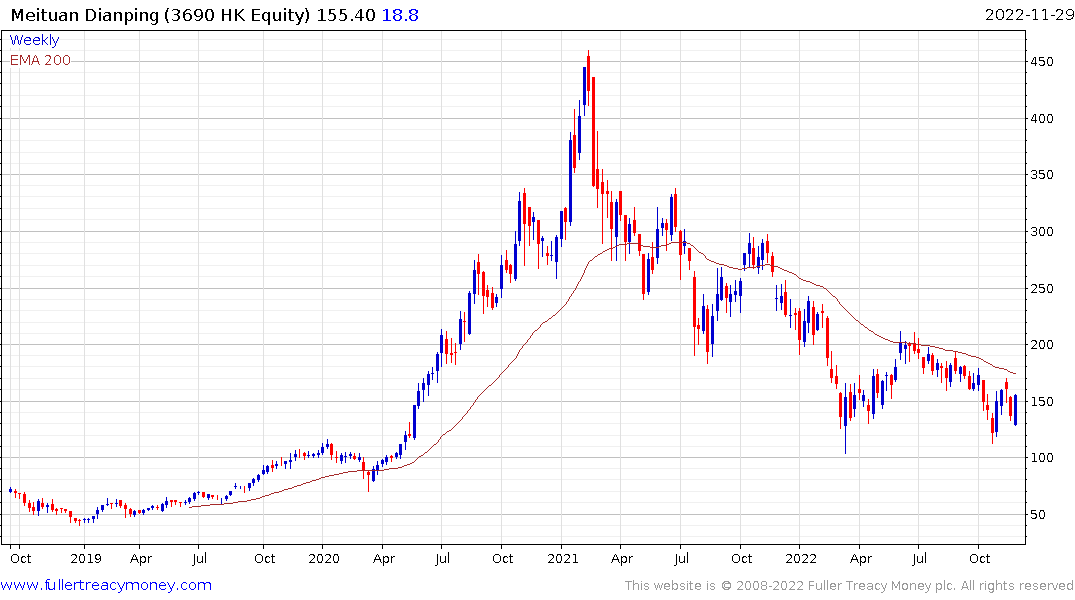 Meituan's sales also surprised on the upside and the share continues to firm within its base formation.

Pinduoduo broke out of a yearlong base formation yesterday and improved on that performance today.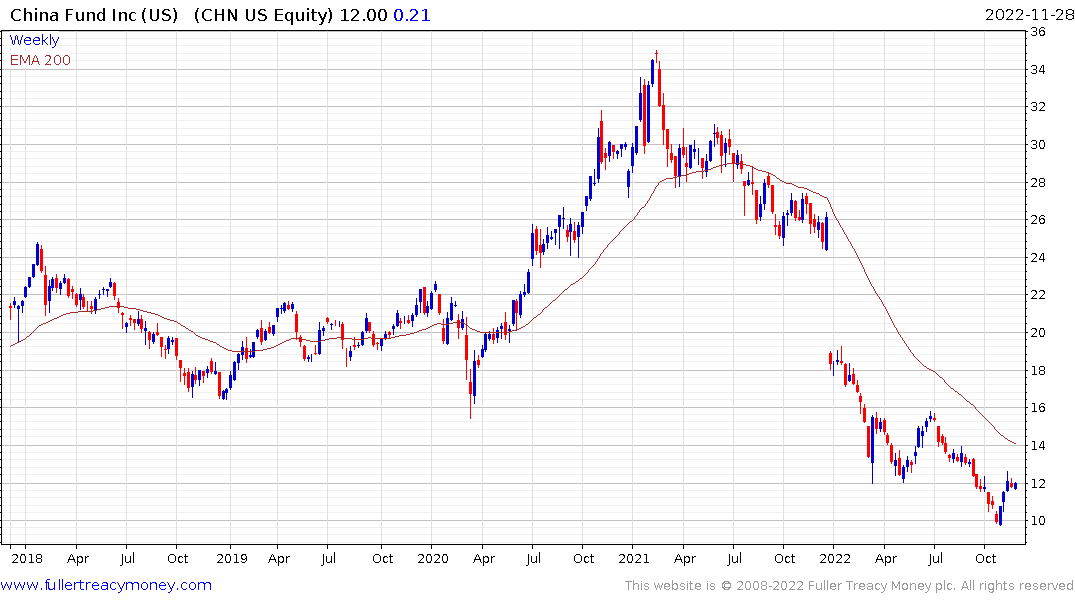 The China Fund Inc pays special dividends in December and has a similar chart pattern to Tencent.
While there are many moving parts to what is happening in China right now, the simplest conclusion is the COVID-zero policy has peaked and is now in terminal decline. That should support consumer activity from here on out.
This quote from a Bloomberg article focusing on industrial metals today suggests positioning in the sector is turning more bullish.
"Regardless what anyone in the West thinks about reopening, China has been buying," said Alastair Munro, an analyst at Marex. "The money out there is going into things that suggest they are going to open up."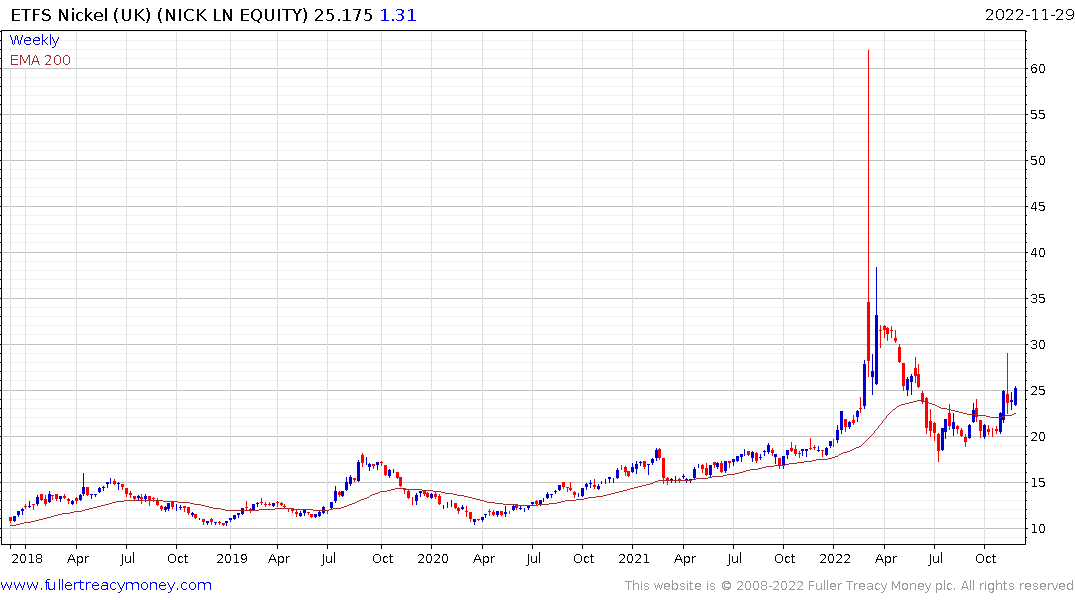 Nickel, in particular, firmed today as it bounces from the region of the 200-day MA and the underlying range.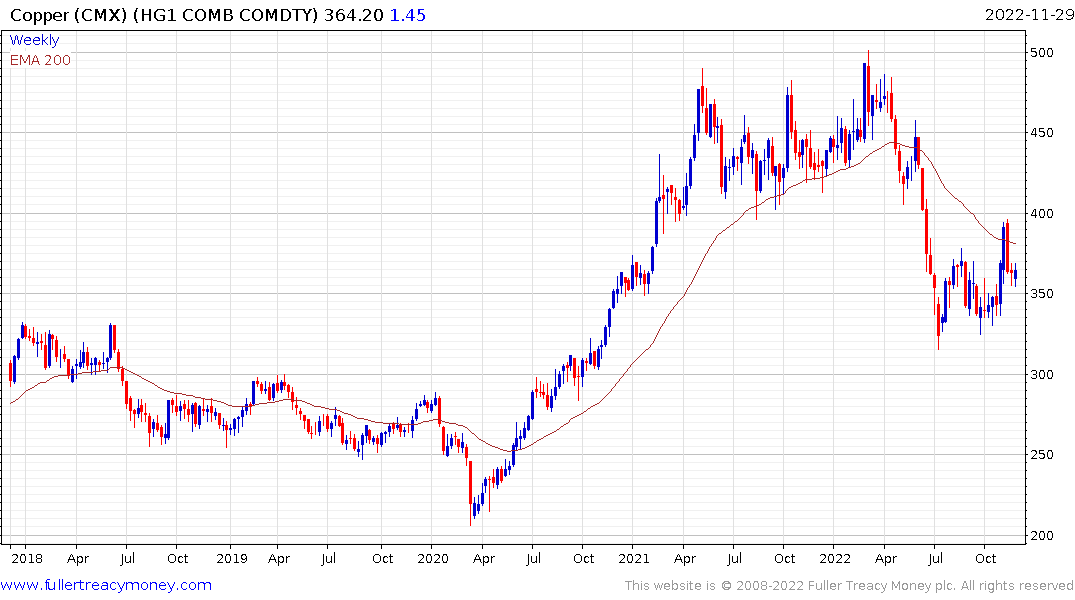 Copper, by comparison, was much more muted but continues to hold the $3.50 area.
Back to top