Spending time in China is always an educative experience for me and on this occasion I spent 10 days in Guangzhou and Shenzhen with a brief sojourn in Hong Kong. Mrs. Treacy and I celebrated our 10th wedding anniversary and in a decade of visits to China one takeaway is that costs have risen considerably over that time.

I met one very interesting factory owner who highlighted that fact. He produces filters and papers for hand rolled cigarettes. Business is booming. With the continued expansion of the marijuana legalisation trend he has seen his USA business expand from 4,000 locations to 18,000 in two years. He is Belgian and owns 50% of a factory in Shanghai producing these products. Wages are approximately €400 per month. They have tackled the issue of rising Chinese wage demands by hiring Vietnamese, Cambodian and Filipino workers. This was the first time I have heard of China importing cheap labour but it is a logical step. He also mentioned another Dongguan based factory he deals with which is Indian owned and is moving their entire operation to Indonesia where wages are closer to €150 a month.

The market for manufacturing small low-tech components is highly competitive but this is nothing new. Chinese companies which have built up sizeable operations have moved factories overseas, inland and imported workers all in an effort to remain competitive. Last week's relaxing of the one-child policy can be viewed as an attempt to remedy one of the symptoms of this evolution but there is no denying the Chinese workforce is increasingly technically proficient and competition on labour costs is a further incentive to automate manual labour or outsource to much cheaper locales.
There is at least some evidence that the hokou system of domicile registry has also been relaxed. Previously a migrant worker could not bring their children to the city. If they did, they could not access public services such as health and education and children are not allowed in factory dormitories. As a result families were separated with parents in the city and grandparents looking after children in the countryside. If the number of small children on the street in Guangzhou is any measure this rule has been relaxed. I can say without equivocation that I've never seen so many children in China. Allowing families to stay together and permitting more people to have more children should help boost social cohesion as the economy continues to transition from low end manufacturing to higher value products.

Everyone we talked to is complaining about how slow business is. The credit crisis impacted US demand, the sovereign debt crisis in Europe was an additional headwind. Low oil prices mean Russian and Middle Eastern demand has also been impacted. China is working hard to stimulate domestic demand but this is a slow process and takes time. More importantly the companies that will benefit from growing domestic demand are not necessarily those that have benefitted from export demand.

For example a shop opposite our hotel which was as busy as any H&M or Forever 21 in the USA was Mirror168. They bring out new lines on a daily basis from their factories, only in black and only in one size. The cut is such that the clothing fits most body shapes. Here is a link to their Taobao site, which an Alibaba service, This is a smallish brand but is representative of the new crop of Chinese companies aiming directly at the young consumer.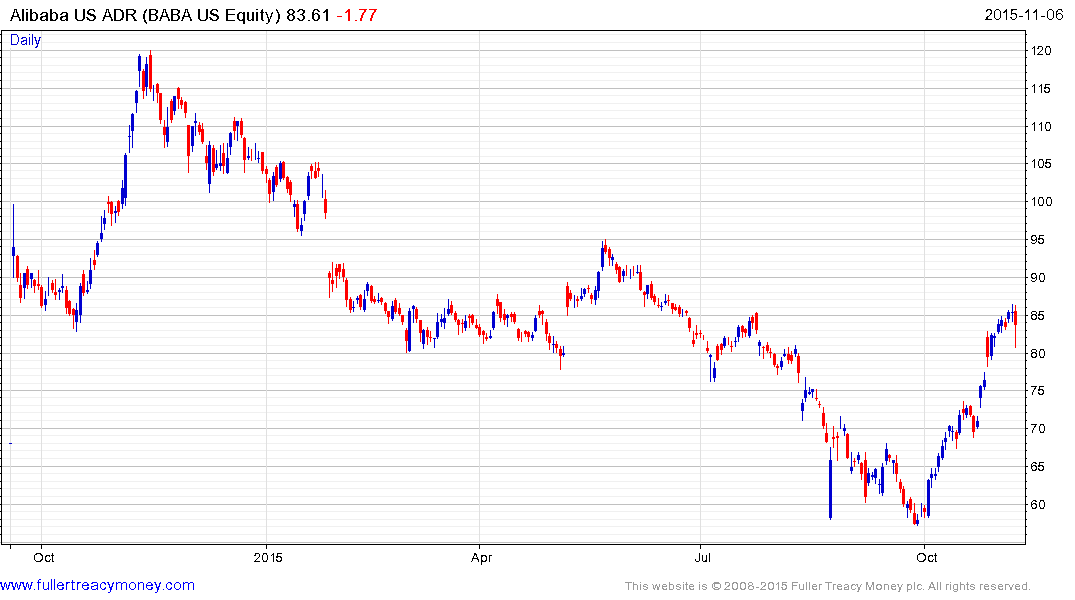 In order to ensure these types of companies survive and that established major employers have the time to transition, China needs easier monetary conditions and the weakening of the Yuan is a major factor in that consideration.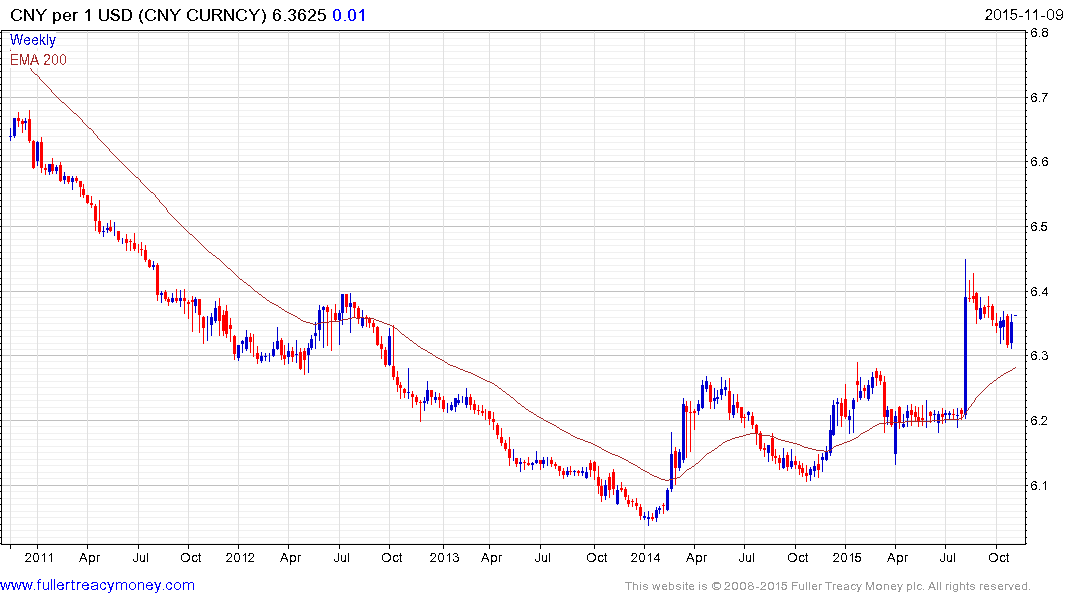 The Dollar's relative strength and the intent of the Chinese to allow the Yuan to devalue continue to suggest the yuan has seen its peak and that it would be rash to expect it to strengthen further any time soon.

In Kowloon's massive Tsim Tsia Tsui shopping area there is plenty of evidence the SAR is still a prime destination for mainland tourists but there was a distinct absence of shopping bags in their hands. Talking to a number of sales assistants last year was considerably better than this year and while the numbers of visitors is down their spending is down even more. Discounts of 10% on major luxury watch brands are available with little negotiation. I don't believe this was a situation that prevailed only a couple of years ago but I trust subscribers will know better.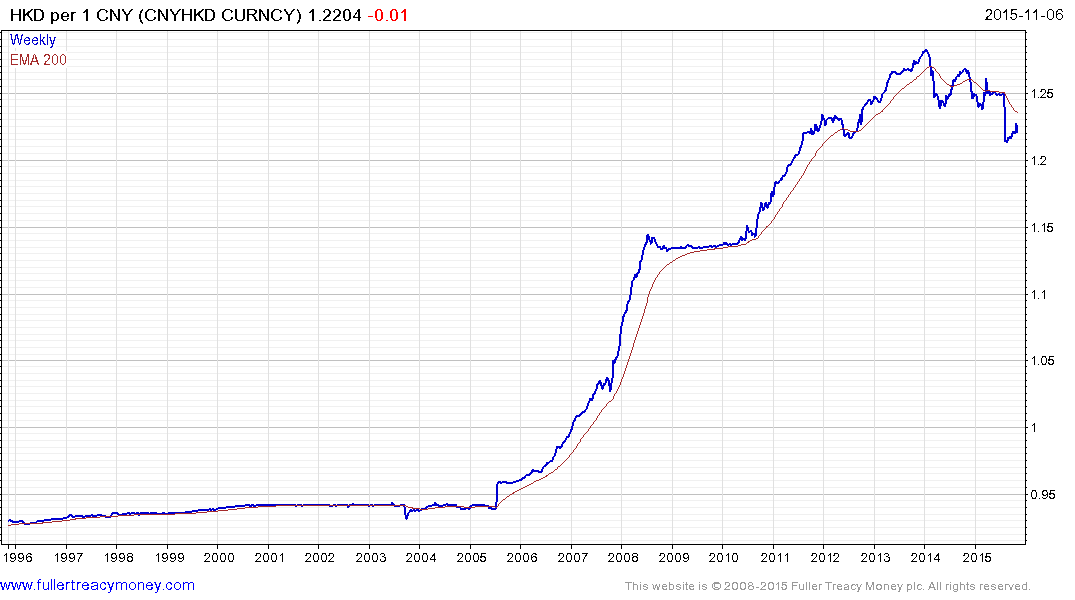 The Yuan traded as strong as HK$1.28 in early 2014 but and has since fallen to HK$1.22. Technically there is no evidence the Yuan's downtrend is over and there is ample potential for it to fall further.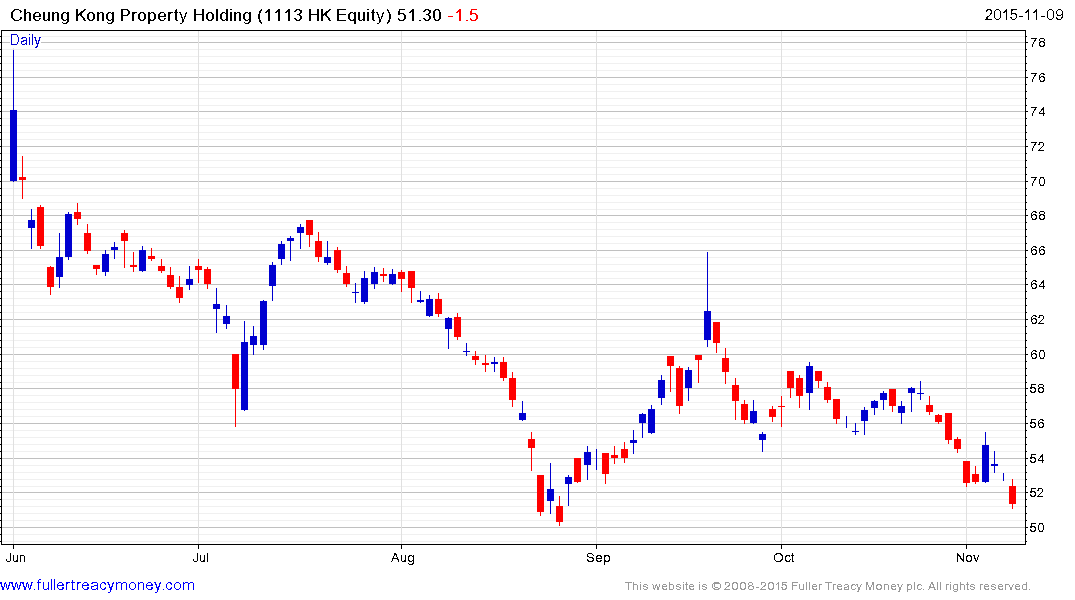 Hong Kong property prices are sky high not least because the HKD is tied to the US Dollar and its low interest rates. The city is susceptible to economic stress if US interest rates rise not least because it would restrict credit when the city needs it as Chinese economic conditions remain challenging. Li Kai Shing's spin-off of his property portfolio in Cheung Kong Property has yet to demonstrate support has been found.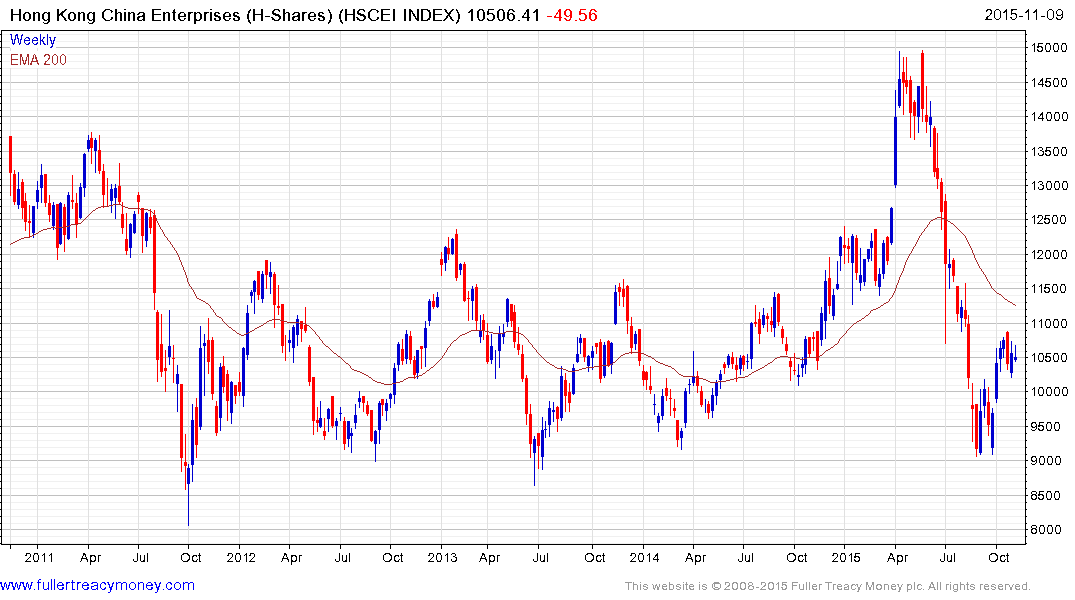 Considering the potential challenges facing the domestic Hong Kong economy the China Enterprises Index with similar low valuations may hold better medium-term prospects.
Back to top