China Shares Sink Most Since 2016 as 1,000 Stocks Fall by Limit
This article by Kana Nishizawa for Bloomberg may be of interest to subscribers. Here is a section:
Hong Kong didn't fare much better, with the Hang Seng Index dropping 3.5 percent, the biggest in eight months. Tencent Holdings Ltd., the most valuable stock listed in Asia, slid 6.8 percent to extend a record losing streak to a 10th day.

Chinese shares have been the ground zero for the trade war with the U.S. The Shanghai Composite has lost 24 percent in the past 12 months, one of the worst performers among 94 global gauges tracked by Bloomberg, with the majority of the decline happening this year. A slowing economy and weakening currency is only adding to the gloom.

"Panic? The general mood among fund managers is more like 'playing dead,'" said He Qi, portfolio manager at Huatai Pinebridge Fund Management.

Telecom and technology shares led declines on the mainland, with ZTE Corp. and 360 Security Technology Inc. tumbling more than 9 percent. Tech shares also dropped the most in Hong Kong, following the sector's rout in New York.

Volume on the Hang Seng Index and China's large-cap CSI 300 Index was about 70 percent more than their 30-day intraday average, according to data compiled by Bloomberg. Foreign investors dumped 3.6 billion yuan ($520 million) onshore shares through Hong Kong-China stock links. "It's been a rough day," said William Wong, head of institutional sales trading at Shenwan Hongyuan Securities HK Ltd.

Institutional investors have been reducing their portfolio, while we see hedge funds shorting in Hong Kong." A crackdown at Chinese borders on undeclared goods also hurt luxury goods companies, with Prada SpA tumbling 10 percent, the most since September 2017. Jiangxi Ganfeng Lithium Co. dropped as much as 33 percent on its trading debut.

"Negative sentiment is outweighing any positive catalysts, and investors would take any rebound as a chance to sell," said Louis Tse, Hong Kong-based managing director at VC Asset Management Ltd., adding that Shanghai shares may fall further after breaking the key support level. "If we're talking about seeing an end of the tunnel -- I don't think so."
There is no doubt that increasing tensions between China and the USA have been one of the factors contributing to the underperformance of the Chinese market so far this year. However, the tightening of credit standards, particularly cutting off funding lines for the shadow banking sector and regional banks has also been an important consideration in the underperformance.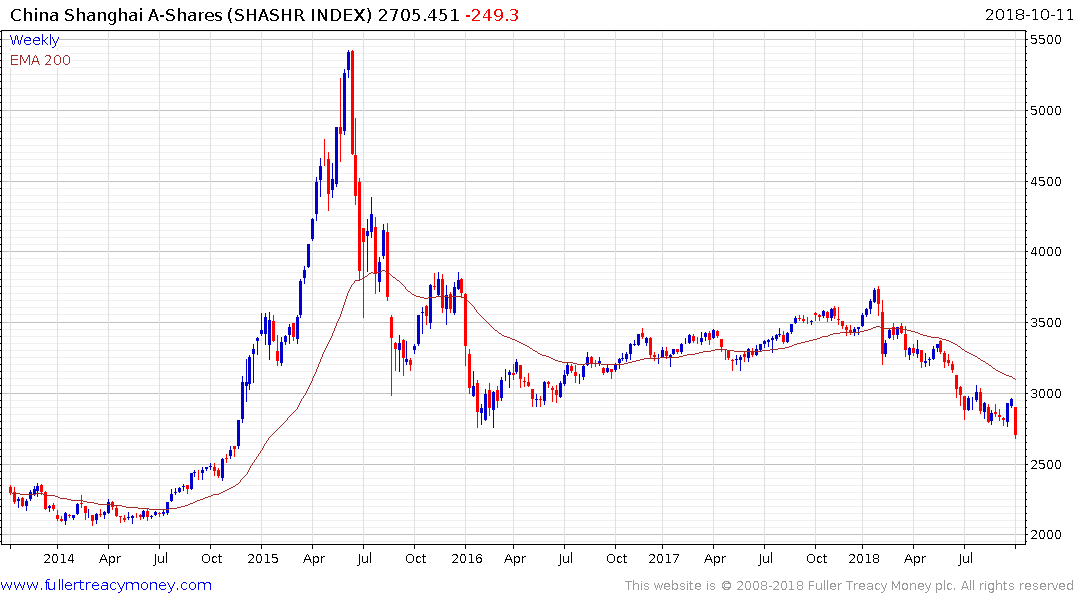 These measures have been undertaken to address the leverage which has been building in the financial and property sectors and amid a rise in the country's debt to GDP ratio to 260% from 160% before the financial crisis.
Against that background it is worth remembering the mainland stock market rallies usually occur against the background of state sponsorship. The rollicking bull market between 2005 and 2007 was initiated by the government stating it was going to backstop declines. The big move in 2014 and 2015 occurred in anticipation of the Hong Kong-Shanghai Connect and at the same time options trading was introduced.
A clear state-sponsored bullish catalyst is going to be required on this occasion too, before investors will be willing to return en masse to the Chinese market.
Meanwhile the expansion of the list of systemically important banks beyond the large state-owned banks increases the number of institutions which are guaranteed to be rescued in a crisis but also serves to highlight that the banks not included could be allowed to fail.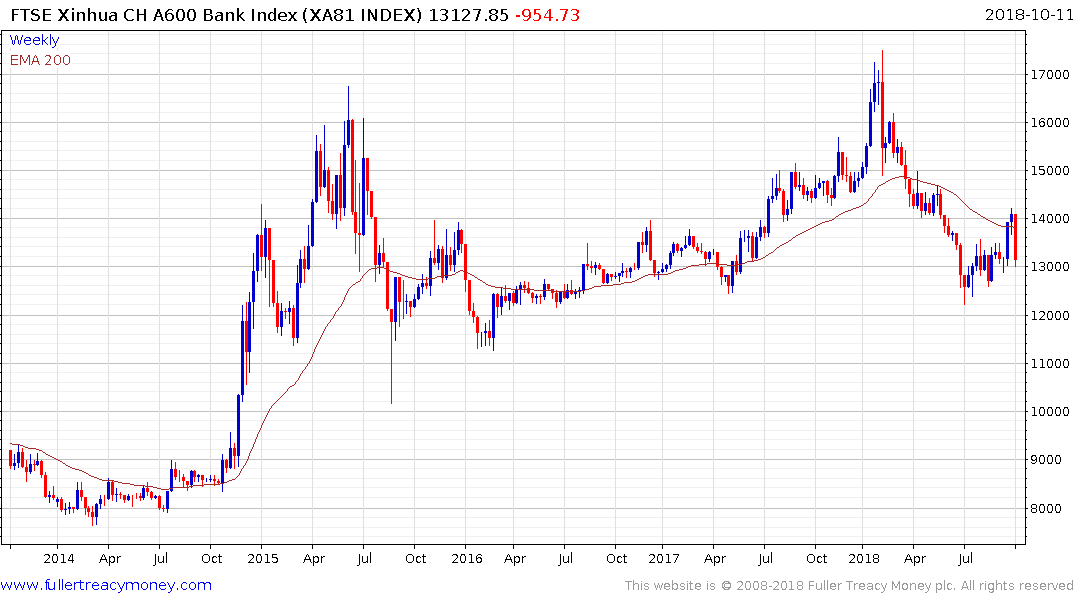 The FTSE/Xinhua A600 Banks Index is back testing its progression of higher reaction lows and will need to hold the 13,000 level if the short-term upward bias is to be sustained.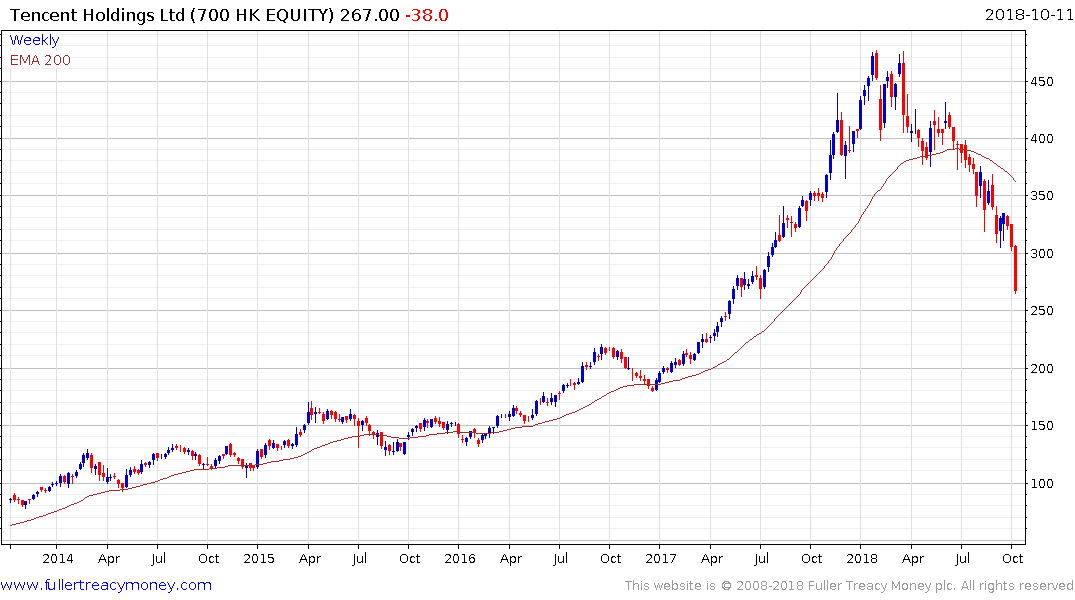 Tencent, which has been the leading decliner this year, is now accelerating lower which is a trend ending but there is no sign yet that the selling pressure is over.
Back to top