China's Rejoinder Shows No One Wants a Trade War, Really
This article by David Fickling and Shuli Ren for Bloomberg may be of interest to subscribers. Here is a section:
Is the phony trade war over?

With its plans to levy 25 percent tariffs on $50 billion of U.S. products including soybeans, cars and aircraft, China looks to have stepped the simmering trans-Pacific economic battle up a gear.

The initial parries between Washington and Beijing resulted in little more than flesh wounds. There were a series of levies on steel and aluminum exports to the U.S., which largely excluded the countries that export steel and aluminum to the U.S.; an impost on China's infinitesimal imports of U.S. pork, and on a scrap trade that Beijing is already trying to stamp out; and then Tuesday's heftier $50 billion tariff list from Washington, which was nonetheless carefully crafted to be almost invisible to Joe Sixpack.

Pick apart Beijing's latest list of countervailing duties and you'll see that in many areas there's once again less than meets the eye.

To be sure, the list deals a few headline-grabbing blows to select political constituencies. There's a special levy on cranberries, which these days are mainly grown in Wisconsin, the home state of House of Representatives Speaker Paul Ryan.

Another hits the whiskey industry associated with Senate Majority Leader Mitch McConnell's base of Kentucky, borrowing a move from the European Union's tit-for-tat trade war game plan.

And let's not forget those levies on fresh orange juice, calculated to hit growers in the electorally pivotal state of Florida.

Beneath that, though, many of the details suggest a more moderate approach. The duties on aircraft exclude all planes with an operating empty weight above 45 metric tons, a provision that looks to spare every aircraft that matters to Boeing Co. -- and, in any case, aerospace companies can get around tariffs by deferring orders to China and bringing forward deliveries to lessors elsewhere in the world.

Seven of the trade categories affected relate to beef, which China resumed importing from the U.S. only last year -- in minute quantities -- after a 14-year ban due to fears of mad cow disease. New 25 percent duties on wheat and corn won't do much additional damage to a trade that's minimal given the 65 percent import tariffs that China already charges on those crops.
The big question for investors is how much of Trump's trade tariffs are appeals to his voter base ahead of the mid-term elections in November and how much are aimed at truly disrupting the international trade web that has been such a powerful force for greater flows over the last forty years.
If we look at the granularity and relative size of the tariffs it would require a significant escalation to question the conclusion that the USA does not particularly want a trade war.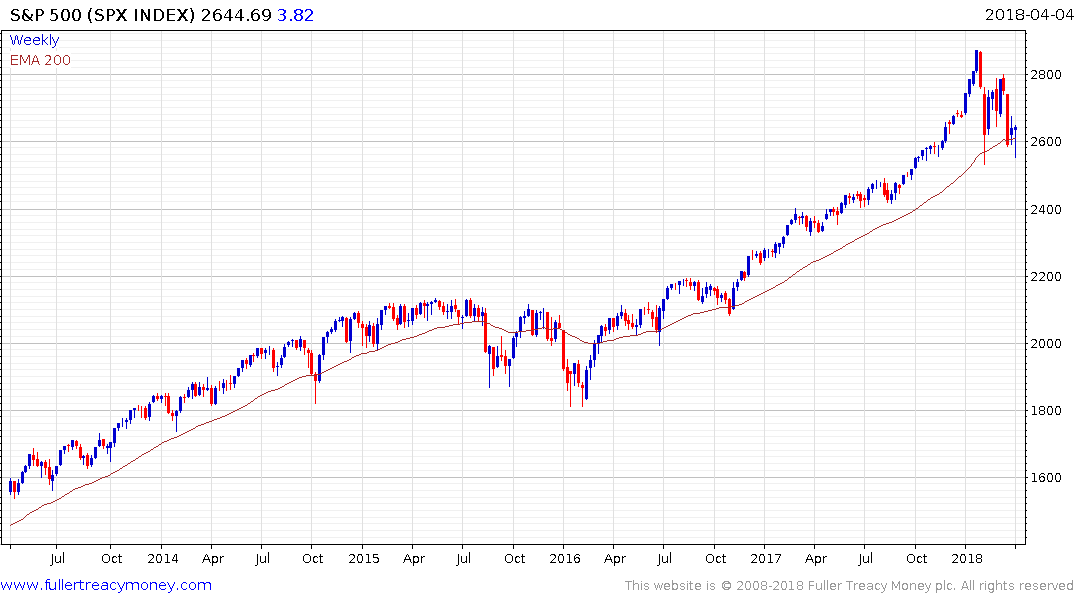 The S&P500 bounced impressively today to confirm at least near-term support in the region of the trend mean.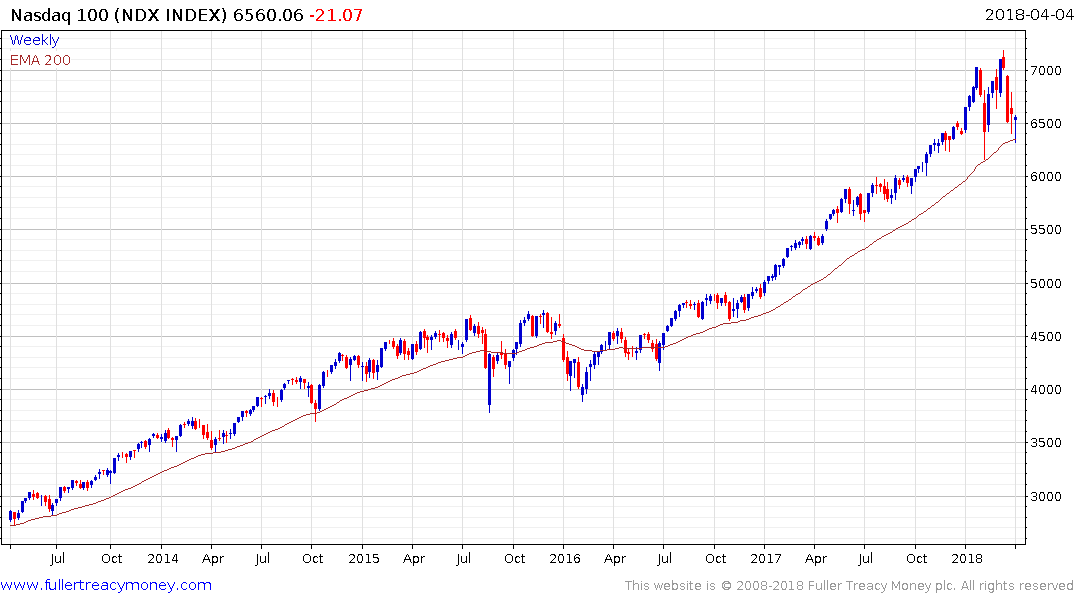 The Nasdaq-100 also bounced from the region of its trend mean today to confirm at least near-term support.
Following the sharp pullbacks posted in early February, the most likely scenario was that they would be followed by a period of ranging. With support being found in the region of the trend mean, it is reasonable to assume that current levels approximate the lower side of that range. Sustained moves to new lows would be required to question that working hypothesis.
Back to top