China Ousts Finance Minister Lou Jiwei as Xi Jinping Turns to Allies in Surprise Reshuffle
This article by Lingling Wei and Jeremy Page for the Wall Street Journal may be of interest to subscribers. Here is a section:
"Lou Jiwei's abrupt ouster sends a strong signal that any prospects of even limited economic reforms are falling prey to President Xi's focus on consolidating his power," said Eswar Prasad, a Cornell University professor and former China head of the International Monetary Fund.

Since coming to power in late 2012, Mr. Xi has been moving away from the party's decadeslong collective leadership model and centralized decision-making within a number of small committees he heads. Last month, he was named the "core" of the party's leadership—a designation giving him an even stronger perch to influence the outcome of the congress in late 2017.

At that time, up to five of the seven current members of the Politburo Standing Committee, the top leadership body, are due to retire. In addition, more than 60% of the 376-seat Central Committee—which includes ministers, state industry chiefs and army generals—are expected to be replaced. Still, despite his consolidation of power, party insiders say Mr. Xi still has to vie with departing and retired leaders seeking to promote their own favorites.
Here is a link to the PDF of the above article.

With so many powerful positions becoming vacant over the next two years it is little wonder that Xi is attempting to ensure his favourites accede. Not only does it give him the potential to strengthen his own power base but perhaps even more importantly it gives him to the opportunity to encroach on the power structures of his adversaries. As a result we can anticipate a great deal of activity around which group within the Party will succeed in holding what positions.

In order to secure the most prestigious positions Xi will need to ensure the economy does not have any undue surprises. Considering the schedule of open appointments coming up, there is unlikely to be much appetite for fiscal reform but rather the stability of markets will likely take on additional importance in the eyes of the administration.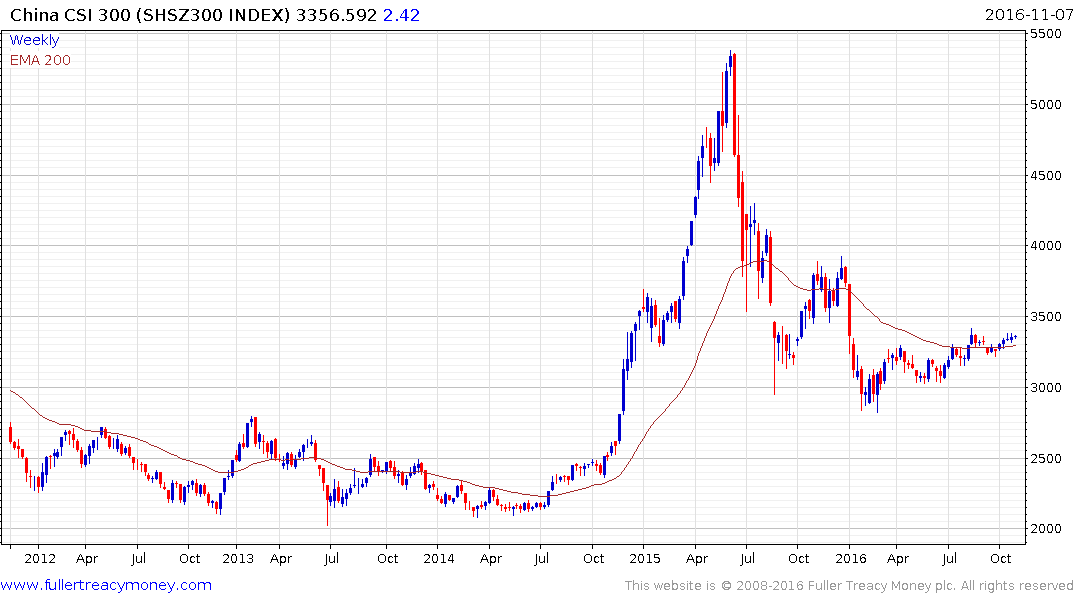 The CSI300 Index continues to hold a progression of higher reaction lows and a break below 3200 would be required to question medium-term scope for continued higher to lateral ranging.


The US Dollar has been trending higher against the Renminbi in a consistent manner for nearly three years. It paused at CNY 6.4, 6.6, 6.7 and is now testing 6.8, so it would not be surprising to see a pause in the current area. A break in the medium-term progression of higher reaction lows, currently near 6.6, would be required to question medium-term Dollar dominance.


The Hang Seng Index has almost completed a reversion towards the mean as it unwound a wide overextension. It bounced today and upside follow through over the balance of this week would potentially signal a low of more than near-term significance.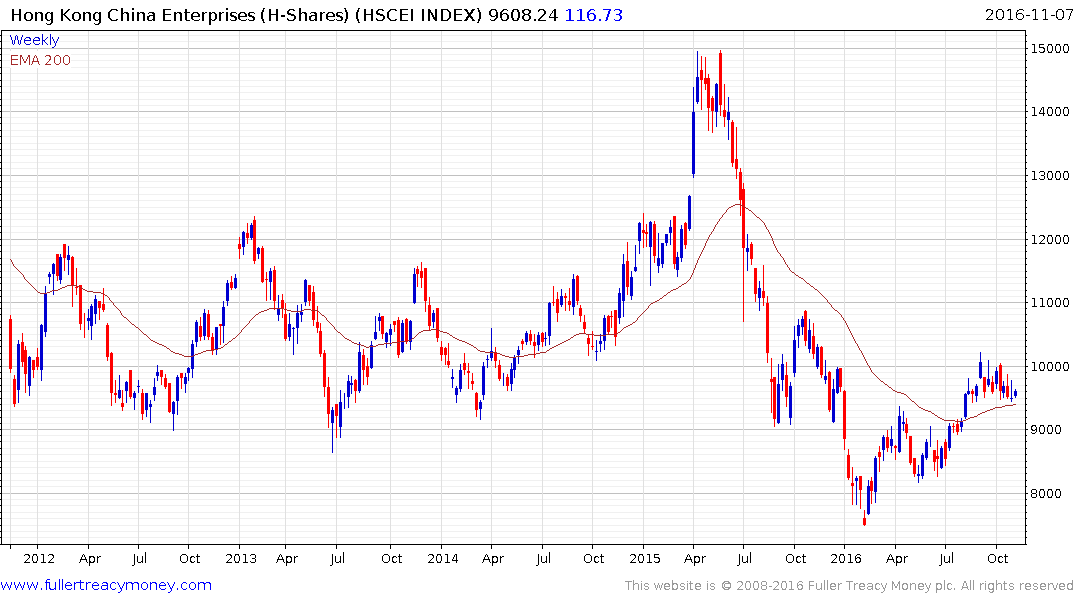 The China Enterprises Index (H-Shares) has found near-term support in the region of the trend mean over the last week and a sustained move below it would be required to question medium-term scope for continued higher to lateral ranging.
Back to top