China Opens Wealth Tap to Hong Kong Amid Political Crackdown
This article from Bloomberg may be of interest to subscribers. Here is a section:
The plan "has strategic importance, reinforcing Hong Kong's position as a wealth management hub," Sally Wong, chief executive officer of Hong Kong Investment Funds Association, said by phone. "It provides important investment channels for mainland investors to achieve diversification."

As Beijing seeks to quash a year of unrest in Hong Kong with the introduction of a new security law, authorities have also sought to tamp down concern over the city's status as an international finance hub. Mainland investors have boosted stock purchases through the stock connect link over the past weeks and a string of high-profile Chinese companies have listed shares in the city.

Local authorities have also sought to reassure investors that Hong Kong will remain a stable place to invest, with Chief Executive Carrie Lam lobbying for more financial integration to build the city's presence as a global hub for private wealth and make it a more prominent offshore renminbi center. While there has been no sign of an exodus of cash, Hong Kong's rich are increasingly hedging their bets amid the worst economic and political crises since the handover.

The U.S. overnight escalated pressure on China over its crackdown on Hong Kong by making it harder to export sensitive technology to the city as Beijing is poised on Tuesday to pass the security law. The Commerce Department said it's suspending regulations allowing special treatment to Hong Kong over things including export license exceptions.
As China attempts to draw a line under the protests that have plagued Hong Kong over much of the last couple of years, they are likely to continue to meet with resistance on the streets. The new security law is an affront to the one country, two systems agreement. It presages an acceleration of trend of absorption with the mainland than was envisaged by the framers of the handover.

The big question investors need to ask is how far China will push the issue and whether it will threaten the independence of the judiciary when companies come to enforce contracts against the government or state-owned enterprises. To placate those concerns Beijing appears willing to offer some incentives in the form of additional flows into Hong Kong's market. The repatriation of stock listings from the USA to Hong Kong is also part of that strategy. We consider this part of a possible "carrot and stick" approach to governance.

JD.com has just listed in Hong Kong so it is not yet in any of the major indices. The CSI Hong Kong 100 Index includes companies like Alibaba, Meituan Dianping and Xiaomi. Tencent is the largest holding and, at least for now, the large mainland tech companies have small weightings.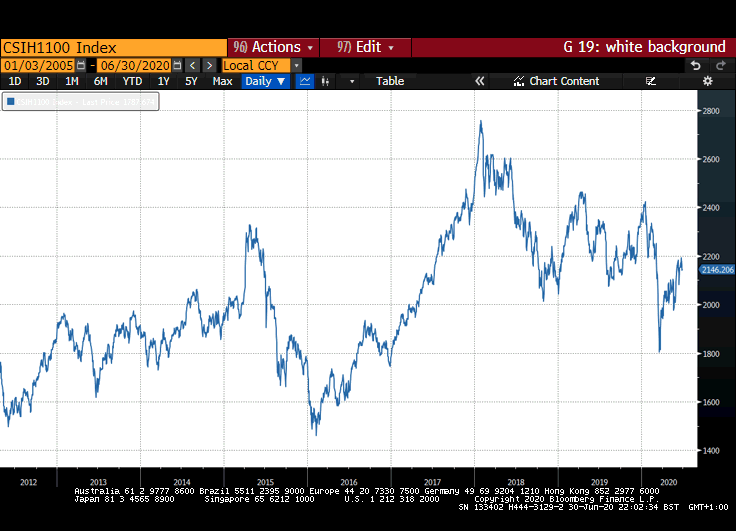 The Index is back testing the region of the trend mean and will need to sustain a move above 2200 to signal a return to demand dominance beyond the short term.
Back to top