China Is Said to Study Yuan Devaluation Amid U.S. Trade Spat
This article from Bloomberg news may be of interest to subscribers. Here is a section:
The analysis doesn't mean officials will carry out a devaluation, which would require approval from top leaders, the people said, asking not to be named as the information is private.

"It seems as if Beijing is showing the full extent of policies they could deploy," said Viraj Patel, a strategist at ING Bank NV in London.

The yuan weakened as much as 0.2 percent to 6.3186 per dollar in onshore trading on Monday, before trading little changed as of 5:49 p.m. local time. China's central bank didn't immediately respond to a faxed request for comment.

While Trump regularly bashed China on the campaign trail for keeping its currency artificially weak, the yuan has gained about 9 percent against the greenback since he took office and has been steady in recent weeks despite an escalation of trade tensions between the world's two largest economies. The Chinese currency touched the strongest level since August 2015 last month.
Anyone who has been to China will not be surprised to learn that bargaining is part of the culture. I'm never prouder of Mrs. Treacy when I see her in full flight laughing and joking with sellers while also getting the best possible price and the feeling that an equitable deal has been struck by the end of negotiations. It is only by succeeding in negotiations with factories that she has been able to achieve the lowest price on Amazon for her bestselling products. The point I am aiming to make is that in China the art of the deal is engrained in the culture and in order to succeed the US negotiating team is going to need to have a very clearly defined set to objectives and what it is willing to give up.
The key to a good bargain is to quickly shave away the extravagant initial demands and focus on what's important. You only know you have reached a fair meeting point when both parties grudgingly accept the conditions agreed but neither is so discomfited as to walk away.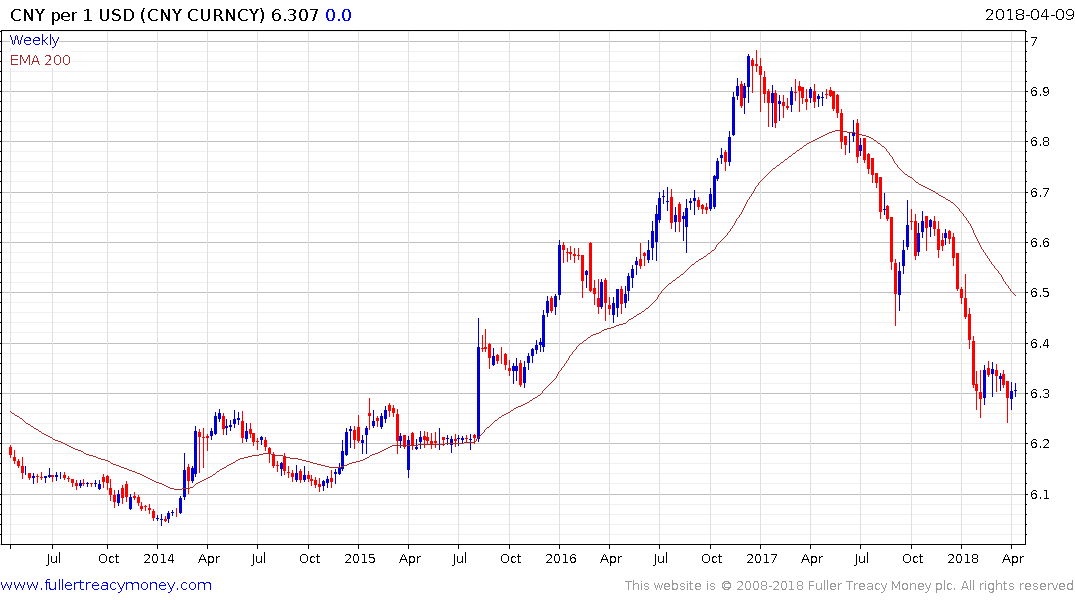 The Chinese have been allowing the Yuan to strengthen over the course of the last fifteen months because they needed to stem outflows. The fact that helped to placate its trading partners was a secondary benefit. The currency is now back at the levels it traded at in 2015 and a rather wide overextension relative to the trend mean is evident. There is certainly scope for some weakening as an initial gambit in trade negotiations.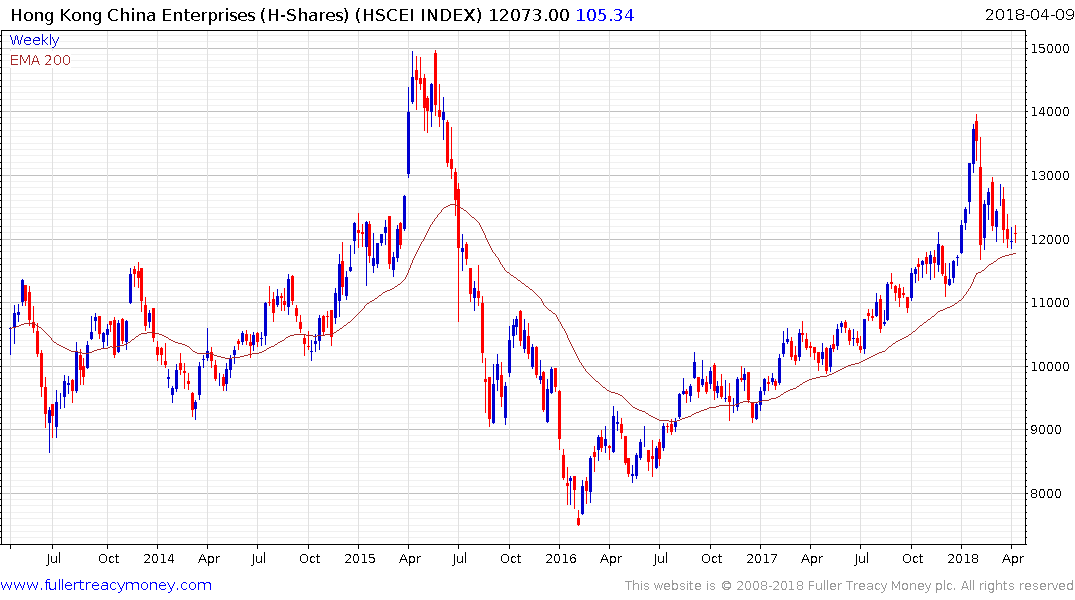 The H-Share Index is currently testing the region of the trend mean and it needs to continue to hold the 11500 level if medium-term scope for continued higher to lateral ranging is to be given the benefit of the doubt.
Back to top