Can Wal-Mart's Expensive New E-Commerce Operation Compete With Amazon?
This article by Brad Stone and Matthew Boyle for Bloomberg caught my attention. Here is a section:
The video worked exceedingly well. In August, Wal-Mart Stores Inc. announced it would acquire Jet.com for $3.3 billion in cash and stock. It was an extraordinary sum for a 15-month-old, purple-hued website that was struggling to retain customers and is still far from making a profit. Even more astonishing, Lore and his management team in Hoboken, N.J., were put in charge of Wal-Mart's entire domestic e-commerce operation, overseeing more than 15,000 employees in Silicon Valley, Boston, Omaha, and its home office in Arkansas. They were assigned perhaps the most urgent rescue mission in business today: Repurpose Wal-Mart's historically underachieving internet operation to compete in the age of Amazon. "Amazon has run away with it, and Wal-Mart has not executed well," says Scot Wingo, chief executive officer of Channel Advisor Corp., which advises brands and merchants on how to sell online. "That's what Marc Lore has inherited."

Lore's ascendancy at Wal-Mart adds bitter personal drama that wouldn't seem out of place on Real Housewives of New Jersey to a battle between two of the most disruptive forces in the history of retail. In 2010, Wal-Mart tried to buy Lore's first online retail company, Quidsi Inc., which operated websites such as Diapers.com for parents and Wag.com for pet owners. But it moved too slowly and lost out to a higher bid from Amazon.com Inc. Lore then toiled at Amazon for over two years before quitting, in part out of disappointment with its refusal to invest more in Quidsi and to integrate his team into the company, according to two people close to him.
You get a lot with your Amazon Prime membership from free 2-day shipping to photo storage and Amazon TV but you do not get the cheapest price on the majority of goods and Prime is not free. It costs $99 a year so you really need to shop, archive and watch Amazon to get your money's worth and for many people that works out since it has built its subscriber base to 80 million people from 40.

Wal-Mart's online store is not pretty and it works better on Microsoft Edge than Google Chrome but the customer service is just as good and the price is lower than Amazon. In fact from my experience, I would say Wal-Mart's customer service is better. On the other hand the company has a serious image problem not least because it is viewed as where poor people shop.
Electronics, General Merchandise and Media represent 90% of Amazon's revenue with Web Services coming at around 9%. Wal-Mart has about double that revenue in the same categories but faces a stiff challenge in wooing Amazon customers. Lower prices are the only way to do that.

Another point where the companies share a similarity is that their operating expenses are rising. For Amazon this is as a result of opening new warehouses and hiring more people while for Wal-Mart breaking into the online arena while also paying higher wages is a challenge.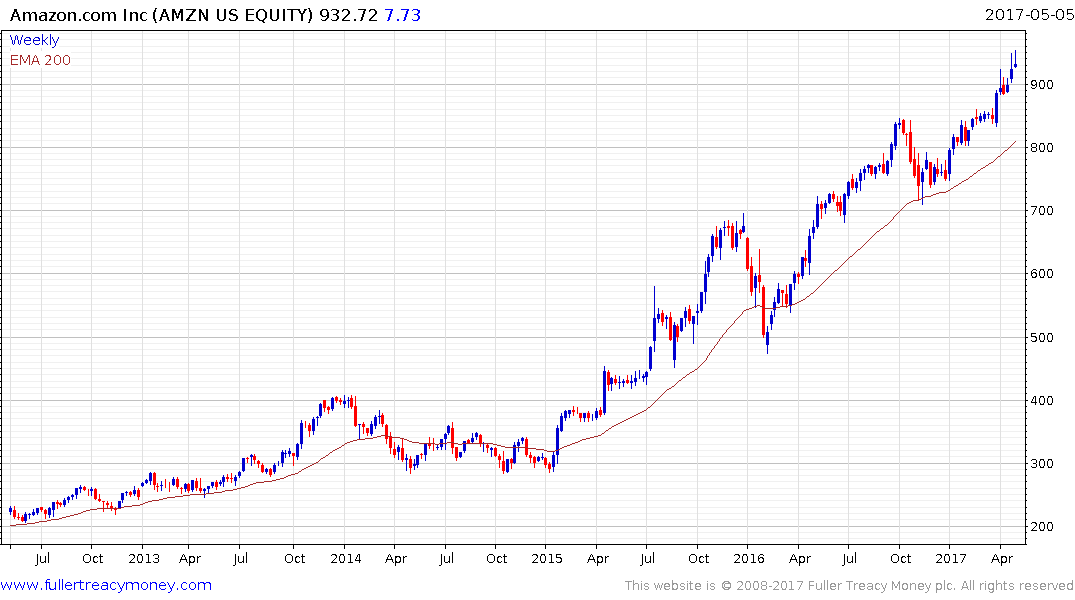 Amazon (Est P/E 136.33, DY N/A) has paused in the region of $950 but a clear downward dynamic would be required to check momentum and signal a process of mean reversion is underway.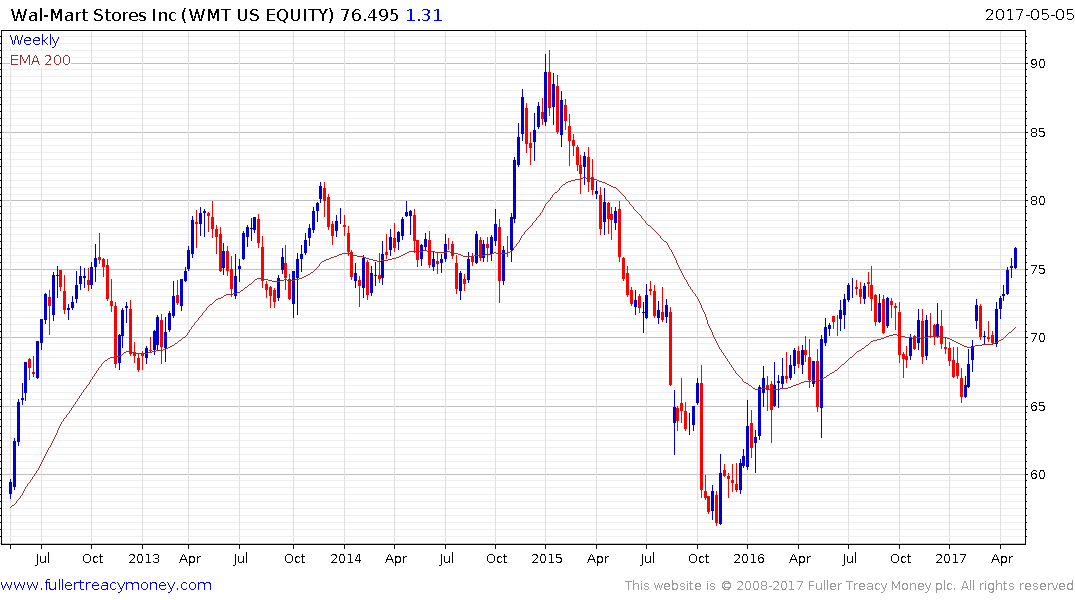 Wal-Mart (Est P/E 17.7, DY 2.67%) broke out to new recovery highs this week and a clear downward dynamic would be required to check potential for additional upside.
Back to top