Bristol-Myers Plummets as Drug Misses Key Lung-Cancer Goal
This article by Cynthia Koons for Bloomberg may be of interest to subscribers. Here is a section:
"This is a major surprise -- possibly the biggest clinical surprise of my career," Evercore ISI analyst Mark Schoenebaum, who recommends holding Bristol-Myers stock, wrote in a note. "Investors had high expectations for this trial."

The results reflected a risky but potentially lucrative bet by Bristol-Myers, highlighting a difference in strategy with Merck. By designing its study to include patients with lower levels of a key biomarker thought to predict response to the drug, Bristol-Myers was aiming at a far larger market for Opdivo. Merck's Keytruda trial, meanwhile, focused on a smaller subset with high levels of the biomarker, called PD-L1 -- fewer patients, but a better chance of success.

Opdivo didn't meet its primary goal of lengthening progression-free survival in patients with previously untreated advanced non-small cell lung cancer, compared with chemotherapy, Bristol-Myers said in a statement. The New York-based company is working on completing an evaluation of the late-stage trial's results.

Bristol-Myers Chief Executive Officer Giovanni Caforio said the company is now focused on combination therapies, which could potentially create a better outcome for the group of patients that don't get results on drugs like Opdivo alone.

"We have a very broad development program in lung cancer and we are answering a number of very important questions,"

Caforio said in a phone interview Friday. "The role of monotherapy might be limited to a very small subset of patients in the first-line setting, which makes our program now ideally suited to address the next question, which is: 'What is the role of combination therapy?"' That will come from a study that analysts said would likely read out in 2018.
As a major Biotechnology company Bristol Myer Squibb benefitted enormously from being in a position to acquire promising research in the aftermath of the TMT bubble in the 1990s. That has led it to develop a broad spectrum product range that is cash flow positive and has allowed the share to hold a progression of higher reaction lows despite the turmoil that has affected the biotech sector from last year.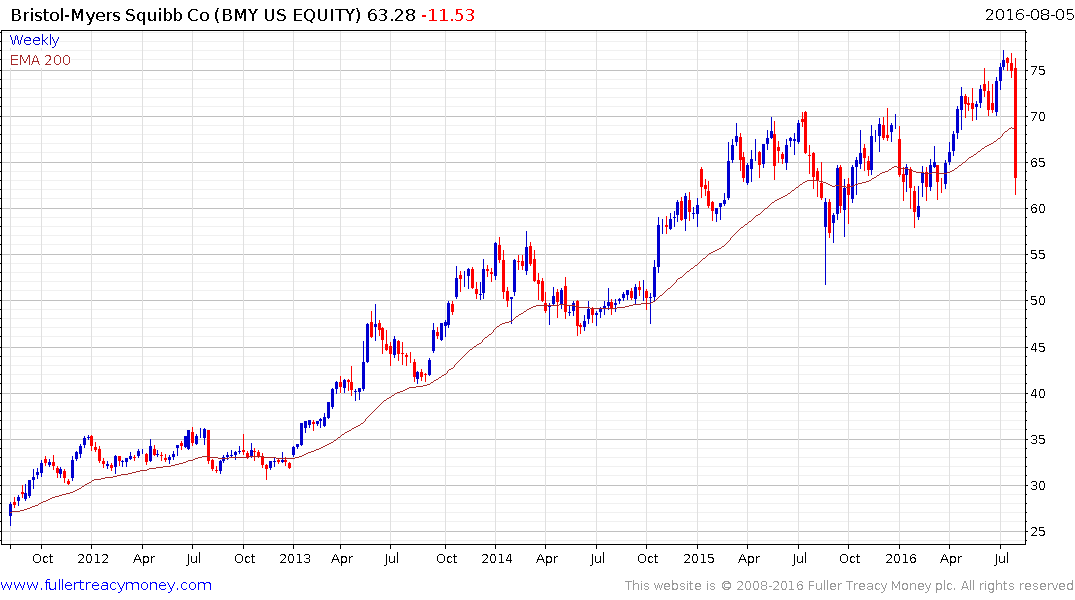 Today's pullback was the largest in a decade but it is important to put it in the context of its previous trading history. The share has dipped back below the trend mean on successive occasions since 2014 but has sustained a progression of higher reaction lows through. This represents the primary consistency characteristic since the performance has become more volatile. Following such a large pullback some convalescence will be required before confidence can be rebuilt. In the meantime, the January low below $60 will need to hold if medium-term scope for continued higher to lateral ranging is to be given the benefit of the doubt.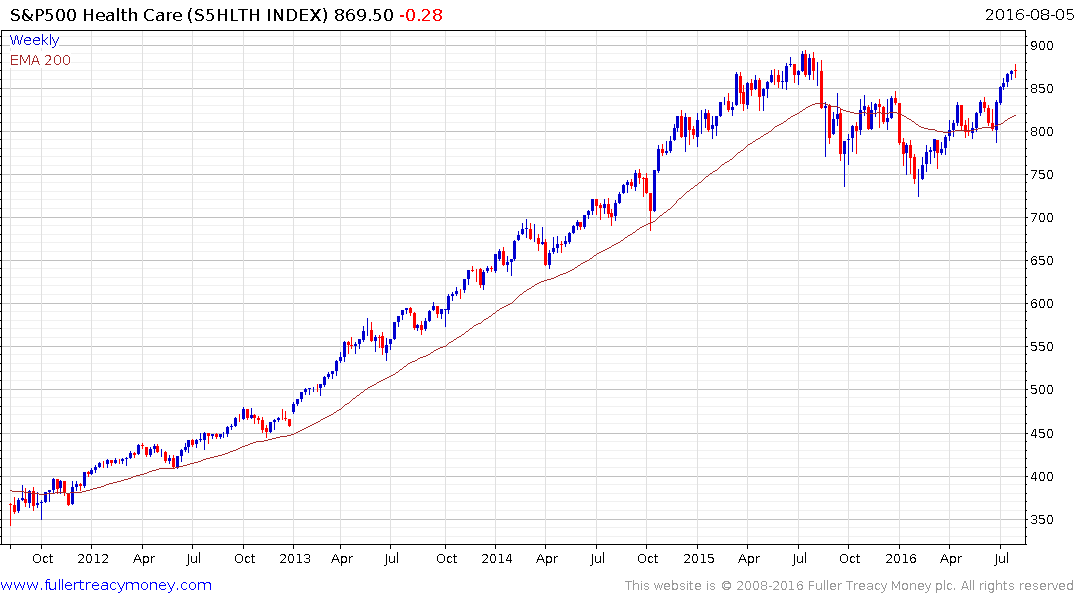 Despite the fact Bristol Myers Squibb is both a major pharmaceutical and biotech company today's pullback did not overly affect the performance of the S&P500 Healthcare Index which it is a constituent of.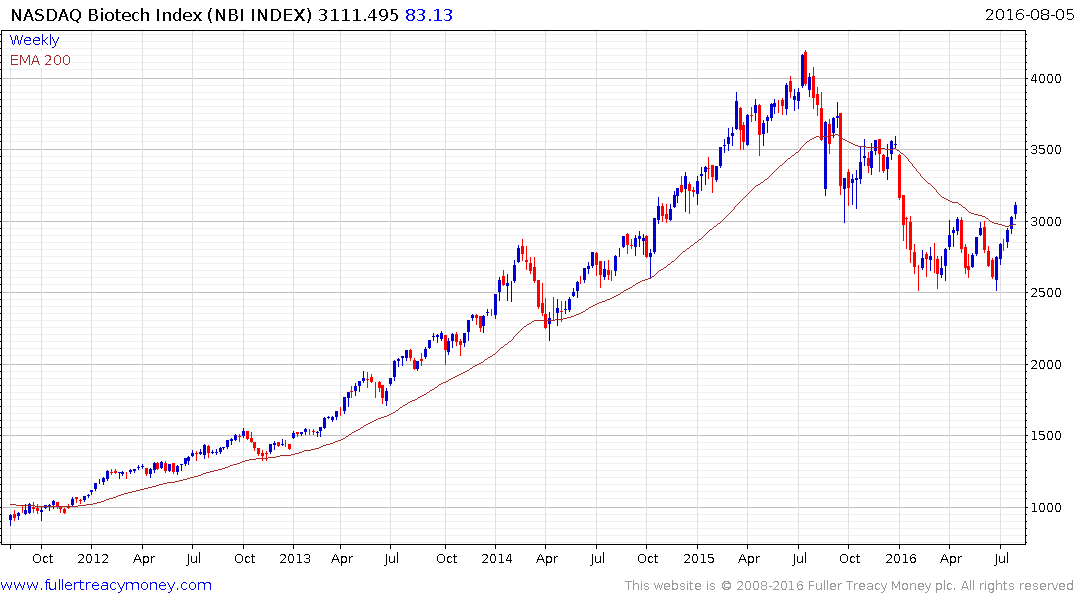 Since it is not a constituent of the Nasdaq Biotech Index today's news has little effect on the Index which remains on a recovery trajectory.
Back to top