Bitcoin Trades Add to El Salvador Sovereign Risk, Moody's Says
This article from Bloomberg may be of interest to subscribers. Here is a section:
El Salvador's Bitcoin trades are adding risk to a sovereign credit outlook that was already weak and reflecting a growing chance of default, according to Moody's Investors Service.

The government's Bitcoin holdings "certainly add to the risk portfolio", Moody's analyst Jaime Reusche said Wednesday in a phone interview.

Trading Bitcoin "is quite risky, particularly for a government that has been struggling with liquidity pressures in the past," he said.

President Nayib Bukele has said he buys the cryptocurrency using his phone, though the government doesn't publish data on its holdings. Bukele bought some coins ahead of El Salvador's adoption of Bitcoin as legal tender in September, and sometimes took advantage of price drops to buy more in the following months, based on what he has said in posts on Twitter.

El Salvador's current ownership of an estimated 1,391 Bitcoins isn't large enough to pose a major threat to the government's ability to meet its obligations, but the risk will increase if the government buys more of the cryptocurrency, Reusche said.

​"If it gets much higher, then that represents an even greater risk to repayment capacity and the fiscal profile of the issuer."
A weak sovereign taking a big bet on cryptocurrency is irresponsible. It exposes the country's finances to existential risk in the event bitcoin crashes. That's not something El Salvadorans should have to deal with. It's directly comparable to the foolhardy interest rate policies being deployed in Turkey to the determinant of the Lira.
There were a couple of different bitcoin companies at the Future Metals Summit. One was a Swiss gold refiner. which is looking to justify the premium they charge by offering traceability of gold's origin on the blockchain. I'm not at all convinced by this proposal because there is nothing to stop mislabelling of goods. My fear is this kind of product will be used to "chain-wash" supply to hide is artisanal origin.
I also learned from a lawyer attending the event that blockchain is being proposed as a solution to create Ethiopia's first land registry. The measures are being fought by the country's notaries who would lose their livelihood. That seems like a much more common-sense approach to finding a use for the technology.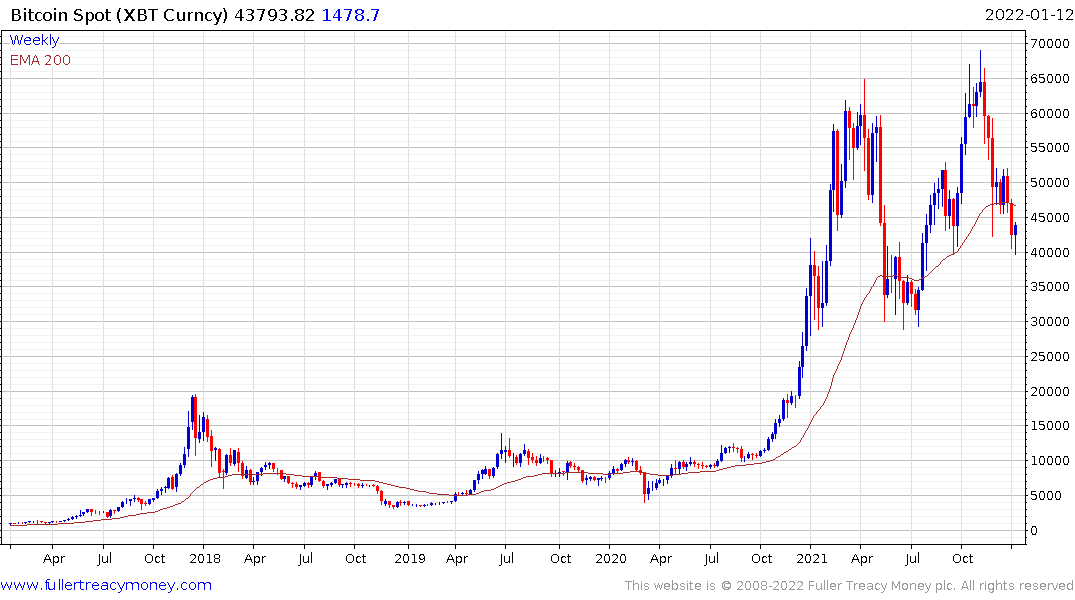 Meanwhile, the bitcoin price is struggling to hold the $40,000 level.
Back to top