Bitcoin Falls Below $50,000 as Musk Calls Energy Use 'Insane'
This article from Bloomberg may be of interest to subscribers. Here is a section:
"Surely he would have done his diligence prior to accepting Bitcoin?" said Nic Carter, founding partner at Castle Island Ventures, and a leading voice among defenders of Bitcoin's energy use. "Very odd and confusing to see this quick reversal."

Musk's decision in February to buy $1.5 billion in Bitcoin and plan to accept it as a form of payment has been a major catalyst in the crypto bull market. In the eyes of analysts, it helped add legitimacy to the token and usher in new investors.

Musk's crypto tweets have often been in jest, and his attention toward Dogecoin brought the joke token into the mainstream. He's quipped about being the "Dogefather" in the past, and tweeted on Tuesday, "Do you want Tesla to accept Doge?"
The cognitive dissonance of a clean energy visionary also promoting one of the most carbon dependent endeavours has obviously begun to weigh on Elon Musk. It may also be convenient to argue against bitcoin if he is helping to promote alternatives which certainly appears to be the case with Dogecoin.
The media narrative holds that Dogecoin is a joke; a meme-inspired Ponzi scheme, with no real use. That begs the question whether that is materially different from the majority of tokens? It certainly has done nothing to impede their ability to surge in value and attract interest from institutional investors. The other side of the argument is that hot money can leave as quickly as it enters a market.
The carbon footprint of crypto mining is non-trivial. As recently as this week bitcoin mining approached the carbon footprint of Sweden or 50% of the UK's output. Most of that is from Chinese coal-fired power stations.
There are projects, like Iota, which do not use conventional mining techniques and no do rely on blockchains. Decentralised finance certainly has a future and the time and energy being devoted to it will deliver viable streamlined solutions eventually. However, I remain of the view Bitcoin will only play a bit piece in that future.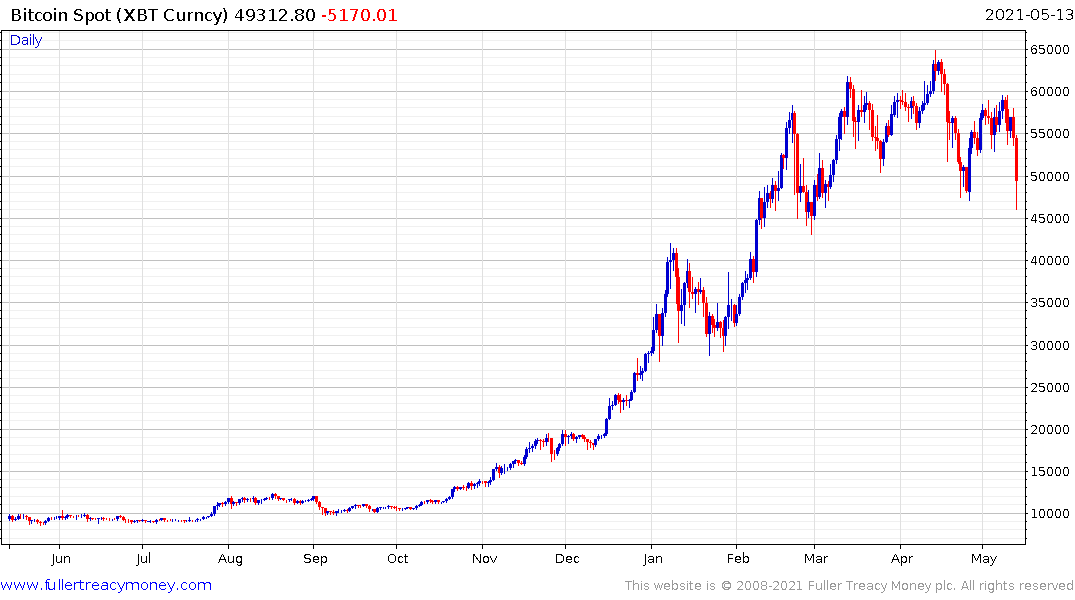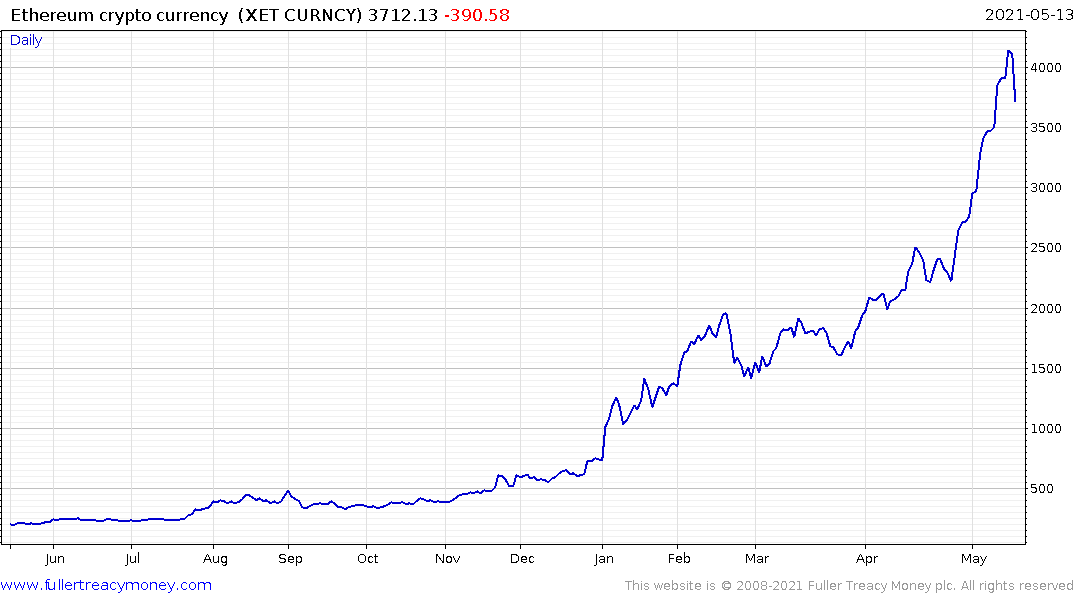 By buying bitcoin with company assets, Tesla is now implicitly viewed as a crypto proxy. The share pulled back to test the region of the trend mean today and that is a potential area of a support. However, the acceleration, followed by the massive reaction against the prevailing trend and range below the peak all point to a completing type 1/2 top formation. This is a key area where Tesla will need to demonstrate support and quickly if the short-term range is to hold.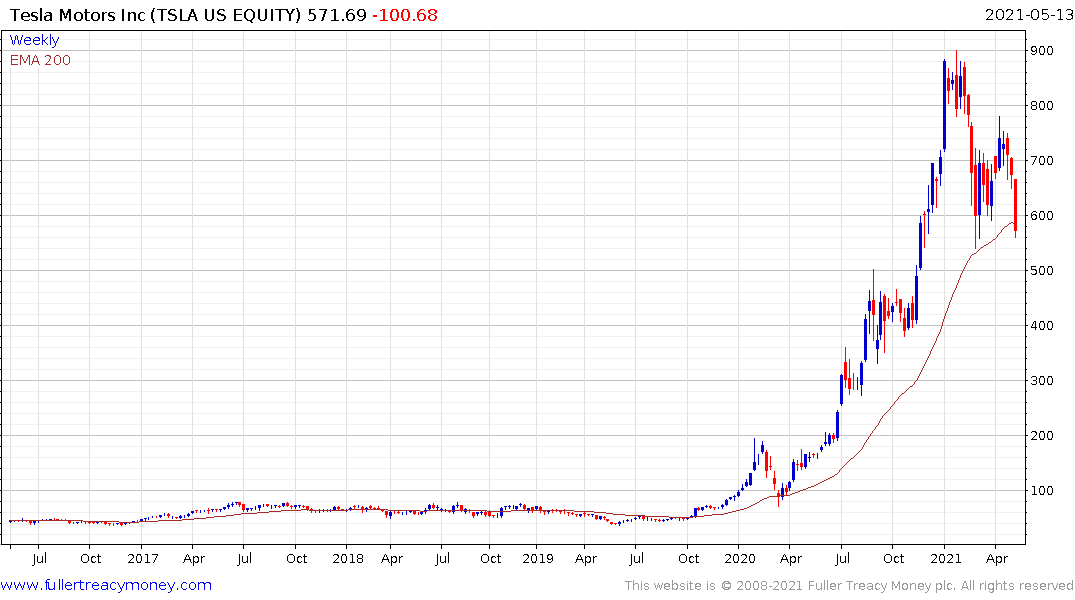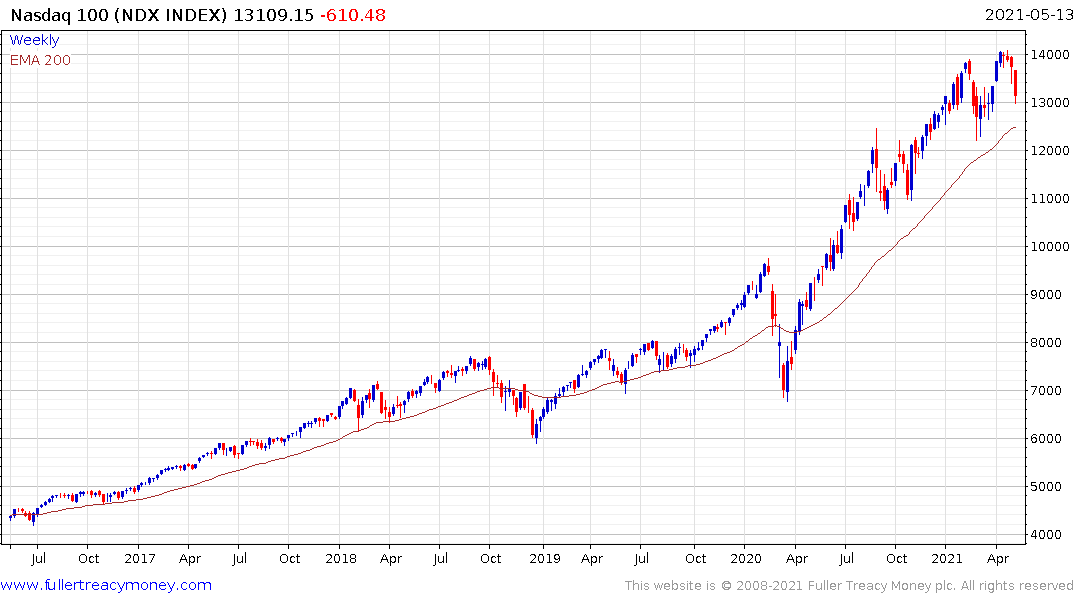 I've been saying for years that Tesla is a lightning rod for risk appetite. If it breaks downwards, it will have a knock-on effect in terms of appetite for growth stocks across the board which is why the Nasdaq-100 continues to underperform.
Back to top