Bitcoin Coders Feud Over Whether to Crush $1 Billion Meme Frenzy
This article from Bloomberg may be of interest to subscribers. Here is a section:
Others defend the software innovation, called Ordinals, that allows Bitcoin's blockchain to host large numbers of memecoins and nonfungible tokens — digital collectibles — for the first time, arguing it can have wider applications.

Developer Casey Rodarmor created Ordinals to enable users to inscribe digital content like videos, images and text on satoshis, the smallest unit of Bitcoin. There are 100 million satoshis in one Bitcoin.

Rodarmor's innovation took off this year and was seized on by pseudonymous blockchain analyst Domo to develop the Bitcoin Request for Comment — or BRC-20 — standard, which led to the explosion of memecoins.

There are now about 25,000 meme tokens on the Bitcoin blockchain with a market value of roughly $475 million, according to website brc-20.io. The figure had soared past $1 billion in early May.

Jameson Lopp, co-founder of crypto storage solutions provider Casa, said the Bitcoin network is meant to be an "auction market for the block space" — the place where data is stored — and Ordinals merely stoked demand for it.
This story is another version of the network capacity teething pains bitcoin has been going through since inception. The promise of peer to peer currency exchange is that it avoids banking fees and delays of days. The reality is it is complicated for the uninitiated and is a long way from instantaneous. When prices of the underlying move around a lot that does not help to build confidence.
My eldest daughter is an active member of the Toyhou.se community of artists. It's been in invite-only mode for years and the community appears to be uniquely ambivalent to crypto-tokenisation, even if the marketplace for characters and art seem to be ideal for NFTs.
The popularity of artwork is what drives price. The question of objective value is impossible to answer. All NFTs are in the same boat. The question of how best to transact on a global marketplace is more about driving volume than the objective value. That's a feature for the entire crypto sector, which is why I have long regarded it as a liquidity barometer.
Binance is facing lawsuits from what seems like every direction. It accounts for more volume than every other exchange combined. That's near-term bearish for bitcoin because it impacts volume traded.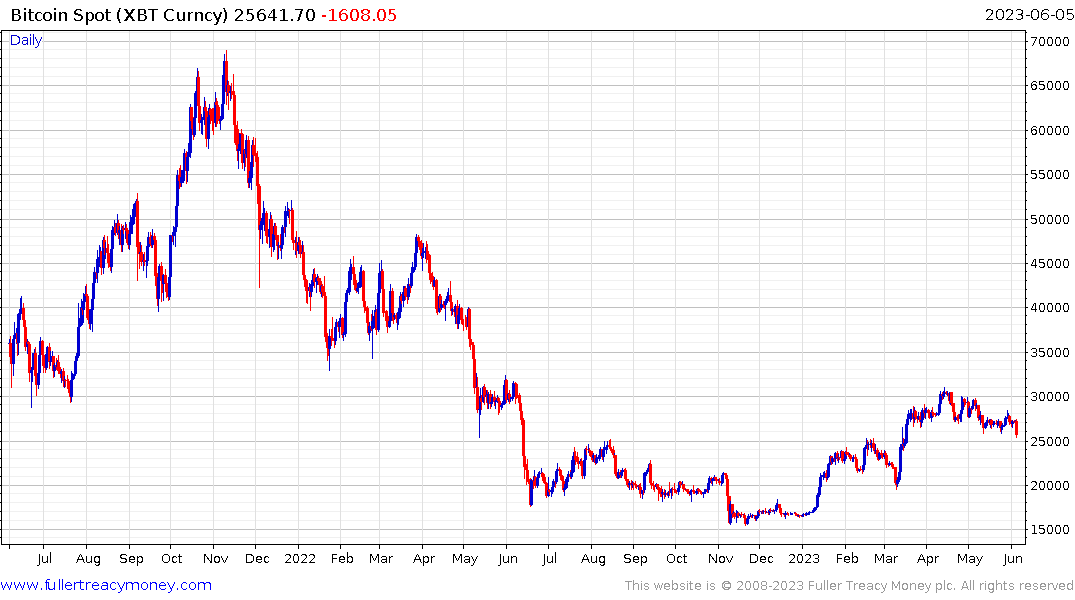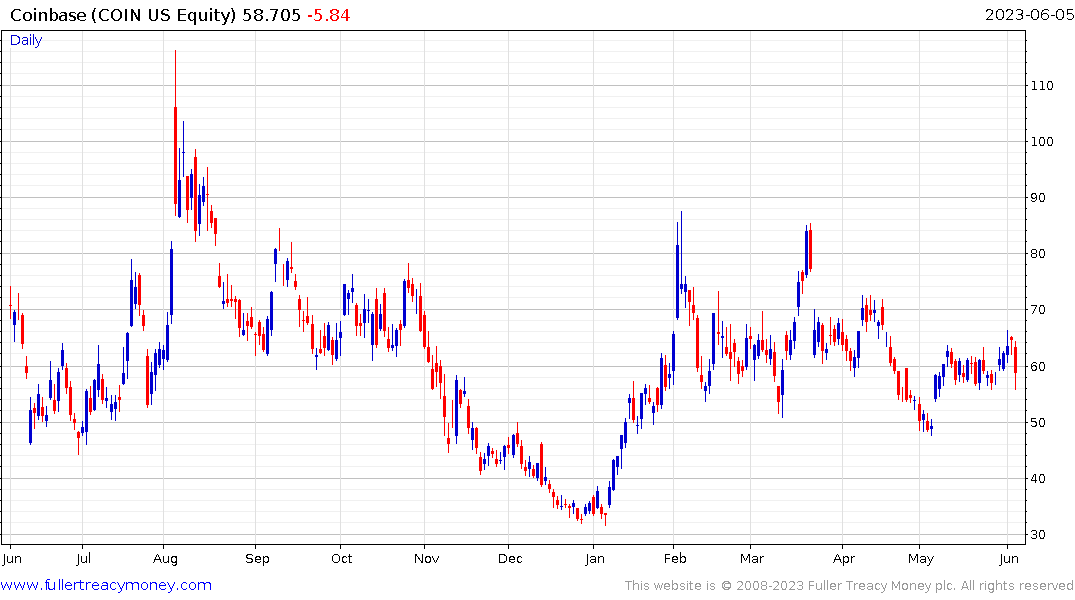 It's medium-term bullish for Coinbase because it will capture more market share. Every crypto exchange that launches its own coin has imploded. That's a testament to how risky the sector is from a regulatory perspective. Coinbase has so far avoided launching a token and has been more durable than competitors. In the short-term the share could halve but it will be worth monitoring as a dip buying candidate.
Back to top