Biggest Bitcoin Fund Sinks Toward 30% Discount in Crypto Selloff
This article from Bloomberg may be of interest to subscribers. Here is a section:
One of the biggest casualties of the cryptocurrency selloff is the Grayscale Bitcoin Trust.
The $27 billion fund (ticker GBTC) has plunged nearly 17% so far in 2022, outpacing Bitcoin's nearly 9% decline. As a result, GBTC's price closed 26.5% below the value of the Bitcoin it holds on Tuesday, widening GBTC's so-called discount to record levels, according to Bloomberg data.

It's a dynamic that's plagued GBTC for months. The trust doesn't allow for share redemptions in the same manner as an exchange-traded fund, meaning that the supply of shares can't be created and destroyed with shifting demand. Grayscale Investment LLC applied to the Securities and Exchange Commission in October to convert GBTC into an ETF -- which is expected to quickly repair the discount -- but regulators have yet to approve a physically-backed Bitcoin fund.

"GBTC keeps breaking hearts as the discount widens," Brent Donnelly, president of Spectra Markets, wrote in a report. "GBTC is basically a binary bet on a physical ETF at this point. Tempting but tempting the way value traps can be tempting."

GBTC first fell into a discount last February as the number of shares outstanding skyrocketed, after years of trading at a premium to Bitcoin. However, the launch of Bitcoin ETFs in Canada and the first U.S. derivatives-backed Bitcoin ETFs eroded GBTC's competitive advantage. Grayscale's parent company,
Digital Currency Group, has sought to repair the discount by buying back GBTC shares.

GBTC's price has dislocated from Bitcoin to an even greater degree than the ProShares Bitcoin Strategy ETF (BITO), which is vulnerable to tracking errors given that it holds futures contracts. While Bitcoin rallied 1.6% on Tuesday, BITO and GBTC fell 3.3% and 6.4%, respectively.

The Grayscale bitcoin closed end fund was the only avenue for institutions to buy bitcoin for years. That's not longer true. Several ETFs are now available so the relative value discussion is now possible. That's weighing the fund because of its high fees. It has an expense ratio of 2%. By comparison, the ProShares Bitcoin Strategy ETF has an expense ratio of 0.95% so it has attracted funds quickly and not least because it is also open to retail investors.


Bitcoin is holding steady in the region of the $40,000 level. It's a risk asset and has been leading the stock market lower. Since the Grayscale Fund is trading at a significant 30% discount, it is likely to attract significant interest in the event bitcoin rebounds from here. That would help to narrow the discount. However, it is unlikely to ever trade back at a premium beyond scope for short-term bursts of enthusiasm.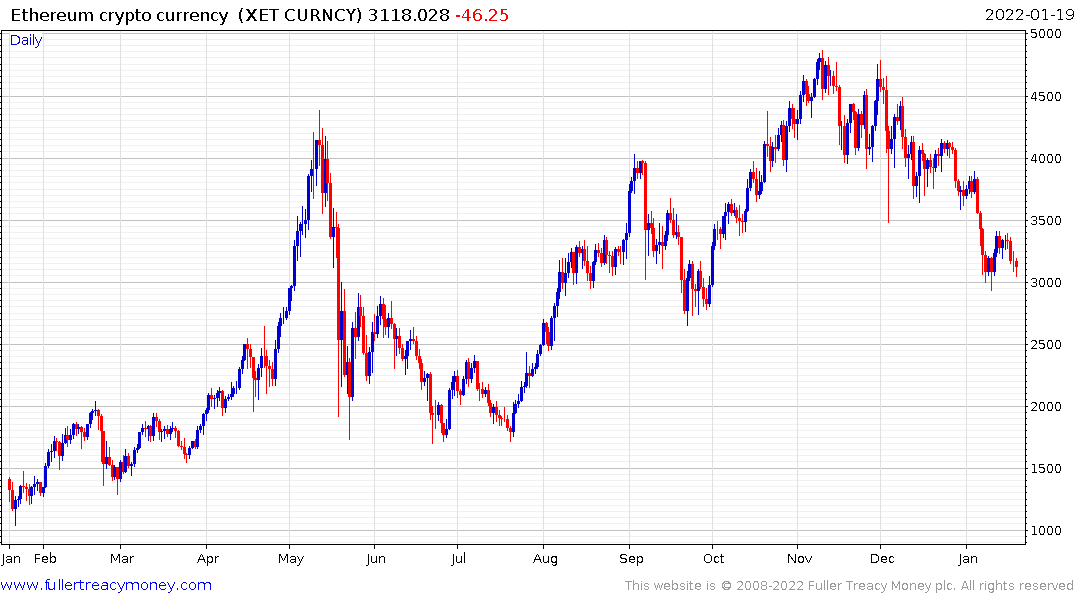 Ethereum is also steadying the region of a previous area of support.
Back to top