BHP Bets on Lower-Carbon World With Petroleum Exit, $5.7 Billion Potash Project
This article from the Wall Street Journal may be of interest to subscribers. Here is a section:
BHP and Woodside said the business would be one of the world's 10 largest producers of liquefied natural gas. Combining the businesses is expected to generate more than $400 million in annual savings, the companies said in a joint statement. They expect the deal to be completed by July next year.

Selling the petroleum business will lead to BHP focusing on mined commodities: iron ore, metallurgical coal, copper and nickel. On Tuesday, BHP confirmed that potash is on that list by approving the first stage of its Jansen project in Canada's Saskatchewan province. The operation is expected to start production in 2027, with an annual capacity of 4.35 million metric tons of potash.

Potash is one of three major fertilizer ingredients, alongside nitrogen and phosphate. BHP believes demand for potash could as much as double by the late 2040s to become a $50 billion market. Mr. Henry said mining at Jansen could last about 100 years.

"Under our 1.5-degree scenario, potash stands to be a winner, with increased biofuel production and intensified competition for land due to afforestation," Huw McKay, BHP's chief economist, said in June. Potash also doesn't generate some of the negative environmental impacts that other fertilizer nutrients do, especially the release of greenhouse gases during application, he said.

Potash is seen by farmers as an attractive resource because it tends to boost yields, aid in drought tolerance and improve crop quality.
Divesting of oil assets in the name of providing investors with a pure mining play is the opposite logic to what was used when those assets were originally acquired. Back then, it was viewed as prescient to acquire shale assets because investors would have a one stop shop to participate in the oil and iron-ore led commodity bull market.
Today's environment could not be more different. Companies do not believe they have a choice. They have to get rid of oil and gas assets because of the risk fines, fees and the rising cost of carbon credits. Owning oil assets is liability at present, as the green lobby continues to press its agenda.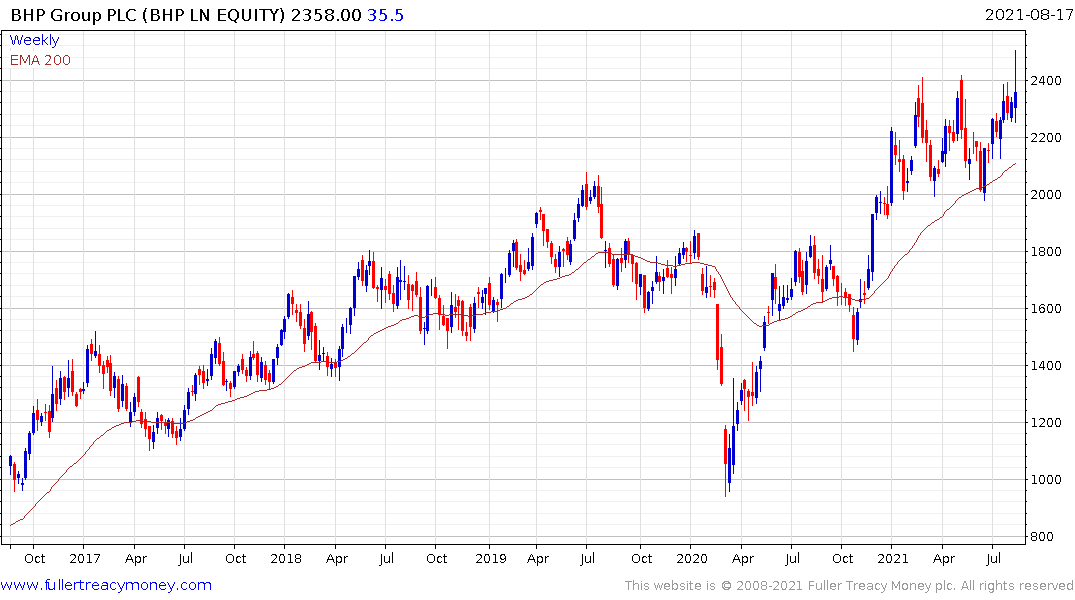 BHP jumped on the higher dividend, greenlighting of the long-awaited Jansen potash project and the divestment. It will need to continue to hold the sequence of higher reaction lows if the medium-term consistency of the trend is to be given the benefit of the doubt.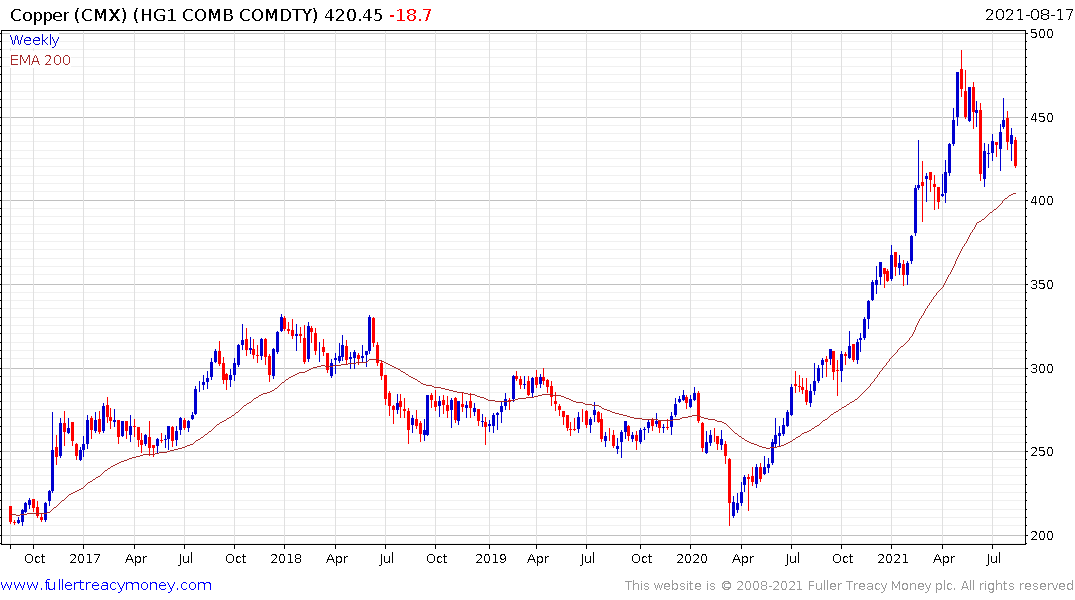 The challenge at present is the iron-ore price has peaked and copper remains in a corrective phase. China's debt unwind, and official pressure on property developers represents a potential headwind for commodity prices in the short term. That may translate into a pause for large mining stocks like BHP and Rio Tinto.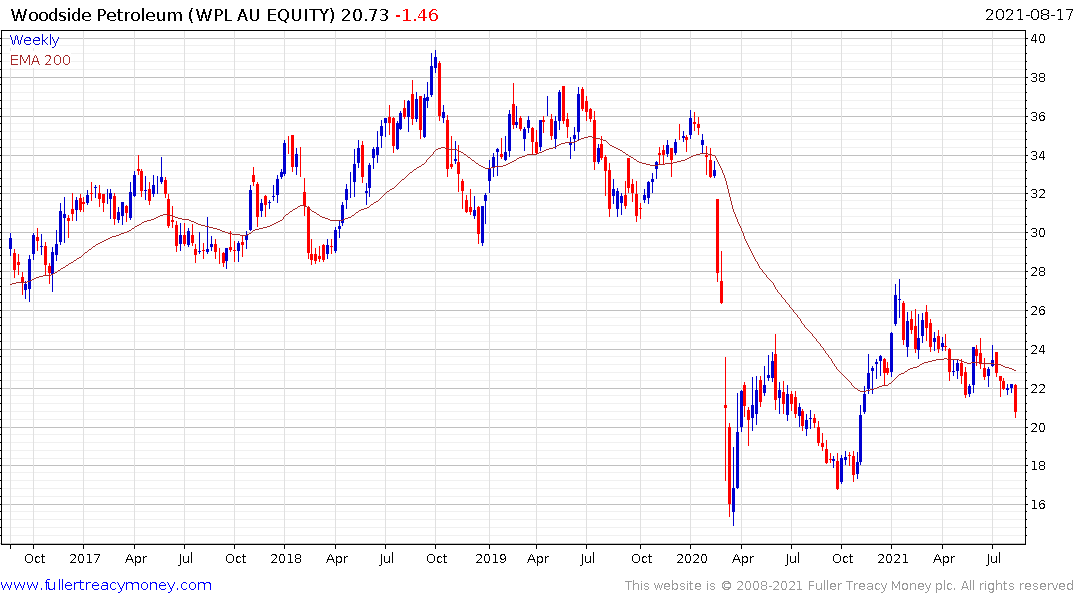 Woodside Petroleum pulled back rather sharply, on the news, to extend the year-to-date downtrend. A sustained move above A$22 will be required to break the sequence of lower rally highs and question the consistency of the downtrend.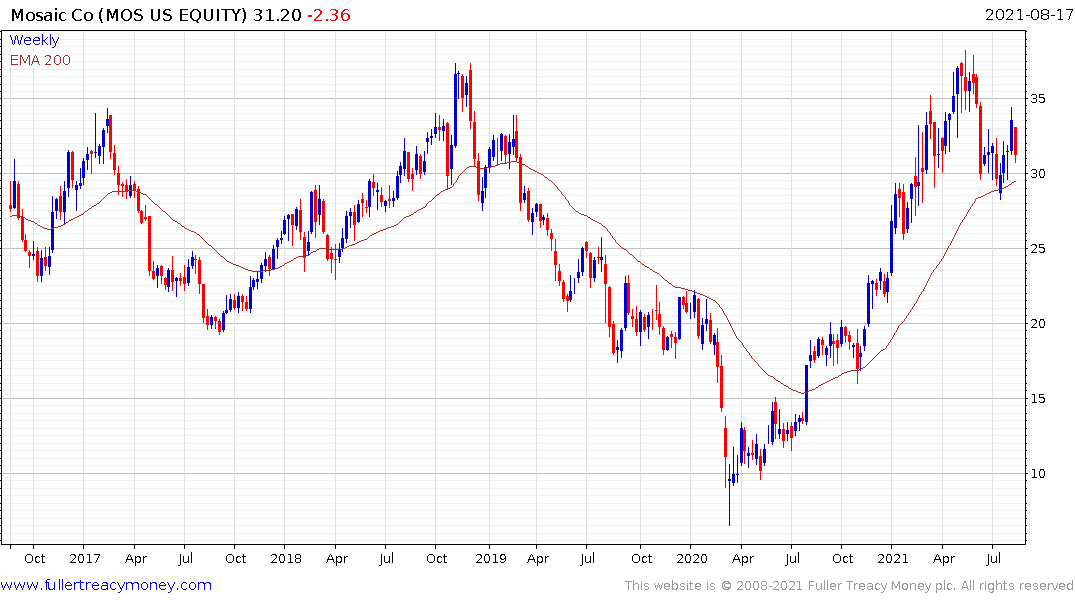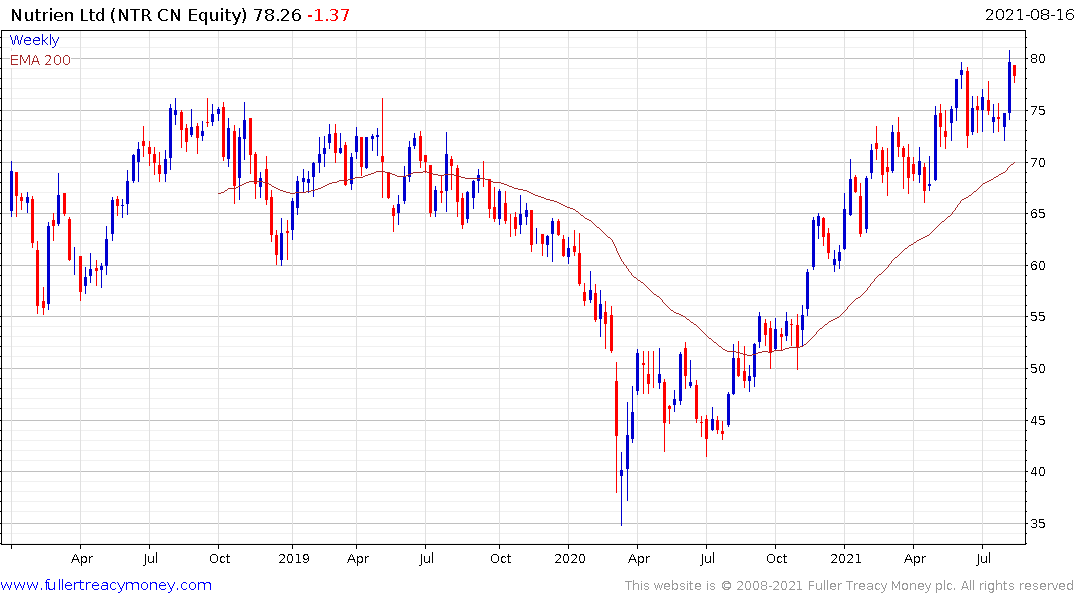 The Jansen project may not go into production until 2027 but it is weighing on fertiliser shares in the short term. Both Mosaic and Nutrien have eased back from their recent highs.
Back to top