BAT Upgraded to Overweight at Piper; Risks Look Priced In
This note by Lisa Pham for Bloomberg may be of interest to subscribers. Here it is in full:
Philip Morris's patent lawsuit against British American Tobacco in Japan, which is seeking a sales injunction of BAT's Glo heated tobacco product, is still a risk, but BAT has "several methods of defense" and the earnings impact would probably be modest, Piper Jaffray analyst Michael Lavery writes in a note.

Risk on possible U.S. menthol cigarette ban looks priced in and Piper doesn't see any operational impact "for years and years"

Also notes that consumers can adapt

Piper doesn't see any risk to dividend growth, allaying concerns from investors; says BAT's cash flows don't seem to be at risk in a way that would hurt the dividend

Upgraded to overweight from neutral; PT kept at GBP30

NOTE: BAT shares down 51% in last 12 months vs 19% drop for Imperial Brands, 31% decline for Philip Morris and 35% fall for Altria
The tobacco sector is not for everyone but it is inherently defensive considering they are selling an addictive product and therefore have reliable cashflows. The performance of defensive sectors is something that is important to monitor in the latter stages of a cyclical bull market because they typically tend to be depressed by disinterest when growth stocks are outperforming but turn to outperformance when investors start to value security.
This note arrived from a subscriber today: Positive key day reversal on BAT, British American Tobacco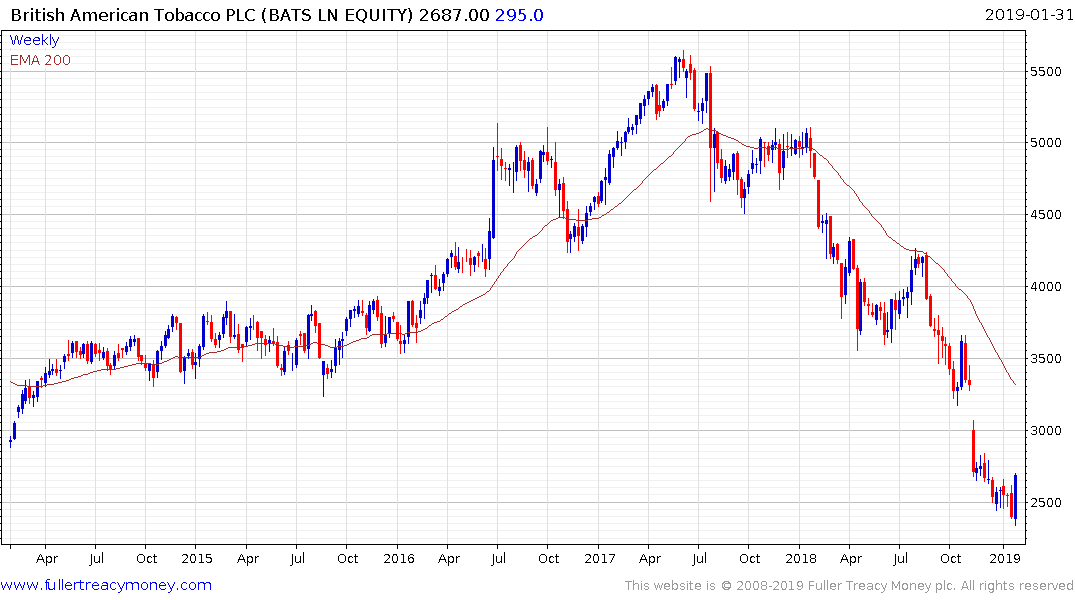 Well spotted, and this rally (Est P/E 9.24, DY 7.26%) is occurring against a background of a downtrend which has been particularly steep. It marks a low of at least near-term and potentially medium-term significance.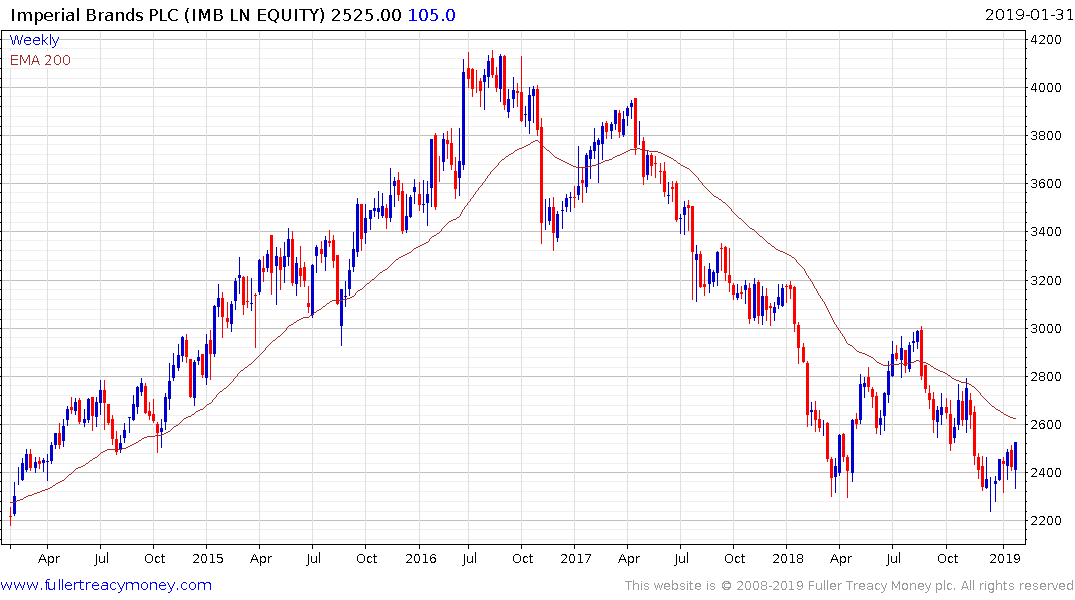 Imperial Brands (Est P/E 9.16, DY 7.44%) failed to sustain the breakdown to new lows in December and is now also unwinding an overextension relative to the trend mean.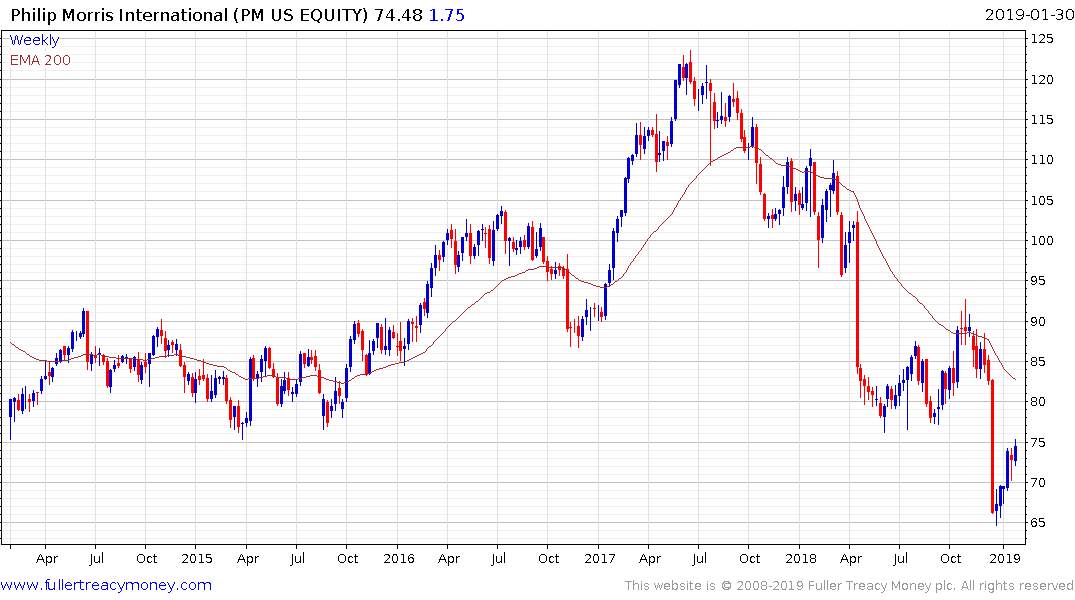 Philip Morris International (Est P/E 15.28, DY 5.94%) is currently unwinding an oversold condition relative to the trend mean.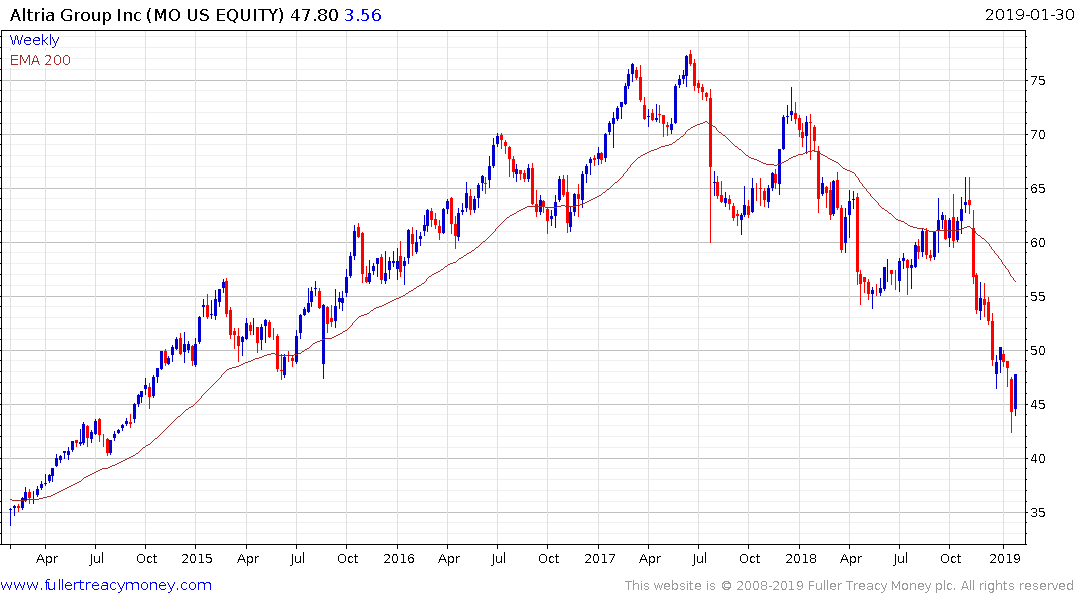 Altria (Est P/E 11.46, DY 6.6%) is also rallying from a deep oversold condition.
Back to top