Apple Watch Sales Fall 55% in Second Quarter, IDC Report Says
This article by Nicole Piper for Bloomberg may be of interest to subscribers. Here is a section:
Apple Inc. sold 1.6 million watches in the second quarter of this year, down from 3.6 million units a year earlier, IDC said. Global smartwatch sales fell 32 percent to 3.5 million units.

While Apple held on to its position as the industry leader, with 47 percent of the market, it was the only company in the top five to see a decline. Samsung Electronics Co. saw its market share more than double to 16 percent.

"Consumers have held off on smartwatch purchases since early 2016 in anticipation of a hardware refresh, and improvements in WatchOS are not expected until later this year, effectively stalling existing Apple Watch sales," IDC analyst Jitesh Ubrani wrote in the report. "Apple still maintains a significant lead in the market and unfortunately a decline for Apple leads to a decline in the entire market."

Apple Watch is the company's first new hardware product since the iPad's 2010 debut and is a key part of Chief Executive Officer Tim Cook's strategy to find new areas of growth as sales of the iPhone slow. Apple is expected to introduce an updated operating system and an Apple Watch 2 this fall, promising new features and better performance.

IDC said despite Apple's sharp drop it expects growth in 2017, as continued development appeals to a broader market.

"Every vendor faces similar challenges related to fashion and functionality, and though we expect improvements next year, growth in the remainder of 2016 will likely be muted," said Ubrani.
Smart watches can measure steps, constantly record heart rate, display text messages, alert us to incoming calls and act as payment mechanisms when we don't have our wallets. While each of these functions might have been the preserve of a single company when they were debuted most providers now offer some variation on all of them. That suggests the premium price point commanded by Apple Watch isn't justified not least as a widely expected reboot of the product is expected later this year. That is likely to at least include enhancements to battery life that might allow for some of the more ambitious health related apps to be introduced.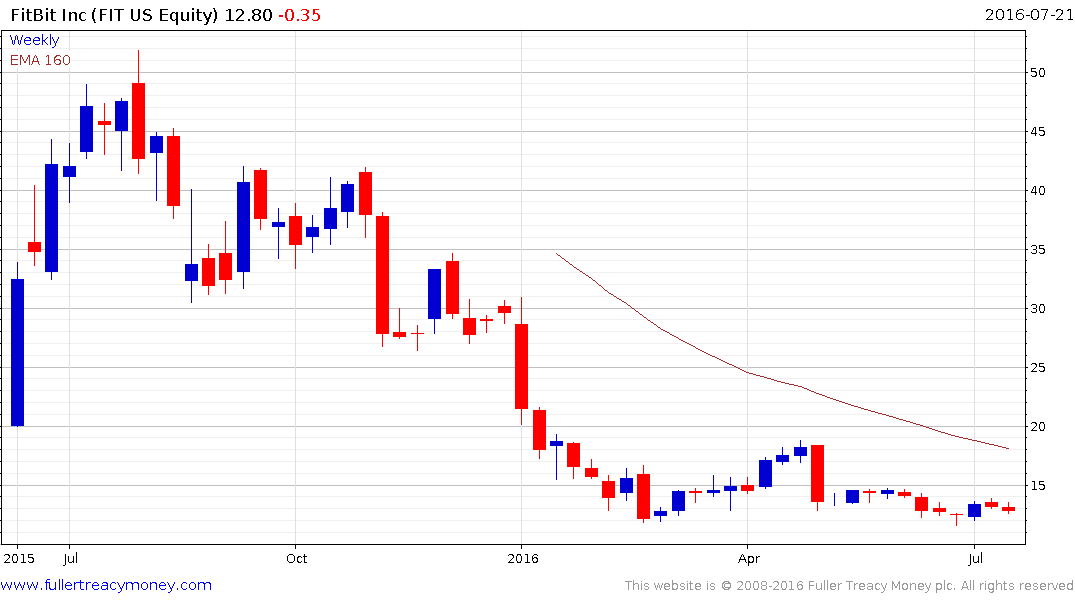 FitBit has been drifting since it fell to a low near $11.60 in March and will need to sustained move above the trend mean to signal a return to demand dominance beyond the short-term steadying.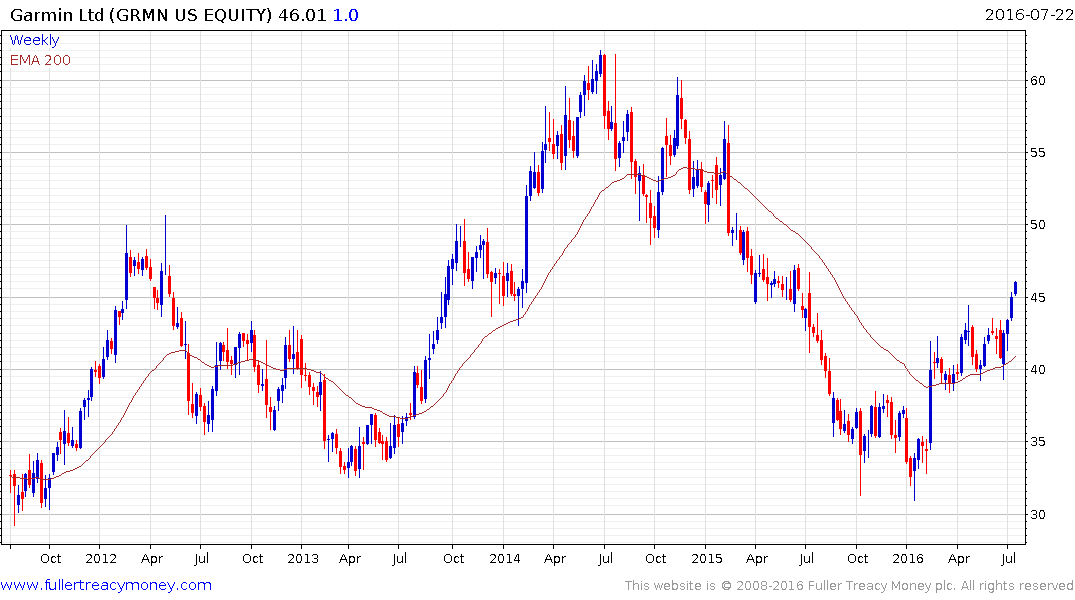 Garmin had been consolidating mostly above its 200-day MA since early this year but broke out last week and continues to extend the advance. A sustained move below trend mean would be required to question medium-term scope for additional upside.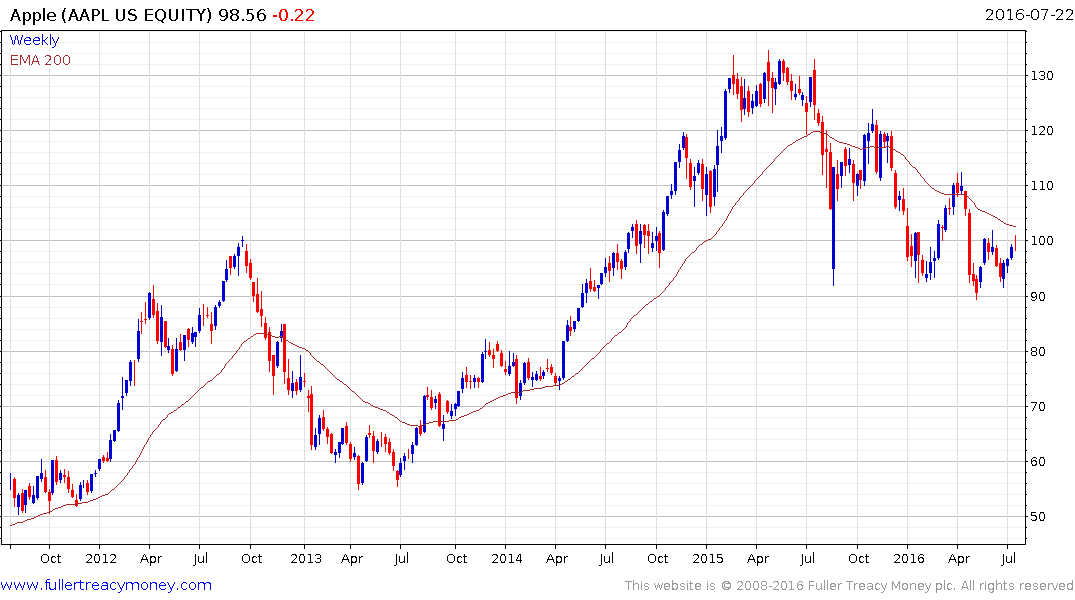 Despite the fact Apple is the leader in the smartwatch sector it accounts for a negligible source of revenue for the company. The share has held a progression of lower rally highs since early 2015 and a sustained move above the trend mean would be required to challenge medium-term supply dominance.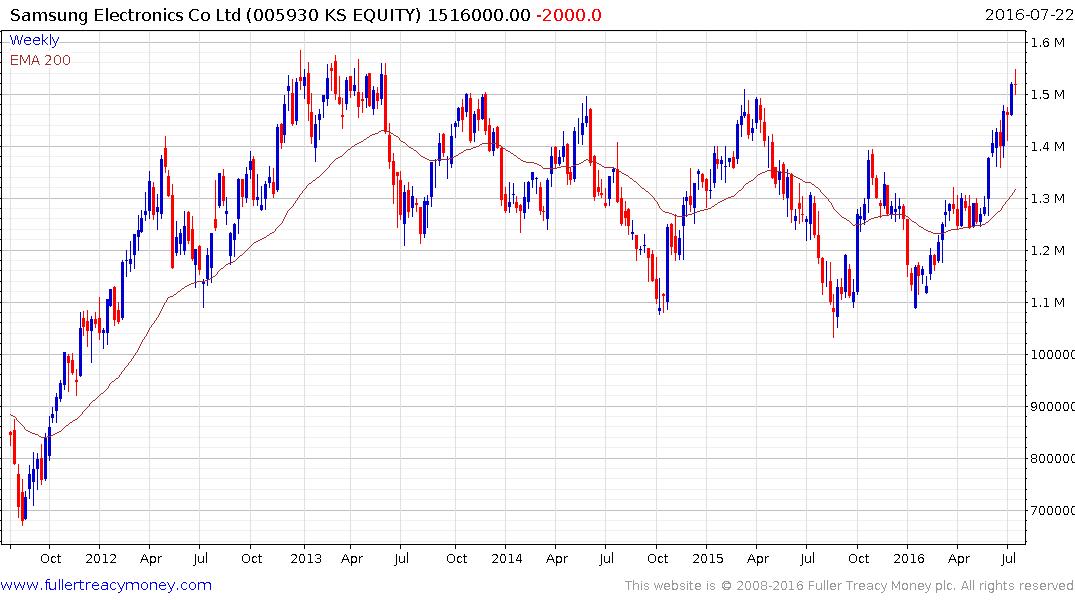 Samsung Electronics on the other hand is much more diversified and its latest batch of phones are coming out ahead of Apple's in side by side comparisons. The share rallied last week to break the medium-term progression of lower rally highs and while some consolidation of the recent powerful gain looks increasingly likely, a sustained move below the trend mean would be required to question medium-term scope for additional upside.
Back to top