Apple Attains Historic $3 Trillion Milestone as Tech Stocks Boom
This article from Bloomberg may be of interest. Here is a section:
Apple Inc. made Wall Street history as the first company with a market value over $3 trillion, the latest sign of big tech's seemingly unstoppable dominance in equity markets.

The iPhone maker gained 2.3% on Friday, adding to a rally that's added more than $983 billion to its size this year and leaving it roughly a half-trillion dollars above the next-largest company. Apple's ascent to the milestone helped the Nasdaq 100 Index to its best-ever first half ever, driving a broader stock rally that underscored the dominance of tech megacaps
$3 trillion is a mind boggling sum but so were $2 and $1 trillion when they were surmounted. It would be encouraging to think this latest feat was achieved with positive revenue growth or blockbuster new product. Unfortunately, that's not the case. Apple's revenue has been stagnant to falling over the last couple of years, the new VR headset is possibly a tomorrow story and the company's AI credentials are not exactly headline-grabbing.
The chief reason the company is rallying is because of the developing mania around AI and the concurrent belief the Fed will conquer inflation without causing a hit to earnings. This milestone was reached on the final day of the first half of the year. The big question will now be where investors will position themselves for gains in the second half. It is worth betting the Nasdaq-100 will repeat the first half's performance? Rationally, that does not look likely but we are in a developing mania so many investors will be waiting for proof to the contrary to begin lightening up.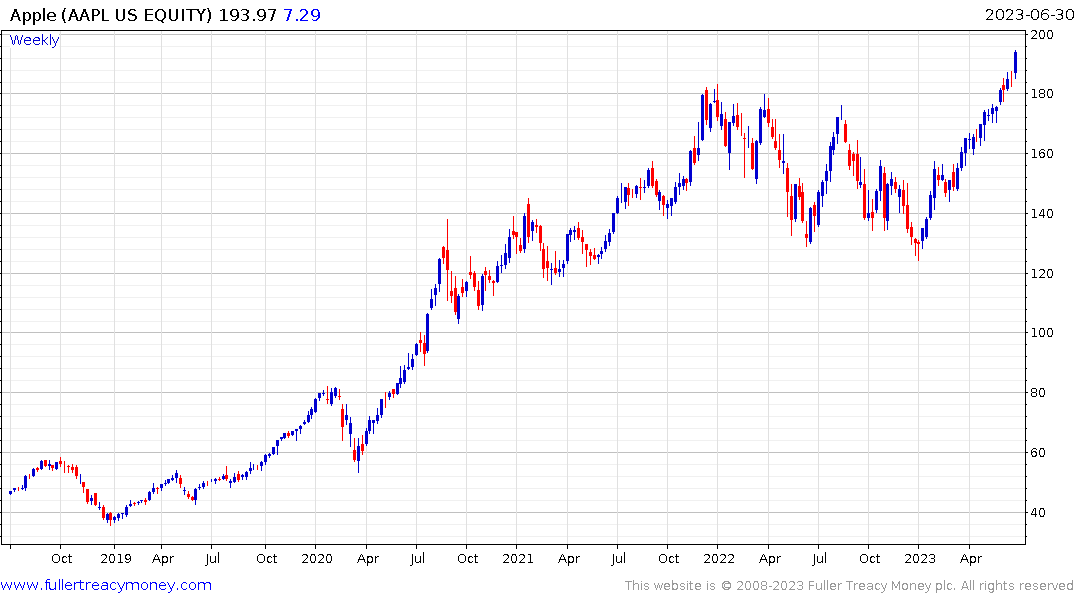 The one thing we know for certain is acceleration is a trend ending, but of undetermined duration. The first clear downward dynamic is likely to mark a peak of medium-term significance.
Back to top