Amazon steps closer to modern Sears
This article from Reuters may be of interest to subscribers. Here is a section:
Amazon.com (AMZN.O) became a $1.6 trillion behemoth in part by using e-ecommerce to put brick-and-mortar retailers out of business. Jeff Bezos' company, originally online only, already opened small physical stores, and may now add a department store format, according to the Wall Street Journal.

That's sadly ironic, with names like J.C. Penney and Neiman Marcus going bust in recent years. Yet it underlines how Amazon is, in some ways, a 21st-century Sears, Roebuck & Co. The storied U.S. group – another recent casualty of bankruptcy after years with investor Eddie Lampert in charge – produced the first of its famous mail-order catalogs in 1893, with a first retail store following in 1925. In a foreshadowing of today's buy-now-pay-later enthusiasm read more , Sears even launched a credit program in 1940.

Amazon can get more from stores by making them multitask as showrooms, instant gratification for customers unwilling to wait for delivery, and mini warehouses helping with challenging last-mile logistics. Still, it's a reminder that what's old can be new again.
The good news for retail is Amazon agrees that the future is likely to be a hybrid online/physical model. The bad news is Amazon is likely to be a major competitor for any of the remaining physical store dependent brands. The big question for Amazon investors is if the big new idea is expensive low efficiency physical stores does that justify a yearend estimated P/E of 60.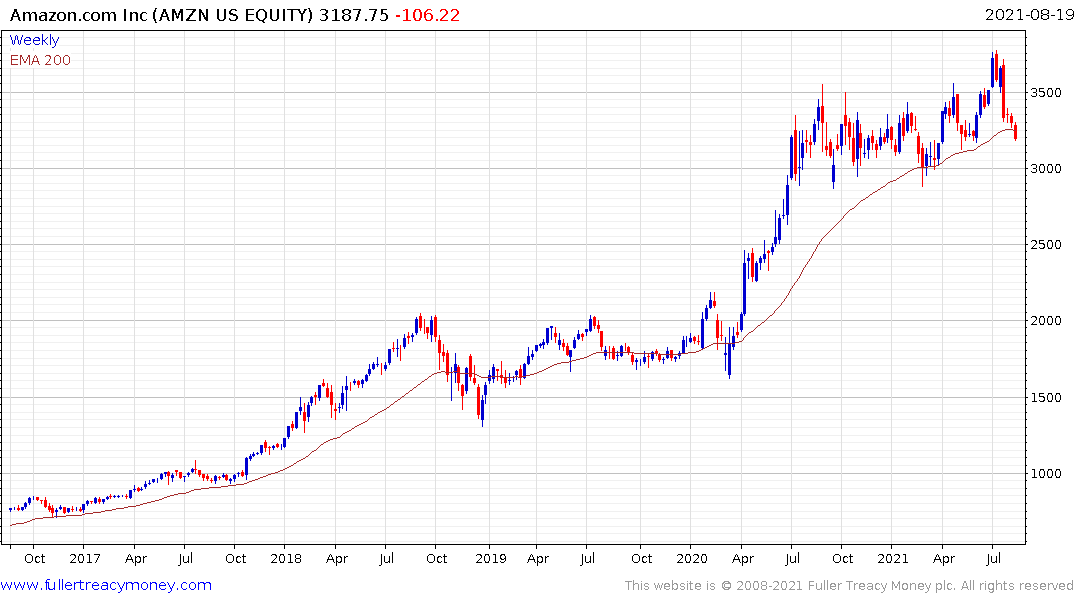 The stock failed to sustain the breakout to new highs in July and the dynamic of the failure was larger than that of the breakout. A retest of the $3000 level looks more likely than not. At that point it will be for the bulls to prove this is a developing top formation.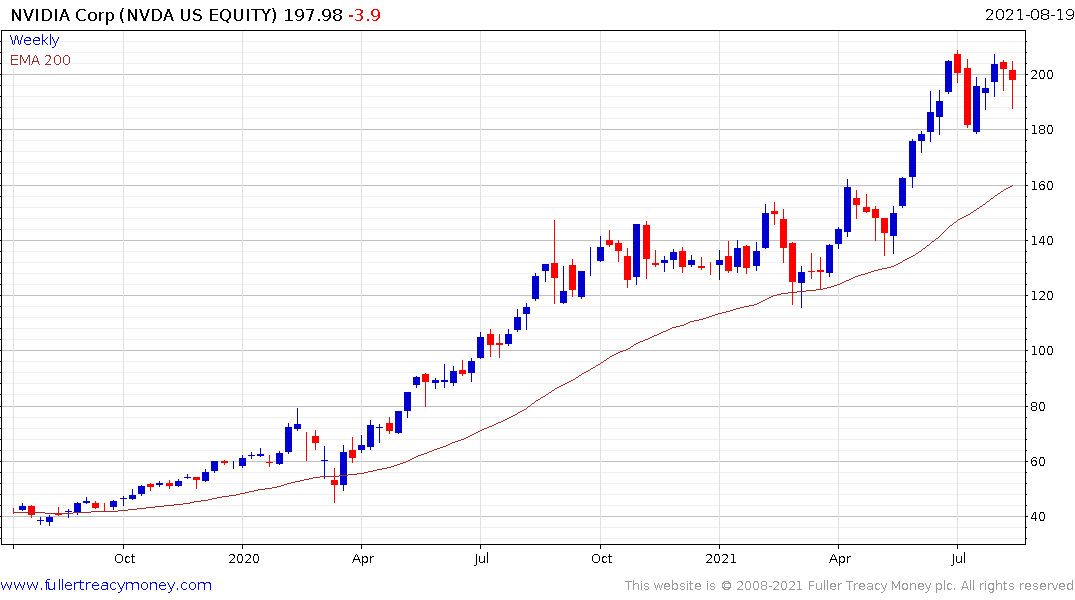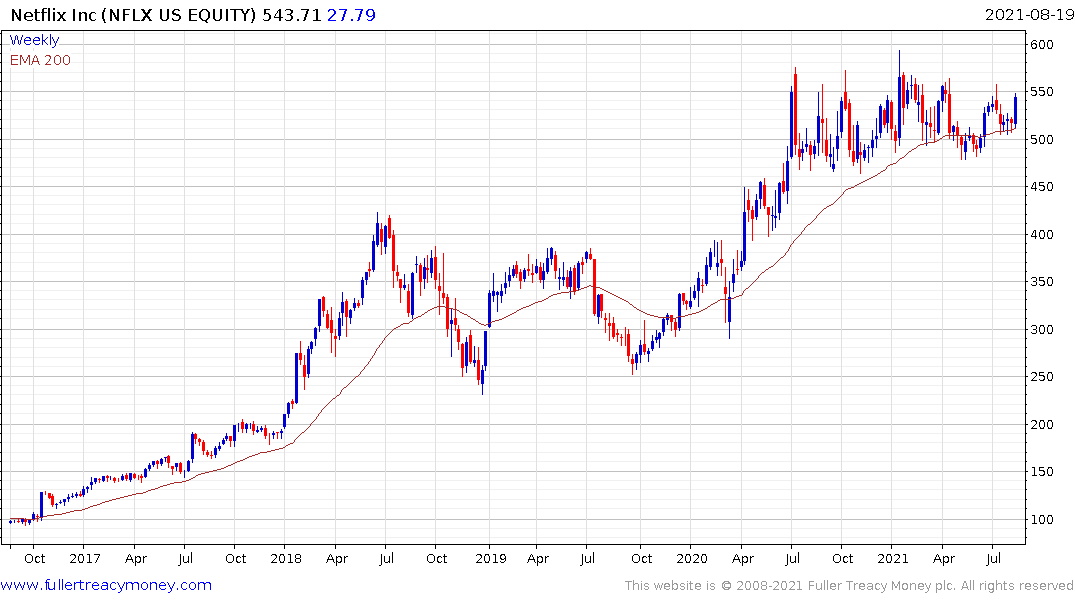 Both Nvidia and Netflix surprised with results today and that supported rebounds for both shares.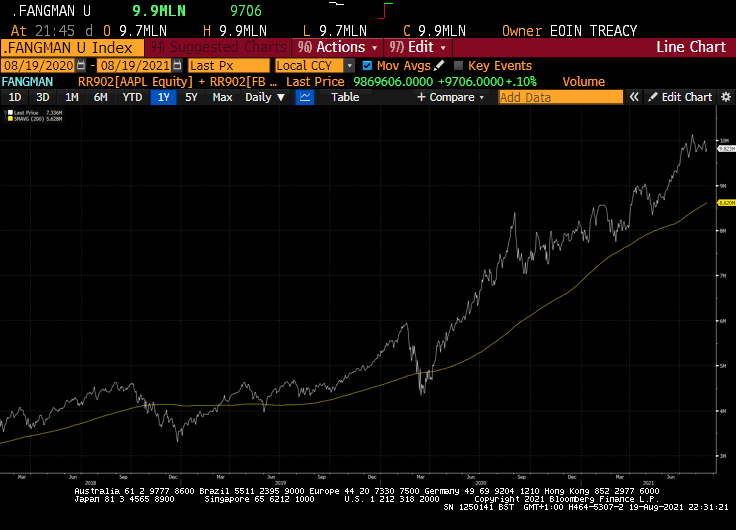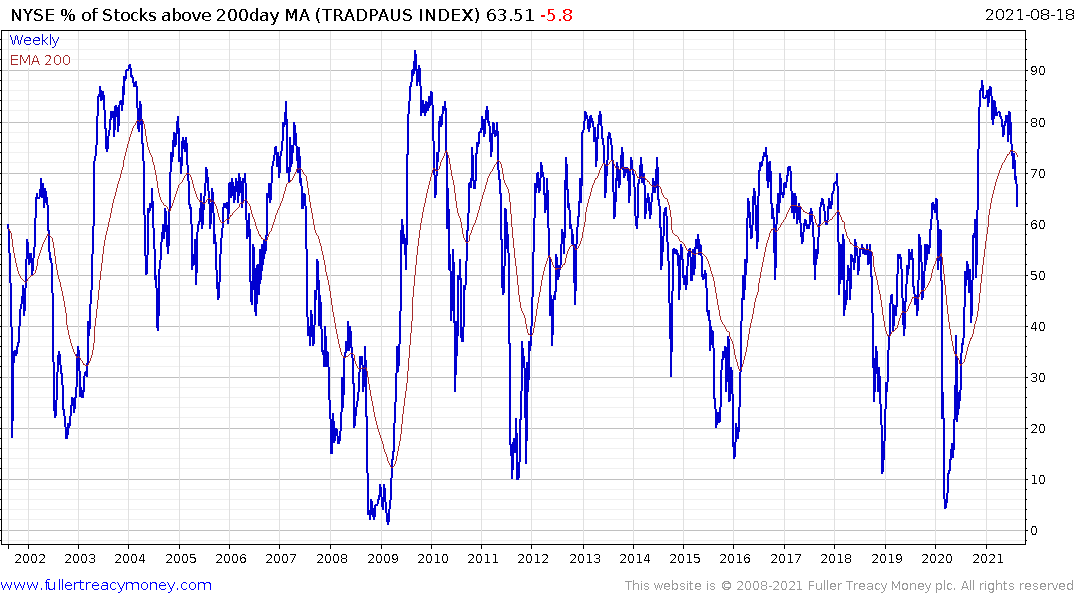 The FANGMAN market cap Index remains in the region of the $10 trillion but has definitely paused. The number of companies trading above their respective trend means continues to contract. That's normal following a big broad-based rebound from a depressed level but it also suggests choppy action is more likely than not for the wider market.
Back to top