Agronomics to raise GBP50 million to invest in "cultivated meat"
Thanks to a subscriber for this article which may be of interest. Here is a section:
The net proceeds of the fundraising will be used to finance further investment into current portfolio companies and projects, investment in new opportunities within the "cultivated meat" sector and development and commercialisation of intellectual property where Agronomics holds an interest.

"Agronomics has expanded rapidly over the past two years, and this financing will further accelerate its growth," said Non-Executive Chair Richard Reed.

"We anticipate it will provide the full funding to support our existing portfolio companies through their next financing rounds, while also giving us sufficient capital to pursue acquisitions of new investments in this exciting field as it enters into what we expect will be a multi-decade growth phase," added Reed.
The renewable energy sector did spectacularly well in the run-up to the oil price and credit availability peaks in 2007. There was a great sales pitch that an energy revolution was underway and renewables would take over. However, at the time the inability of the companies to breakeven was a major headwind. The rationale for owning the sector was heavily influenced by the comparison with oil. When oil prices fell, the sector collapsed.
Agronomics is deploying a private equity model. It is investing in a broad swathe of start ups in the lab-grown meat sector. I am less impressed by the animal welfare argument. That has never bothered anyone over the centuries. The antibiotics in meat and the mercury content in tuna are much better arguments. The microplastics in the food we eat is an additional significant concern. That at least highlights the impact of factory farming and human population growth on the integrity of food supply chain. Growing meat in a hermetic environment is attractive from that perspective.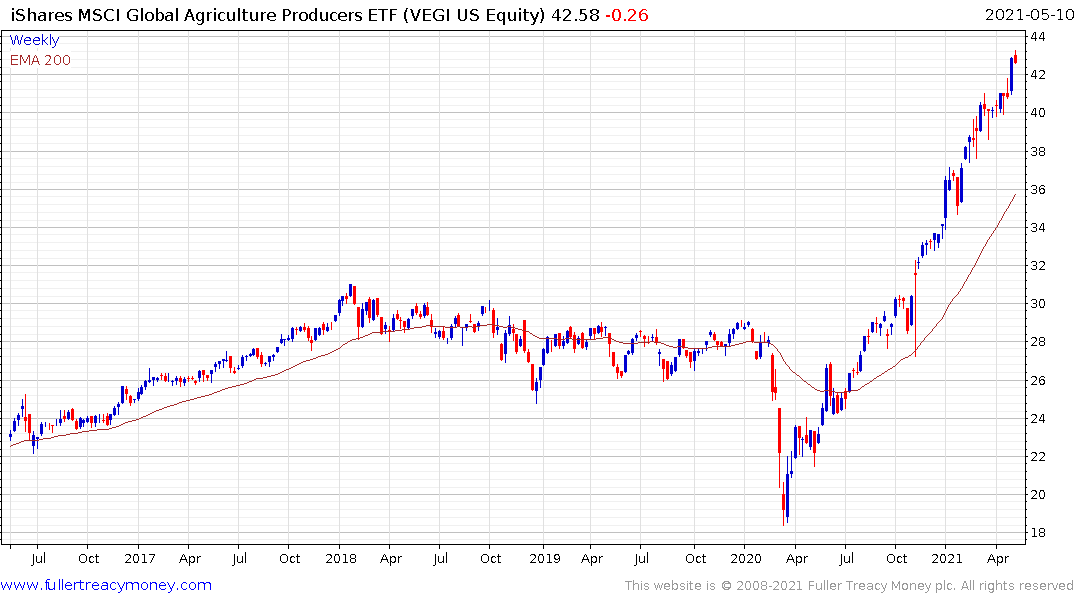 The challenge today is the sector is still a long way from profitability. As grain, bean and meat prices trend higher they provide the same kind of support for related alternatives as oil did for renewables in 2007. At some stage the pace of innovation will break that link but we are not at that point yet.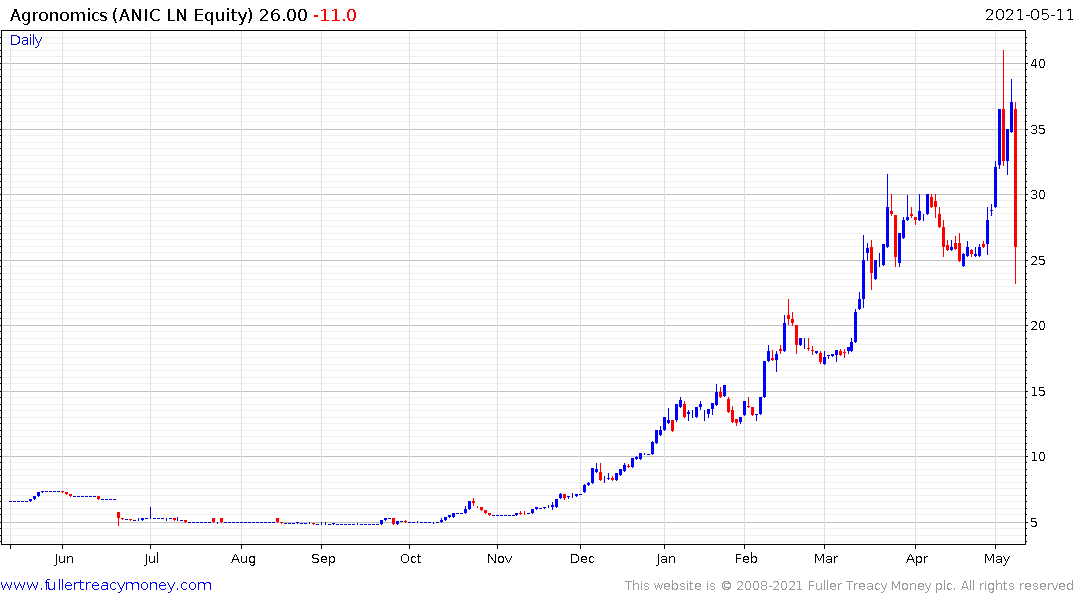 Agronomics pulled back sharply as the dilution of shares was immediately priced in. However, it is likely to continue to trend higher as long as commodity prices remain firm.
Back to top