After The Data Breach
This article by Ken Goldstein from Chubb appeared in The Financial Manager magazine. Here is a section:
The odds of a company falling victim to a hacker's attack are increasing exponentially. In a single year, from 2013 to 2014, data breaches across all industries were up an astonishing 48%, according to a study from PricewaterhouseCoopers. They're also getting more expensive. A Ponemon Institute study estimated the cost of an average data breach in the U.S. at $5.9 million, up from $5.4 million in 2013.

Every business is potentially in the crosshairs. According to a report from Ponemon, the two-year odds of a media company experiencing a data breach involving a minimum of 10,000 records is close to 20%. The report also makes it clear that companies can reduce the cost of a breach by instituting a sound recovery plan.
Here is a link to the full article.

News over the weekend that the Federal Government lost the personal information and security credentials of up to 4 million employees and contractors as a result of a cyberattack is just the latest in a long list of such events over the last couple of years. As a low individual frequency but high impact event it represents an ideal growth market for insurers. Nevertheless it is not a major part of the business of any of the major companies in the sector.

This page from Homeland Security contains additional information.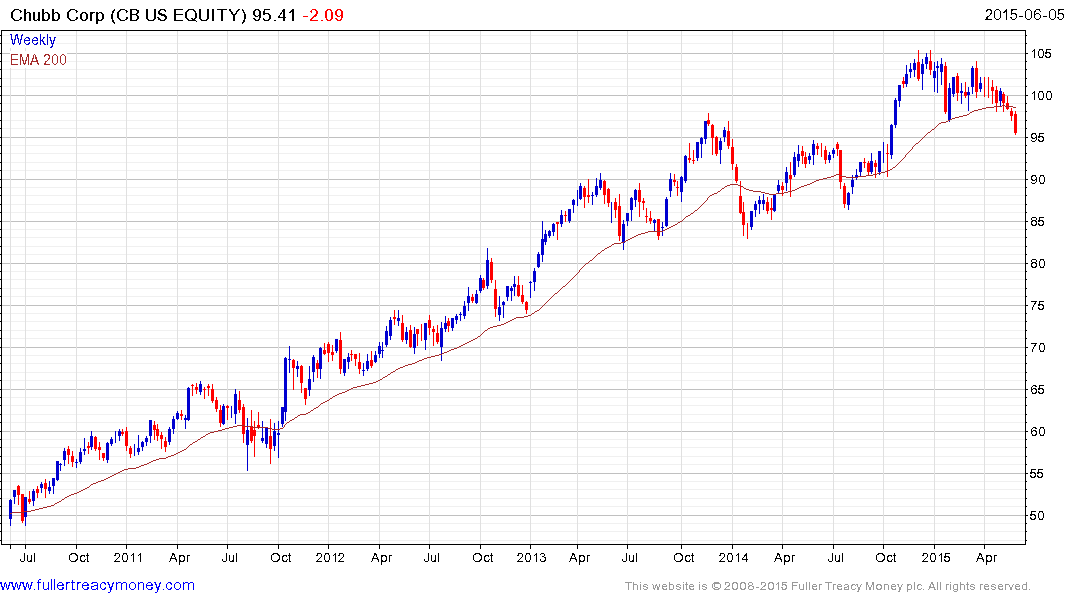 Chubb has a record of overshooting during corrections but these have been relatively shallow during the uptrend that began in 2009. If the trend is to remain reasonably consistent the share will find support in the region of $94.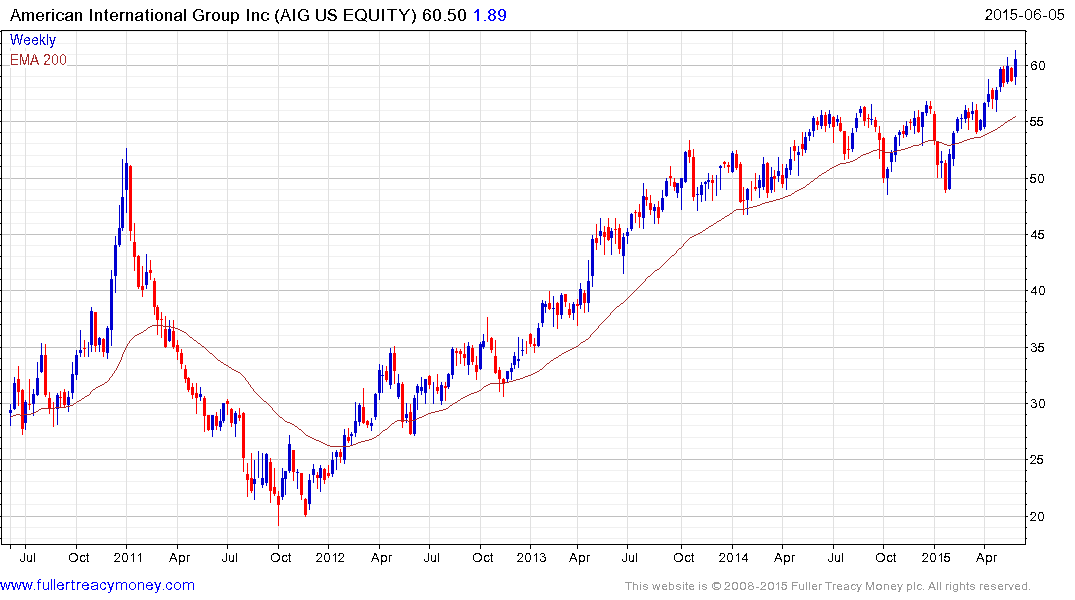 AIG Group is susceptible to mean reversion following its recent outperformance.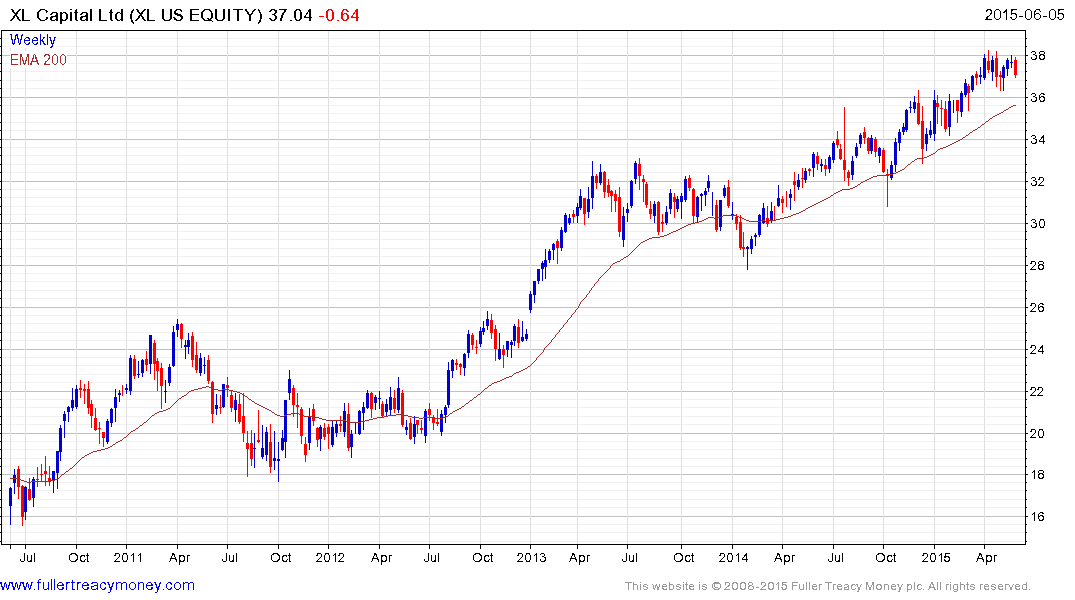 XL Group also advertises its cyber security insurance products. The share continues to encounter resistance in the region of the 200-day MA and will need to find support in the region of $35 if medium-term scope for continued higher to lateral ranging is be given the benefit of the doubt.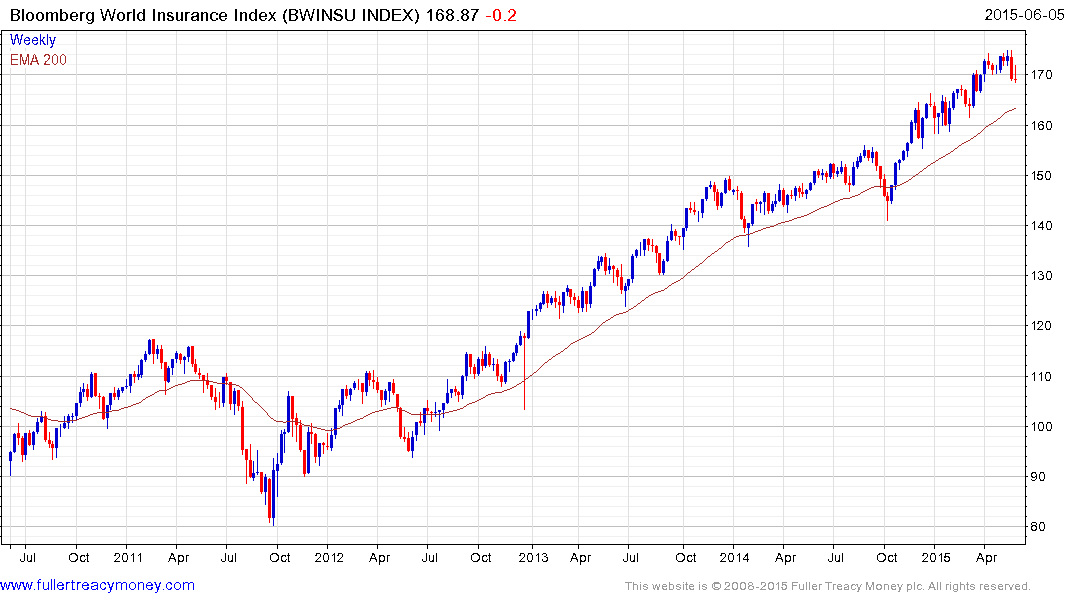 The Bloomberg world Insurance Index has been trending consistently higher since 2011 but will need to continue to find support in the region of the trend mean following the current reversions in order to remain so.
Back to top