Africa's Cities: Opening Doors to the World
This heavyweight 166-page report from the World Bank may be of interest to subscribers. Here is a section:
How can Africa's leaders and policymakers spring cities from this trap? Crucially, they must first realize that the problem does not begin with low capital investment and the lack of physical structures, or even with undersized infrastructure. To be sure, low investment in structures limits urban economic density; it exacerbates spatial fragmentation, and it precludes agglomeration economies. But the lack of investment results from low investor expectations, which result when cities are spatially dispersed and disconnected.

When potential investors and trading partners look at African cities, they see spatial fragmentation and a lack of connections. They know that such fragmentation constrains public service provision, inhibits labor market pooling and matching, and prevents firms from reaping scale and agglomeration benefits. So the key to freeing Africa's cities from their low development trap is to set them on a path toward physical and economic density, connecting them for higher efficiency and boosting expectations for the future. The first priority is to reform land markets and land use planning — to promote the most efficient uses of urban land, and to develop land at scale.
Informal land markets are not good enough for African cities. Urban land is a vital economic asset, and asset transactions are viable only where purchasers can rely on enduring extra-legal documentation of ownership. A formal market both offers purchasers the protection of the state and — because transactions are readily, observable and recorded — generates the public good of accurate valuation.

Clear rights to urban land are a precondition for formal land markets. African cities struggle with overlapping and sometimes contradictory property rights systems — formal, customary, and informal (box 3). When these systems pose barriers to urban land access, they impede the consolidation of plots and the evolution of land use. Firms cannot readily buy downtown land to convert it from low-density residential use into higher-density apartments, or to build clusters of new commercial structures. Land transactions are long, costly, and complicated (World Bank 2015c). Such market constraints reduce the collateral value of structures, giving developers little incentive to invest in residential height — while tempting all parties to enter informal arrangements (Collier 2016).
Here is a link to the full report.

Africa is going to account for a billion new consumers within the next couple of decades so improving standards of governance are going to be essential if that demographic dividend is not going to be squandered.

Property rights, an independent judiciary and minority shareholder rights are the hallmarks of good governance and provided countries are trending towards those ideals we can conclude governance is improving. The good news is that a significant number of African countries are improving and with commodity prices moving higher investor interest is once more turning towards the continent.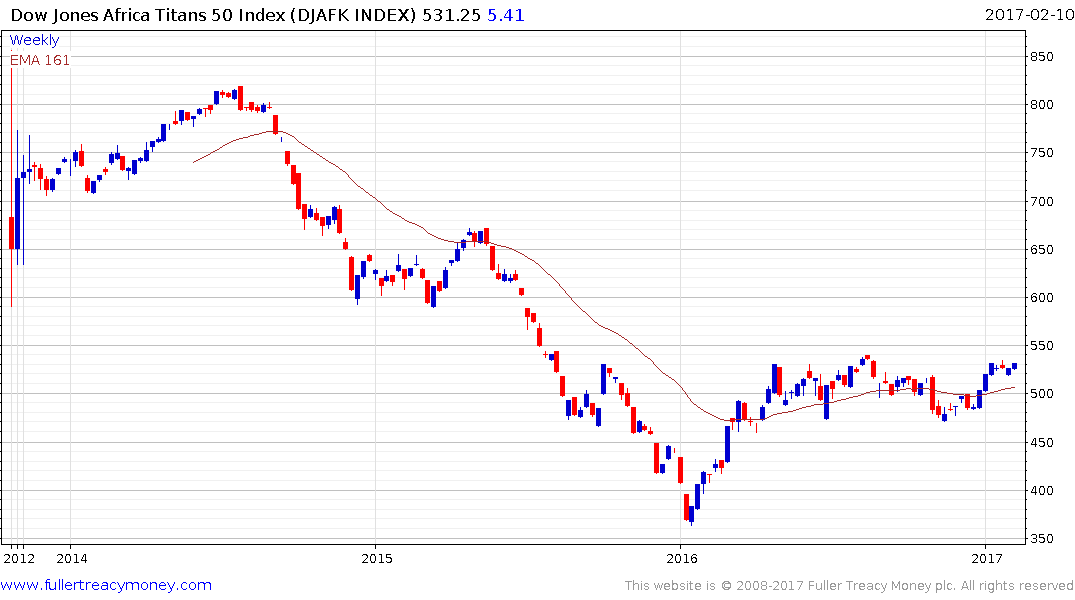 The Dow Jones African Titans 50 Index is testing the upper side of an almost yearlong range and a clear downward dynamic would be required to question potential for a successful upward break.
Back to top