Ackman $5.3 Billion Allergan Bet Examined Before Ouster Vote
This article by Edvard Pettersson for Bloomberg may be of interest to subscribers. Here is a section:
Bill Ackman's accumulation of $5.3 billion in Allergan Inc. stock will be scrutinized by a judge who will decide whether the hedge fund manager can vote his 10 percent stake to help seal a hostile takeover bid by Valeant Pharmaceuticals International Inc.

Allergan, the maker of the anti-wrinkle treatment botox, seeks a court order barring Ackman from voting the shares held by his PS Fund 1 at a Dec. 18 meeting, where shareholders will be asked to remove six directors who oppose Valeant's $54 billion unsolicited bid.

Ackman calls Allergan's request "drastic and unprecedented," while the company alleges the activist investor acquired his shares through insider trading. The decision by U.S. District Judge David Carter, who will hear arguments today in Santa Ana, California, may determine the outcome of the vote.

"An injunction would substantially tilt the playing field because a majority of outstanding, as opposed to voting, shares must vote in favor of removing directors for this proposal to pass," Ackman said in a court filing. "If PS Fund 1 cannot vote its shares, they will effectively become 'no' votes."

Valeant, based in Laval, Quebec, wants to buy Allergan to expand its portfolio and become one of the world's largest drugmakers. Allergan Chief Executive Officer David Pyott has fought to keep the company independent, announcing a restructuring that includes cutting 1,500 jobs.
Whenever I think of Botox I think of my grandmother's response to a childhood question "did you have a midlife crisis?" She said she would have loved to but couldn't afford one. I included Allergan in the original list of Autonomies because its product line epitomises the narcissism so often associated with the middle classes. Valeant and Bill Ackman obviously agree and their efforts to acquire the company represent a media spectacle which has boosted the price of both securities.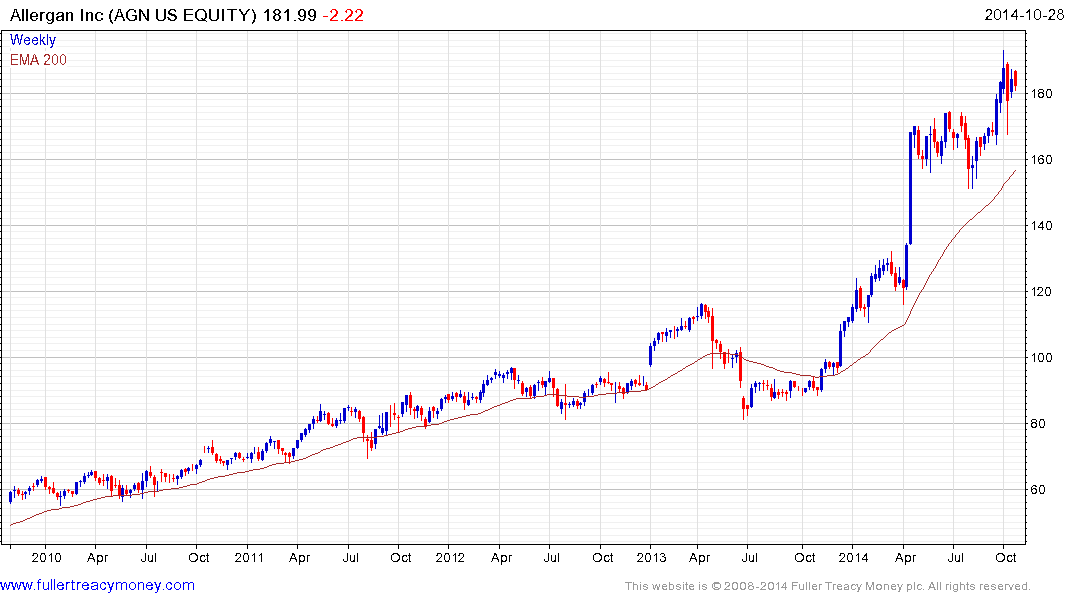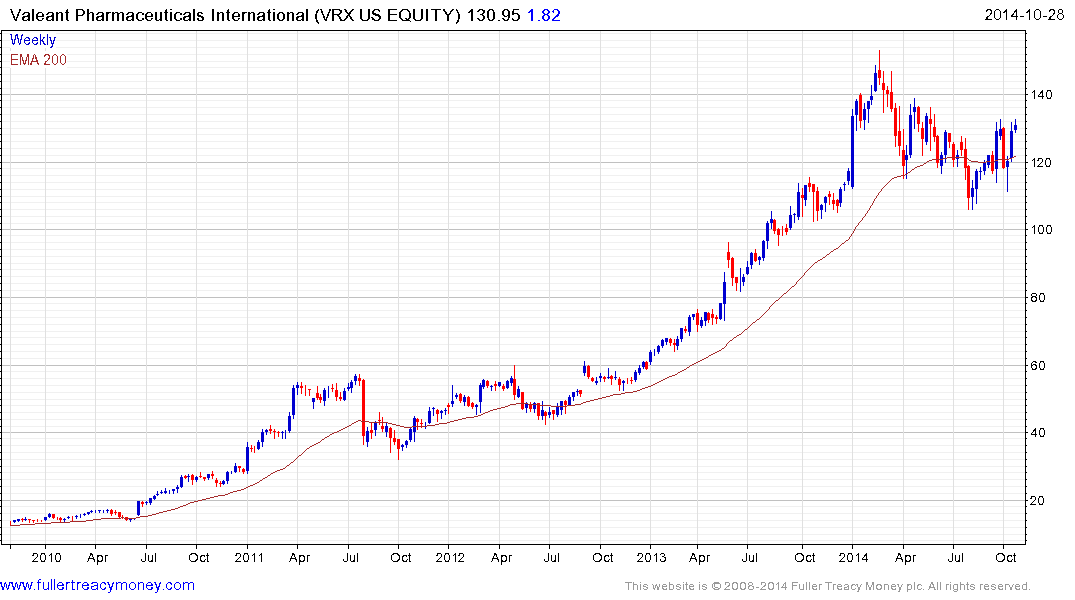 The biotechnology sector accelerated to a medium-term peak in the first quarter and most constituents pulled back sharply to close overextensions relative to the 200-day MA. The majority of large caps stabilised and the sector has been an absolute and relative outperformer over the last month despite heightened volatility for the wider market.
M&A activity is one reason for increased investor interest but is an incomplete picture. Biotechnology represents the cutting edge of technological innovation, research and development. This is all the more important because major pharmaceutical companies are spending less on these areas; being content to buy innovative smaller companies as they evolve. As an increasing number of treatments and products reach commercial viability investors have focused on the growth potential represented by biotechnology. This represents a narrowing of breadth for the wider market but with monetary policy still loose, investors appear willing to look past that fact for the moment.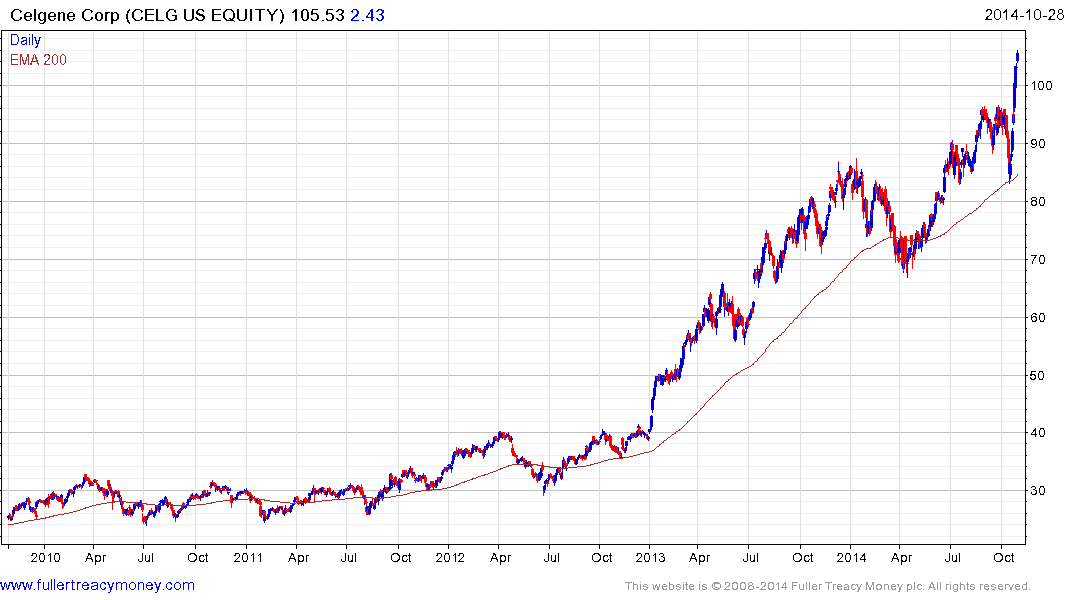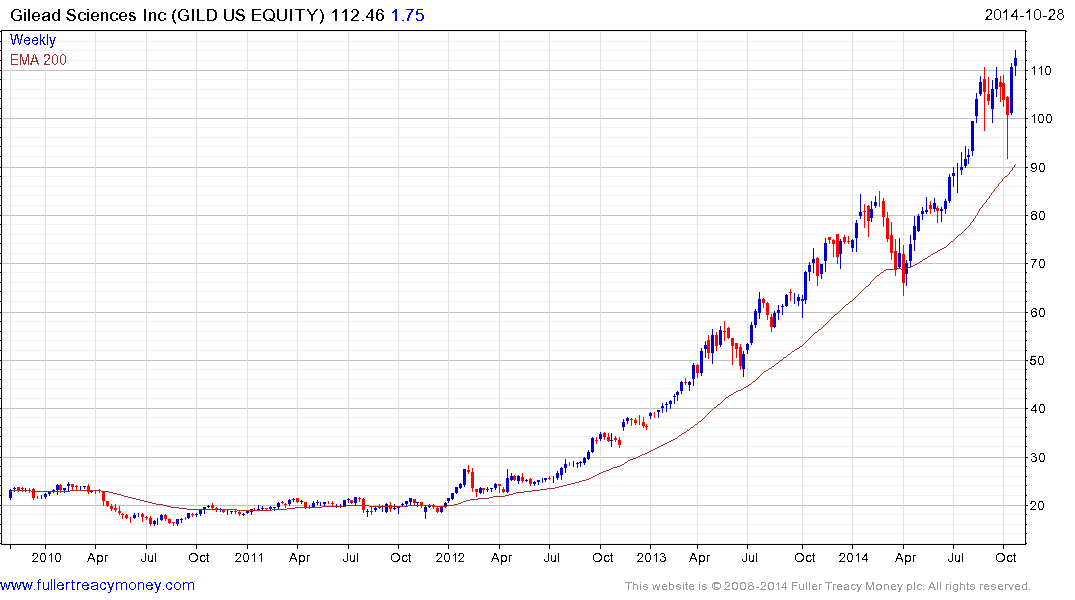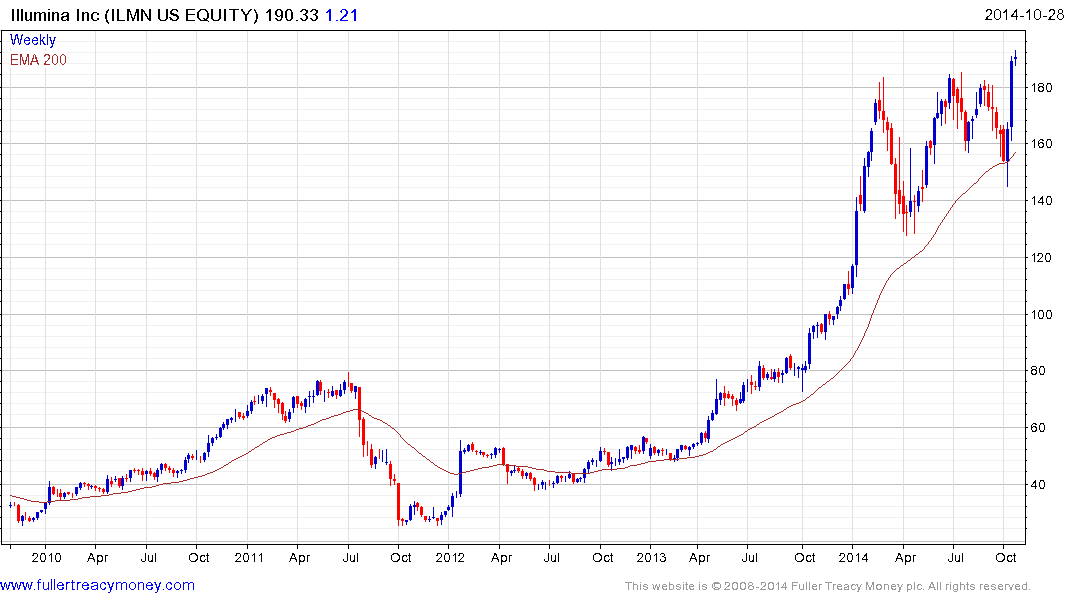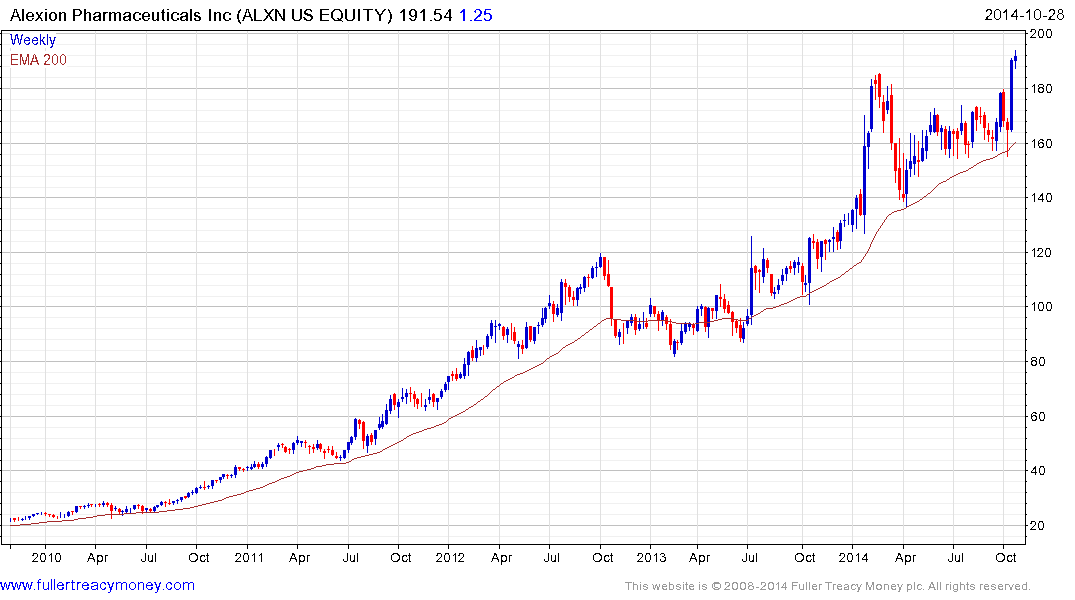 Celgene, Gilead Sciences, Illumina and Alexion Pharmaceuticals all broke out to new all-time highs last week. They are all prone to bouts of volatility, both up and down, but the benefit of the doubt can continue to be given to the upside provided their recent lows hold.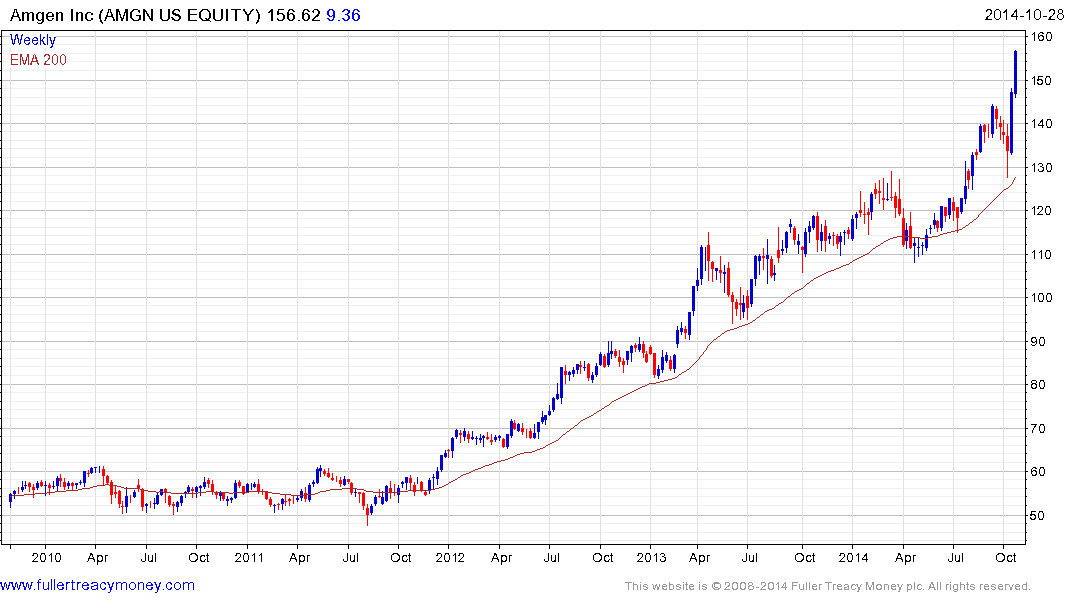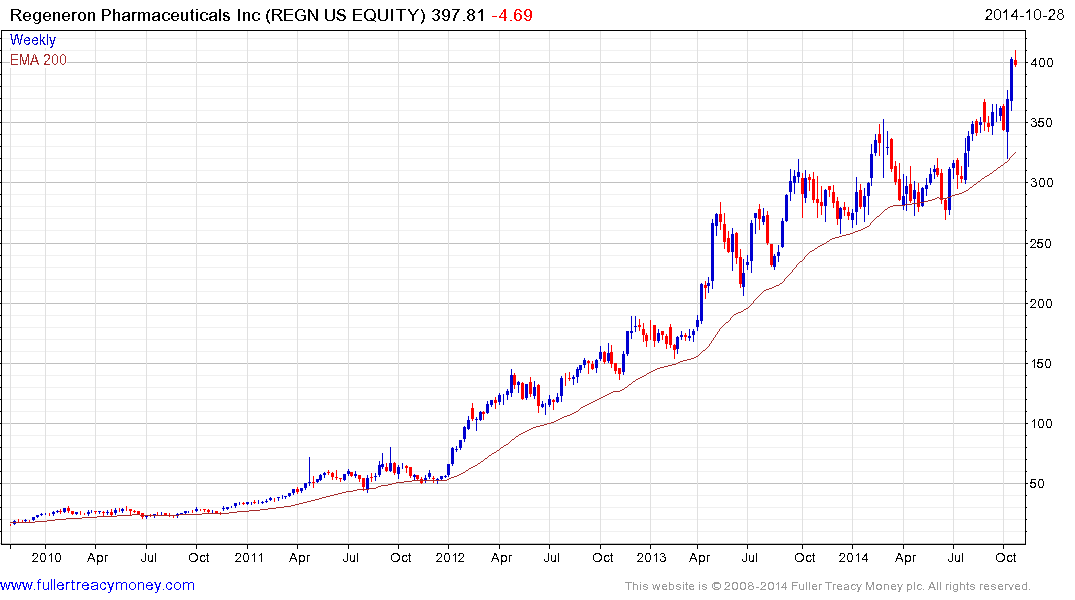 Amgen and Regeneron Pharmaceuticals are overextended once more but clear downward dynamics would be required to check momentum.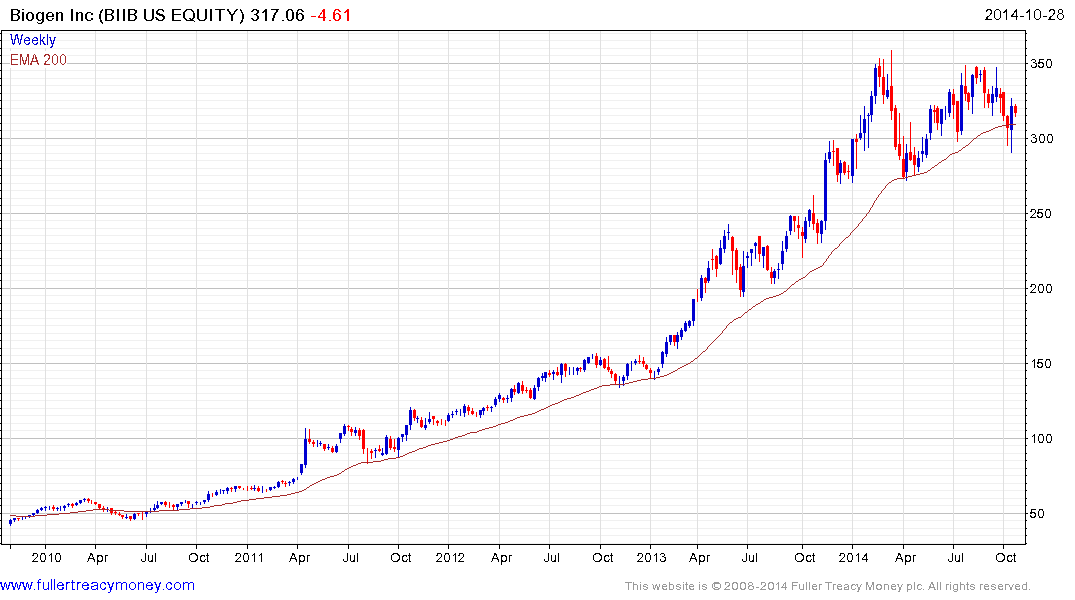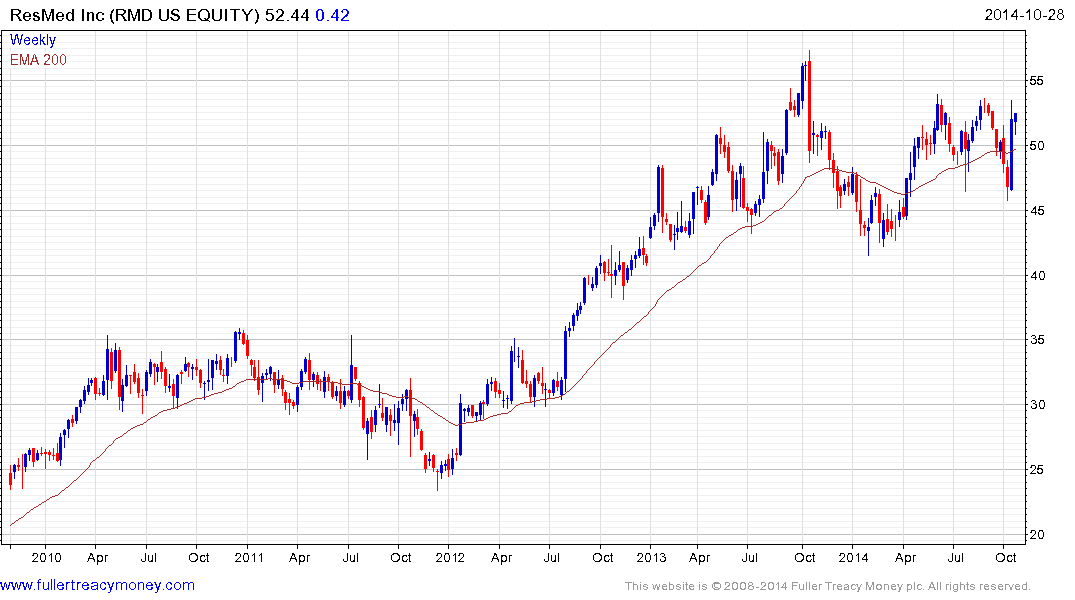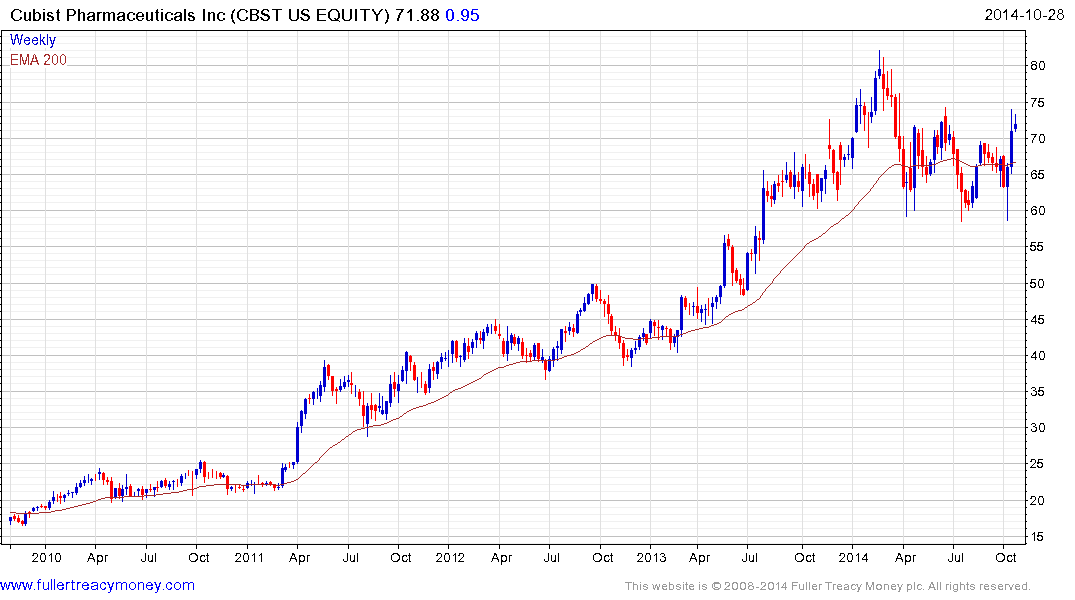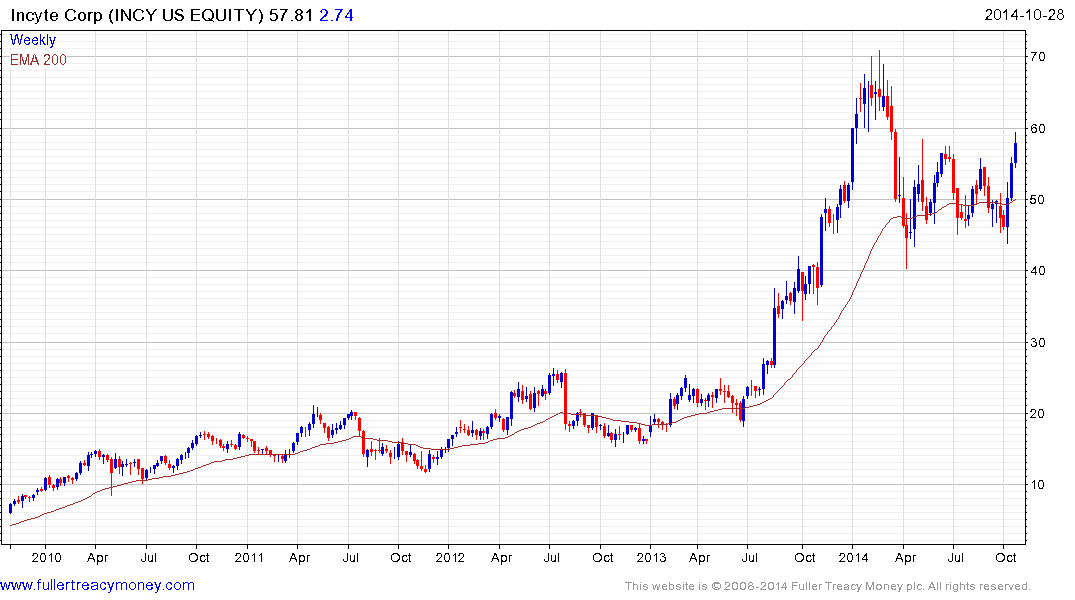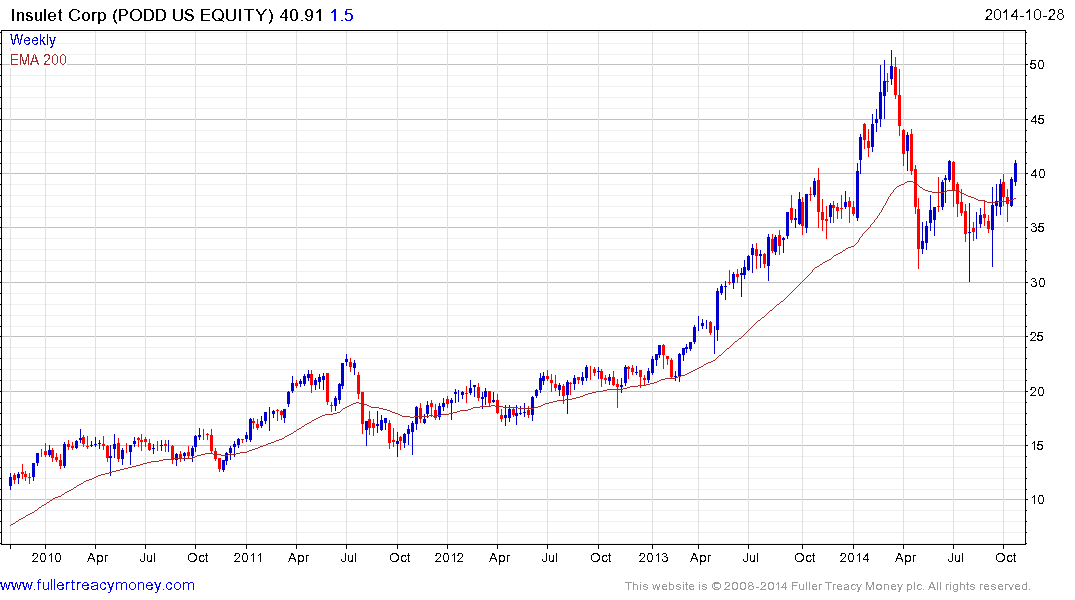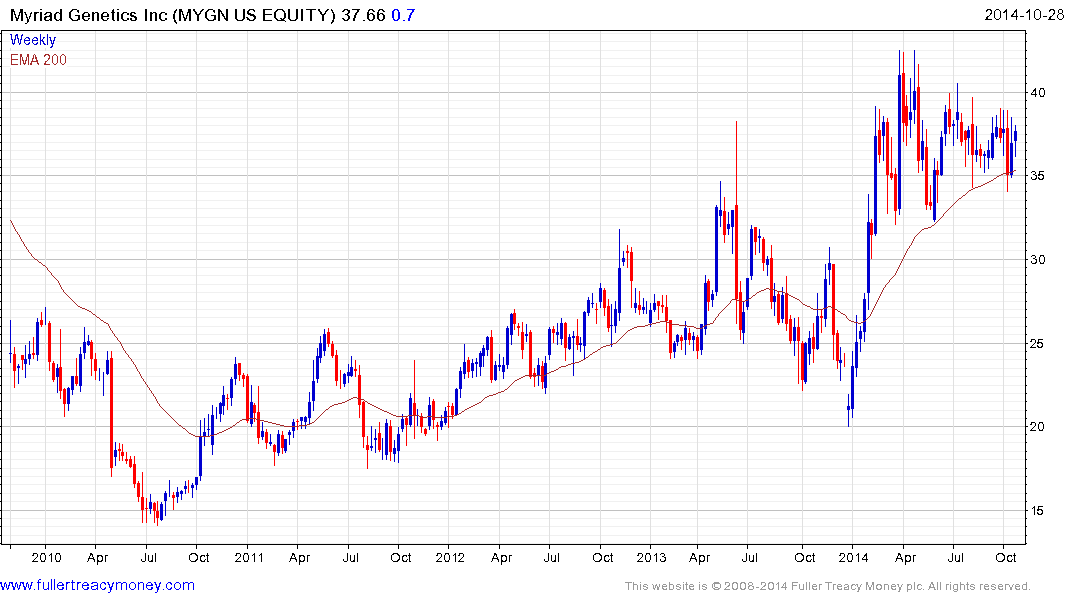 Biogen, ResMed, Cubist Pharmaceuticals, Incyte, Insulet and Myriad Genetics have all firmed in the region of their respective 200-day MAs. Considering the positive commonality evident among other major constituents of the sector, the benefit of the doubt can be given to additional upside provided they continue to hold their recent lows.
Back to top