World's Largest Solar Manufacturer Is Fueling a Price War
This article from Bloomberg may be of interest. Here is a section:
Chinese company Longi Green Energy Technology Co. cut wafer prices by as much as 31% on Monday. Wafers are silicon squares that are wired up and pieced together to form solar panels.

The reduction comes after solar silicon prices have plunged by almost half since early February. A slew of new factories have ramped up production, ending a shortage of the material that disrupted the industry's supply chain last year.

Longi President Li Zhenguo warned last week that aggressive expansion in the solar supply chain could lead to excess capacity that forces more than half the companies in the industry out of business in the next few years.
China is the global heavyweight in solar panel manufacturing and not least because several provinces have the same ambition of dominating the sector. If they have decided to embark on a price war to drive the weakest domestic manufacturers out of business, that is near-term positive for consumers but is a significant challenge for global competitors who will not be spared from dumping of excess supply.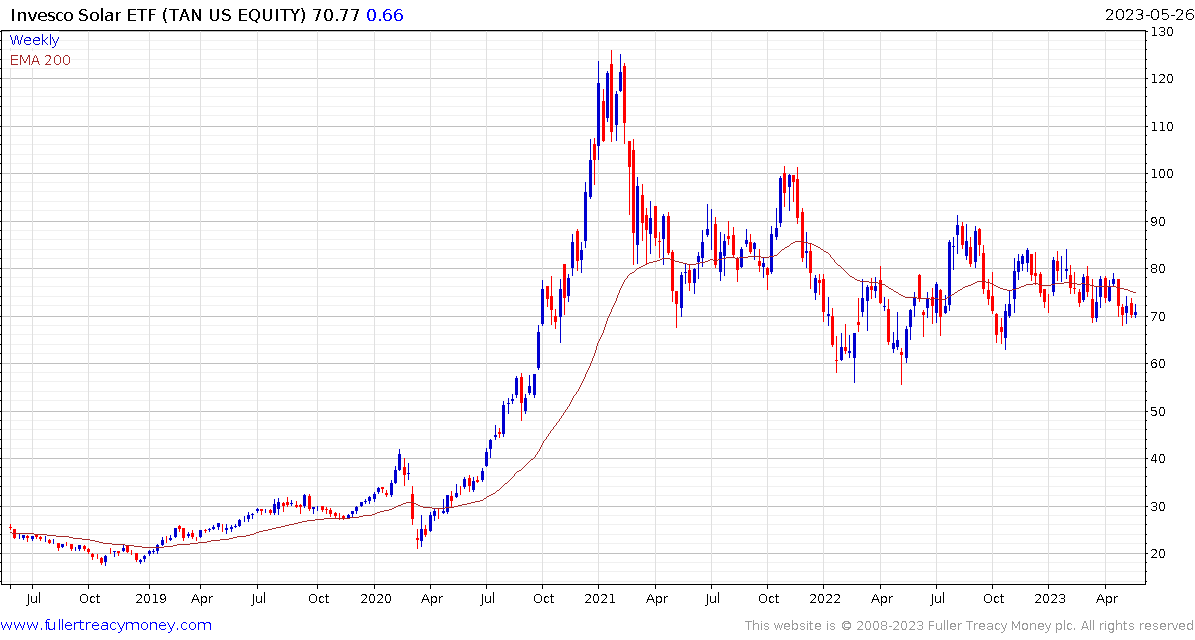 The Invesco Solar ETF is barely steady as it tests the region of the 1000-day MA. There is clear potential for a break lower on this news.
More broadly, the sudden desire to contain excess manufacturing capacity is reflective of an economy-wide slowdown in demand for building and industrial components. The challenge is that without a clear and robust move to support the infrastructure/real estate sectors there are several sectors at risk of price wars as survival concern trump expansion dreams.
Back to top