War and Industrial Policy
This report from Zoltan Pozsar at Credit Suisse may be of interest. Here is a section:
More broadly, the three "moments" of reckoning we discussed above mean that global supply chains, whether they produce military or civilian goods, are facing a Minsky Moment – a Real Minsky Moment. Paul McCulley's term referred to the implosion of the long -intermediation chains of the shadow banking system that marked the onset of the Great Financial Crisis. Today, we are witnessing the implosion of the long -intermediation chains of the globalized world order: masks, baby formula, chips, missiles, and artillery shells, for now. The triggers aren't a lack of liquidity and capital in the banking and shadow banking systems, but a lack of inventory and protection in the globalized production system, in which we design at home and manage from home, but source, produce, and ship everything from abroad, where commodities, factories, and fleets of ships are dominated by states – Russia and China – that are in conflict with the West.

Inventory for supply chains is what liquidity is for banks. In 2007 -08, big banks ran on "just -in -time" liquidity: the dominant form of liquidity was market liquidity, for which you could always sell assets into a deep market without moving prices, so you did not have to have liquidity reserves at the central bank. Similarly, big corporations today run "just -in -time" supply chains for which they assume that they can always source what they need without moving the price. But not really: the U.S. military has to wait a little bit as Raytheon "will take a little while"; Taiwan and Saudi Arabia have to wait as well until the conflict in Ukraine is over; and if your washing machine broke recently, you'll have to wait a bit too until defense contractors are done buying them up to rip chips out to make missiles.
In propagating the Belt and Road Initiative, China has long complained that the USA's policy towards it is one of containment. That has become more much overt since 2016. Sanctions on chip manufacturing capacity are an escalation. The rationale for such moves is obvious. The USA and Europe need time to rebuild domestic manufacturing capacity.
It takes about three years to build a semiconductor manufacturing operation. That suggests geopolitics will get very interesting from 2024 onwards. That's the biggest challenge of identifying the themes of the upcoming decade. I agree with Pozsar, that re-arm, re-shore, re-stock and re-wire are going to be significant themes for the next decade.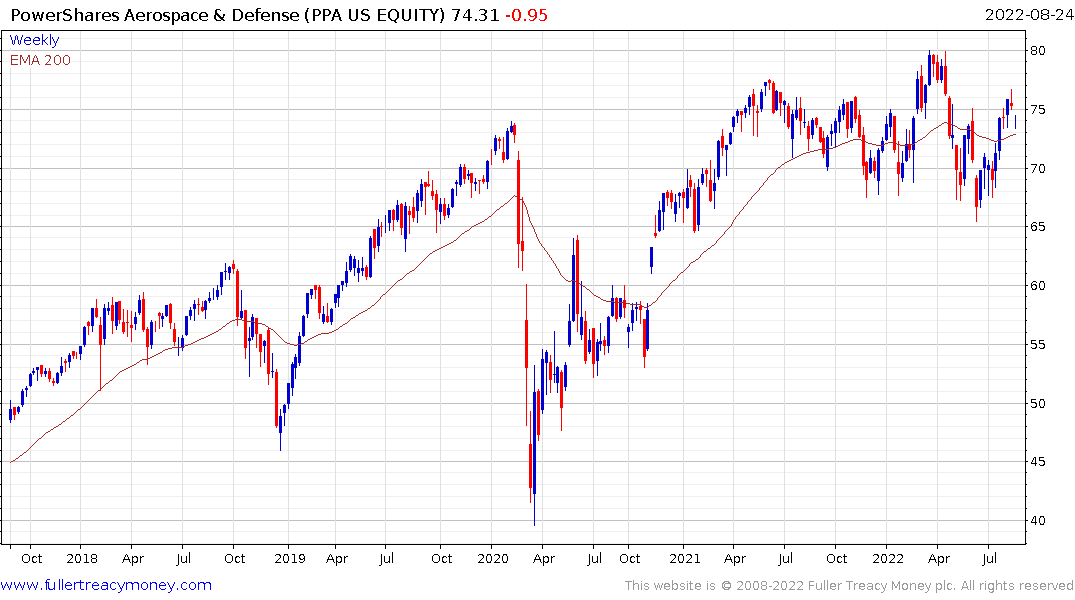 The Invesco Aerospace & Defense ETF is firming in the region of the upper side of a 12-month range.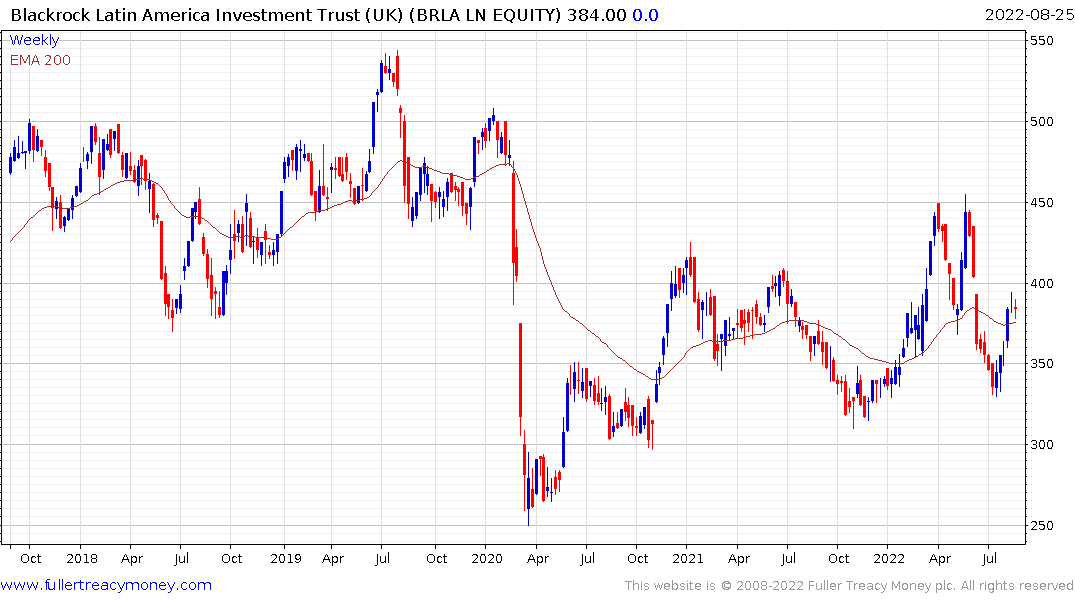 Reshoring means more manufacturing in Latin America. The Blackrock Latin American Investment Trust is currently firming from the lower side of its range.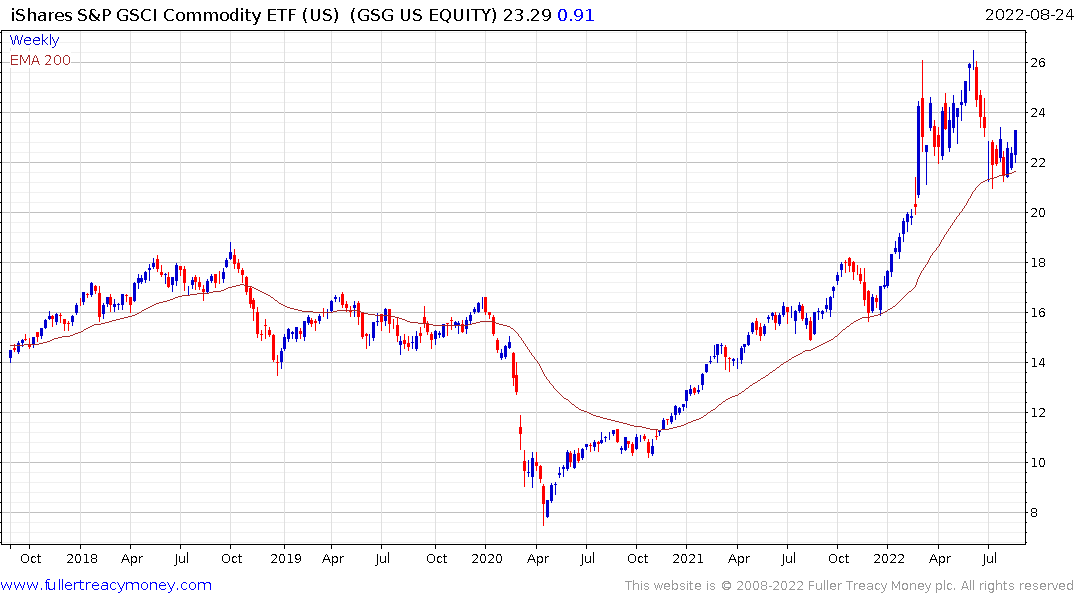 The iShares S&P GSCI Commodity ETF is performing in line with the CRB Index and bouncing from the region of the 200-day MA.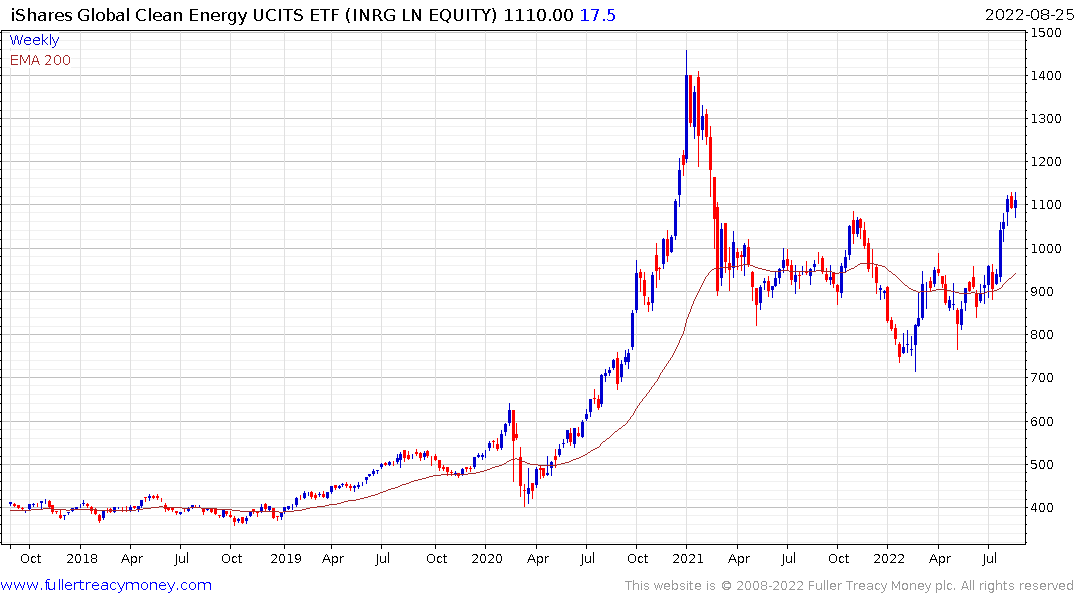 The iShares Global Clean Energy UCITS ETF broke out of a yearlong range three weeks ago and continues to extend the breakout.
Back to top