The next industrial revolution: Moving from B-R-I-C-K-S to B-I-T-S
Thanks to a subscriber for this report from Goldman Sachs exploring the industrial applications of the Internet of Things (IoT). Here is a section:
While IoT spans a variety of industrial sectors, the focus of this report is on Home Automation. Previous reports in this series addressed the applications of IoT to CommTech, Semiconductors and Software. In this report, we address the impact of the IoT on the industrials space, with a deeper dive into Home Automation within the Building Automation opportunity below. We expect a series of follow-up reports touching the following topics.

Building Automation focuses on improving energy efficiency and occupant comfort/utility within the home or commercial building. Key advantages include improved security, remote monitoring of devices, and energy management.

Manufacturing applications of IoT could help facilities to reduce downtime through predictive maintenance, have better visibility into inventory and energy management, and improve operational efficiencies overall.

Resources could benefit from real-time equipment monitoring, energy efficiency (smart meters), and fuel reduction (O&G).
Here is a link to the full report.
The frivolity of much of the social media space has led some to believe that future productivity gains will be limited. However, the increasing application of new technologies to the industrial sector almost certainly insures that this assumption will prove false. Rapid prototyping, embedded sensors, processors and transmitters are driving efficiencies that are transforming the industrial sector. This is important because productivity growth is a necessary component in the evolution of a secular bull market. It is for this reason that veteran subscribers will be familiar with our continued emphasis, particularly in the Friday audio, that we are in a technological golden age more commonly referred to as the Third Industrial Revolution.

Among the shares mentioned in this report: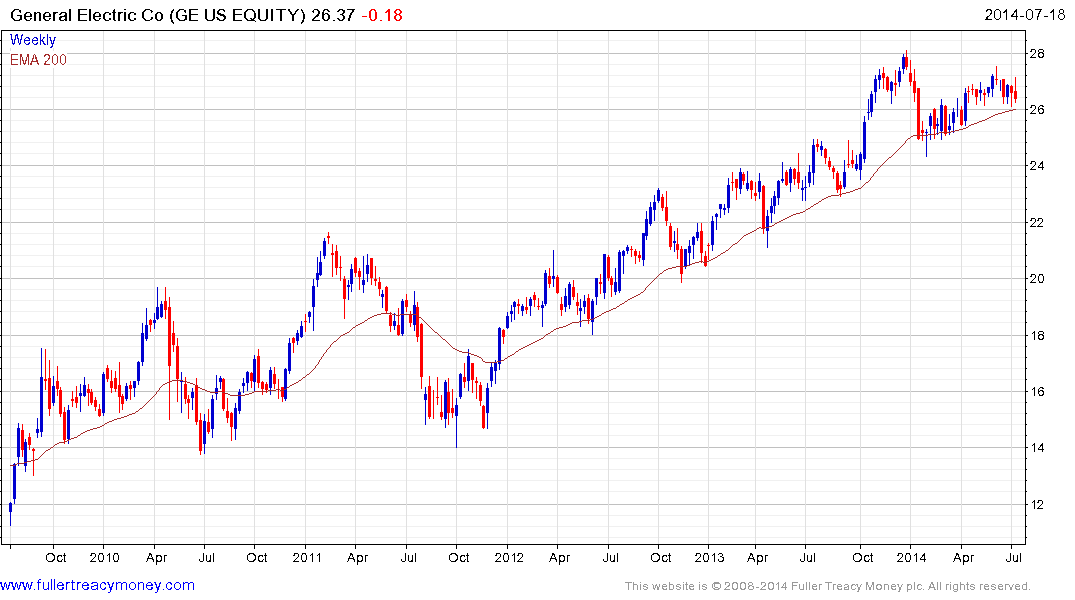 General Electric's expected spinoff of its consumer finance arm should help to concentrate the company on its core industrial products. As one of the first companies to openly discuss the benefits of the Internet of Things, GE is a leader in the sector. The share continues to hold a progression of higher reaction lows.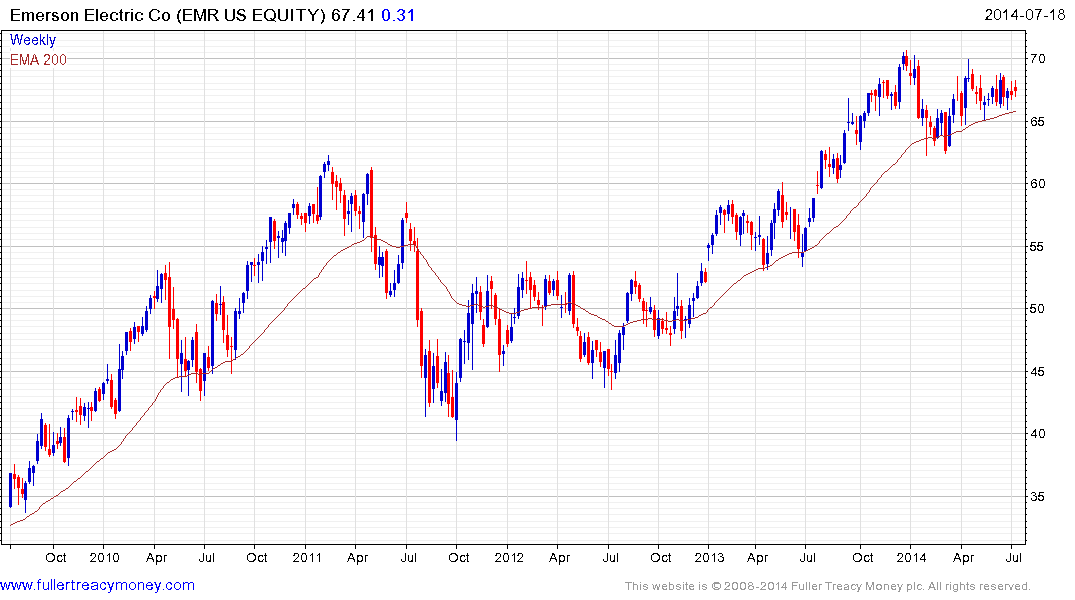 Emerson Electric has been ranging for much of this year following its impressive performance in 2013. A sustained move below $63 would be required to question medium-term scope for continued upside.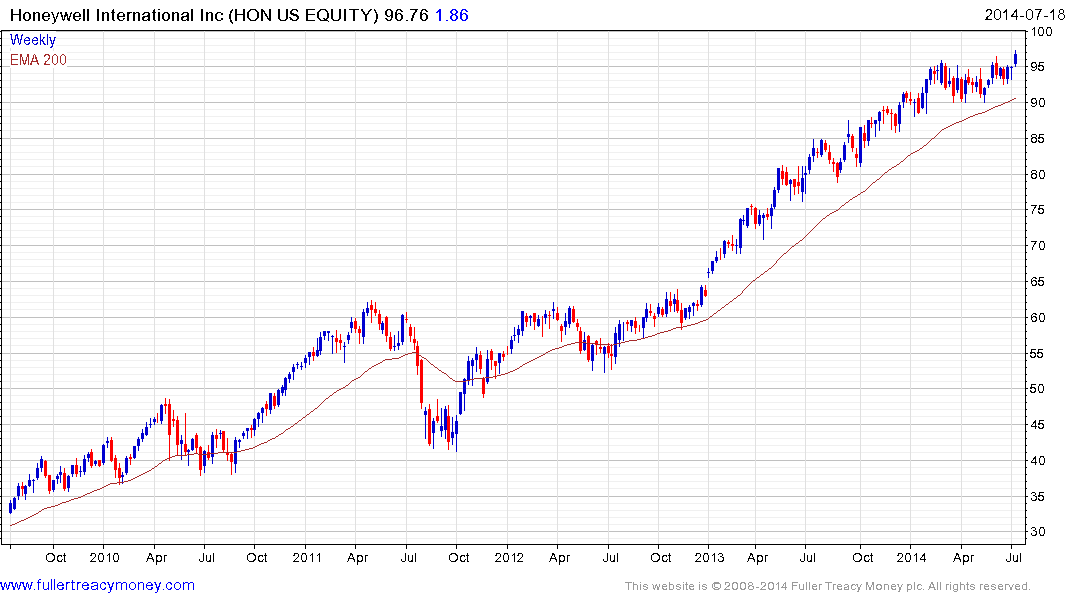 Honeywell has lost momentum somewhat since February but a sustained move below the 200-day MA, currently near $90, would be required to question medium-term uptrend consistency.

We consider all of the above shares as Autonomies. Elsewhere: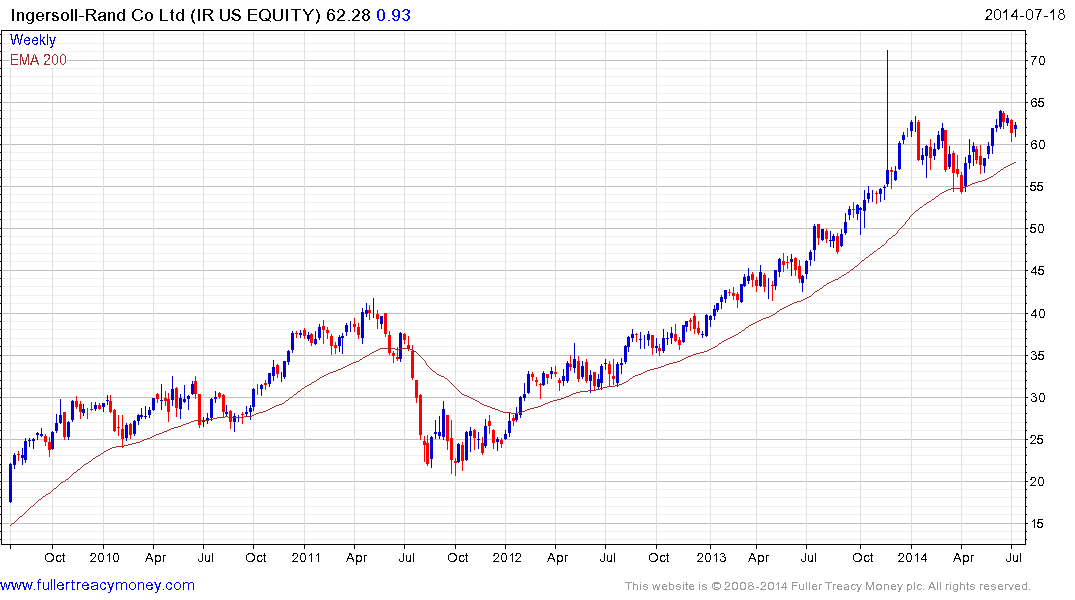 Ingersoll Rand shares a similar pattern to Honeywell.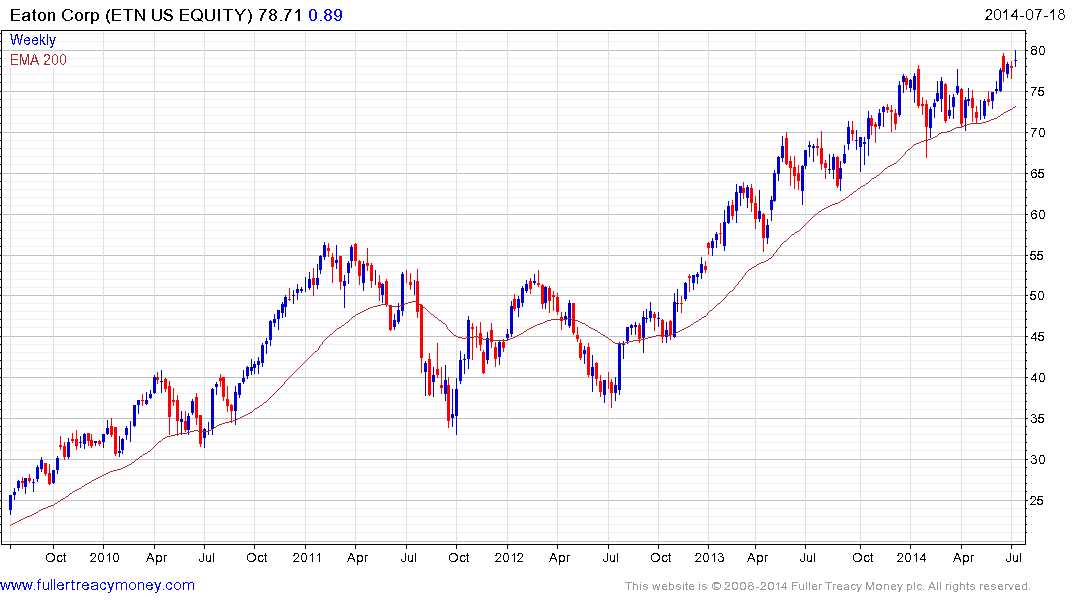 Eaton Corp continues to hold a progression of higher reaction lows and will need to continue to find support above or in the region of the 200-day MA if medium-term scope for continued upside is to be given the benefit of the doubt.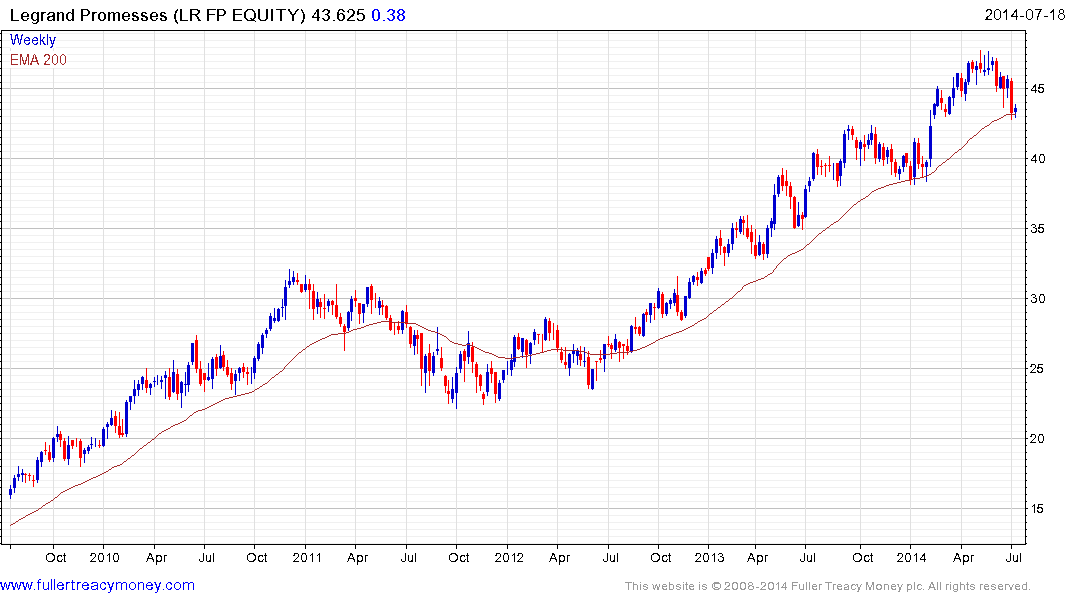 Legrand has returned to test the region of the 200-day MA and the upper side of the underlying trading range. It will need to continue to hold in the €42.50 area if the medium-term uptrend is to continue to be given the benefit of the doubt.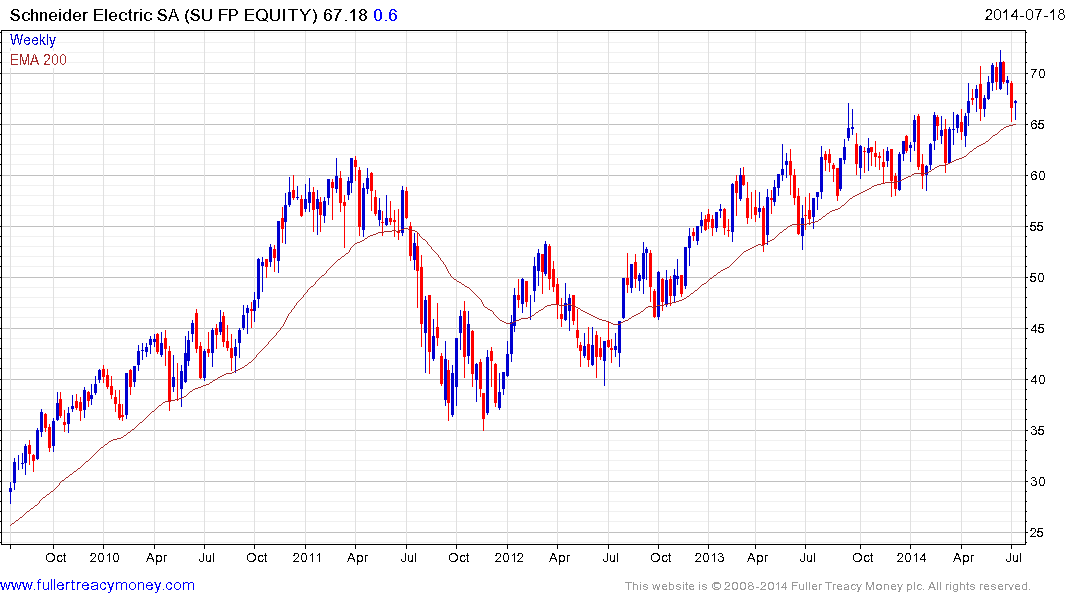 Schneider Electric has a similar pattern.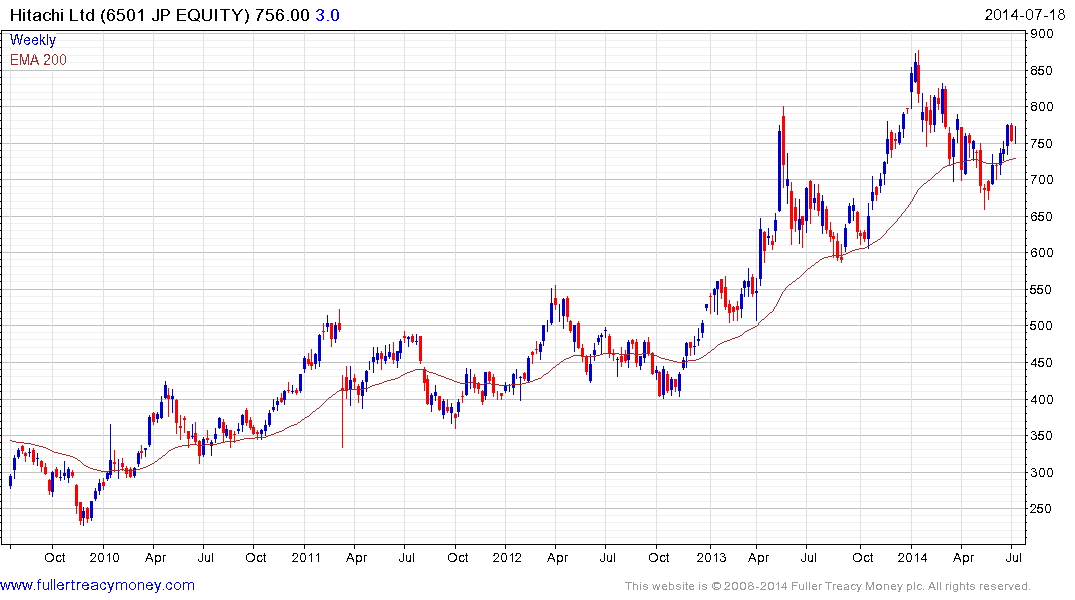 Hitachi is prone to deep pullbacks but has continued to hold a progression of higher reaction lows.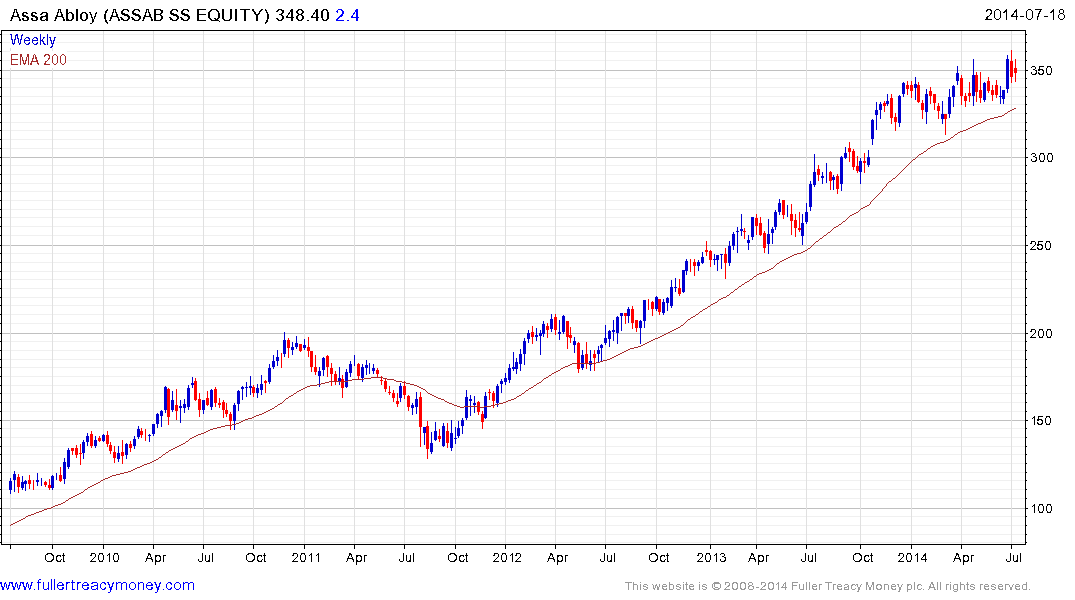 Assa Abloy trended consistently higher between 2011 and early this year, but has lost momentum and posted a number of failed upside breaks over the last few months. It will need to hold above the 200-day MA on the current pullback to avoid type-2 top formation completion.

The above charts demonstrate that the industrial sector has already been rallying for more than two years and many shares have entered periods of consolidation not least following last year's impressive performance. Some valuation contraction and monetisation of developing technologies may be required to fuel additional significant gains.
Back to top