Tesla China Plant Might Have Come to the Rescue Last Quarter
This article by Dana Hull for Bloomberg may be of interest. Here is a section:
"The lesson learned by now is that TSLA shares tend to 'work' when something new has launched," Jeffrey Osborne, a Cowen Inc. analyst with the equivalent of a sell rating on the stock, said in a report Tuesday. "At this point both the Model Y and China built cars are ramping up."

Musk, 49, suggested to Tesla employees early this week that the company could manage to avoid a quarterly loss.

"Breaking even is looking super tight," the CEO wrote to staff in an email seen by Bloomberg. "Really makes a difference for every car you build and deliver. Please go all out to ensure victory!"
Tesla has done an admirable job of keeping production on line globally even as sporadic shutdowns at home impaired manufacturing. The decision by California to mandate emission free trucking by 2040 is an additional tailwind for the battery producer.

While 80,000+ vehicles a quarter is nothing compared to the production of companies like Toyota or Volkswagen the market is not valuing Tesla on production numbers today. Instead investors are willing to bet that Tesla will survive and cannabilise the businesses of legacy producers during a period of significant disruption as batteries and fuel cells go mainstream.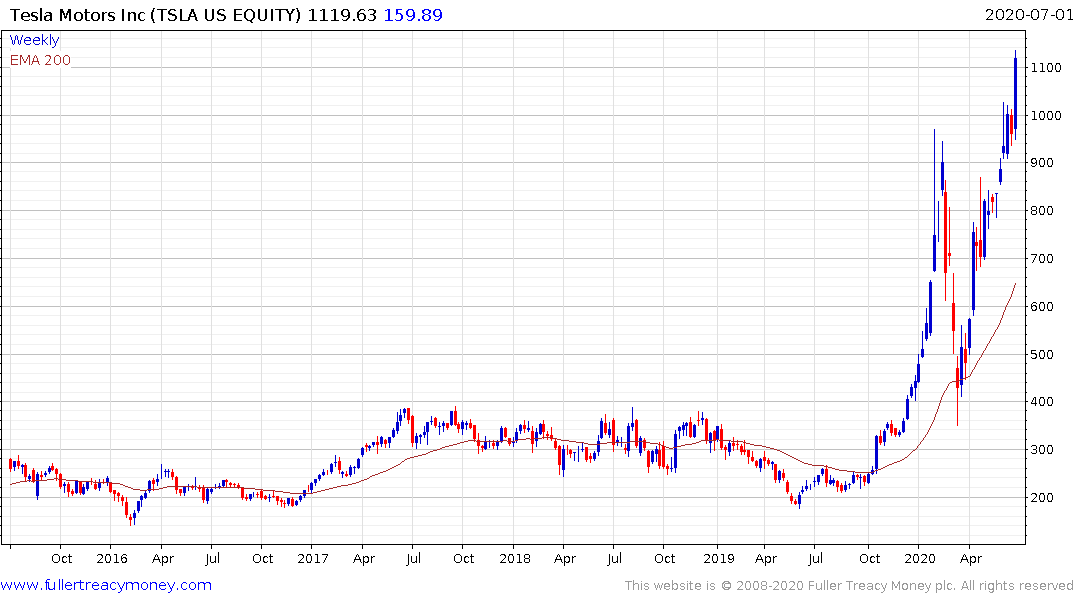 The share broke out to new highs yesterday and improved on that performance today. A clear downward dynamic would be required to check momentum beyond a pause.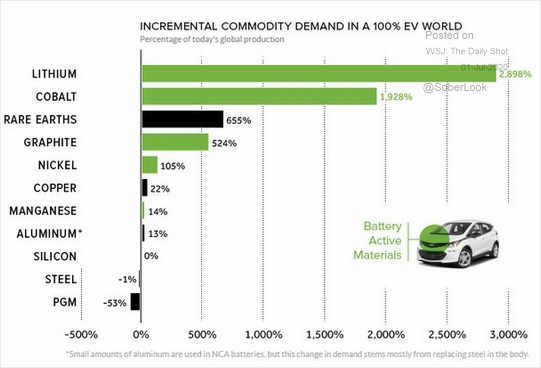 This graphic of what industrial resources demand would be under a 100% battery-driven economy might be illustrates how enthusiastic expectations have become. Under the most ambitious claims I have seen 100% dominance of the market will not occur until about 2037 and that is if everything goes very smoothly.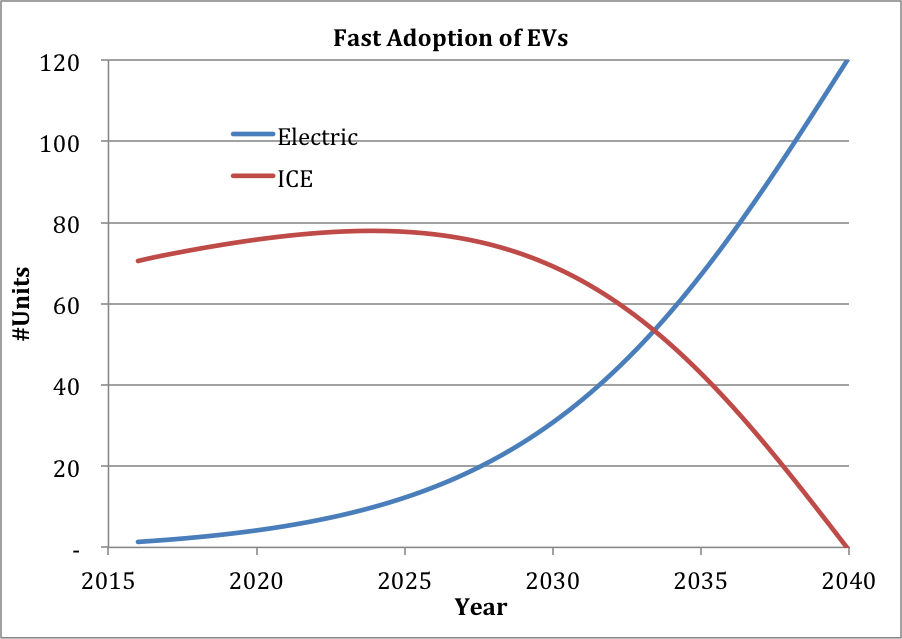 The question about demand growth is an important one for commodity producers. A great deal of time and effort has already been devoted to increasing supply of lithium. The remains in a downtrend and that continues to weight on the respective producers.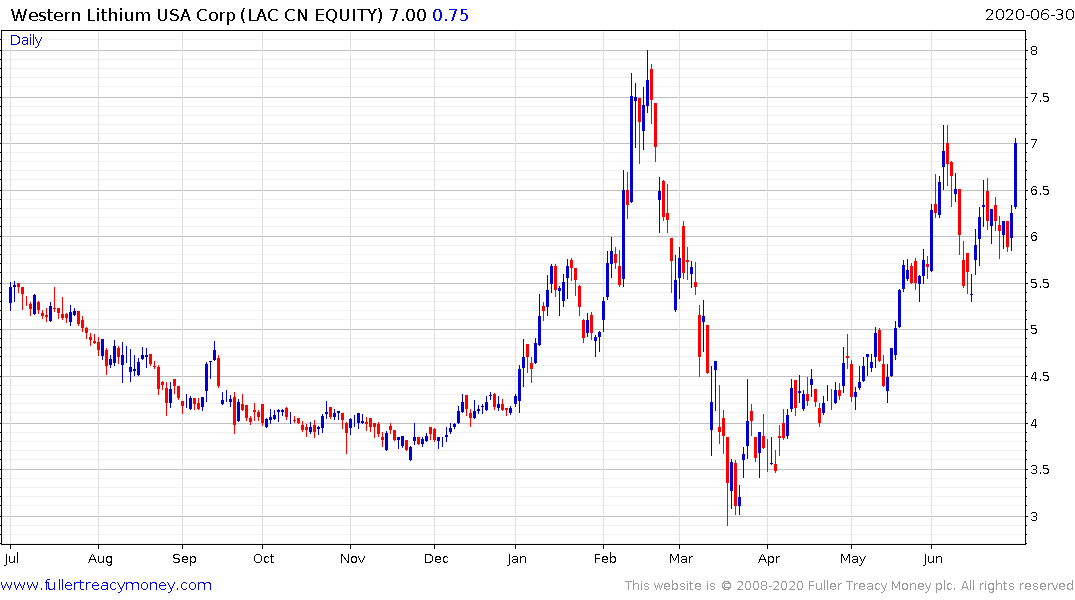 The exception is Lithium Americas which is building a mine in Argentina with China's Ganfeng Lithium. The latter has just taken 51% of the operation which increases potential the project will reach production.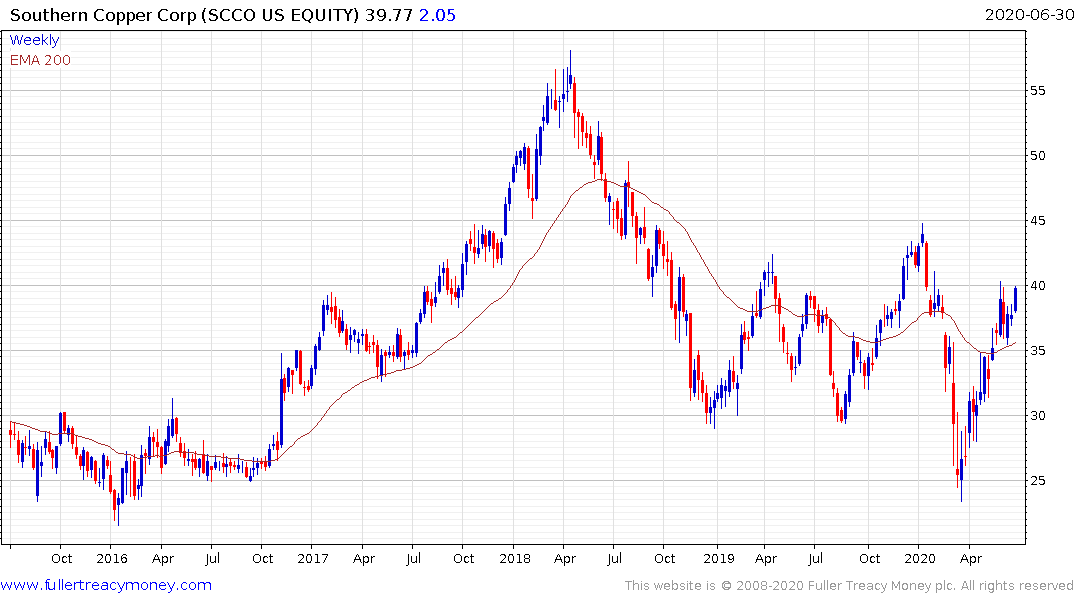 Southern Copper has rebounded impressively over the last three months to regain the $40 area. A sustained move below the trend mean would be required to question medium-term scope for continued upside.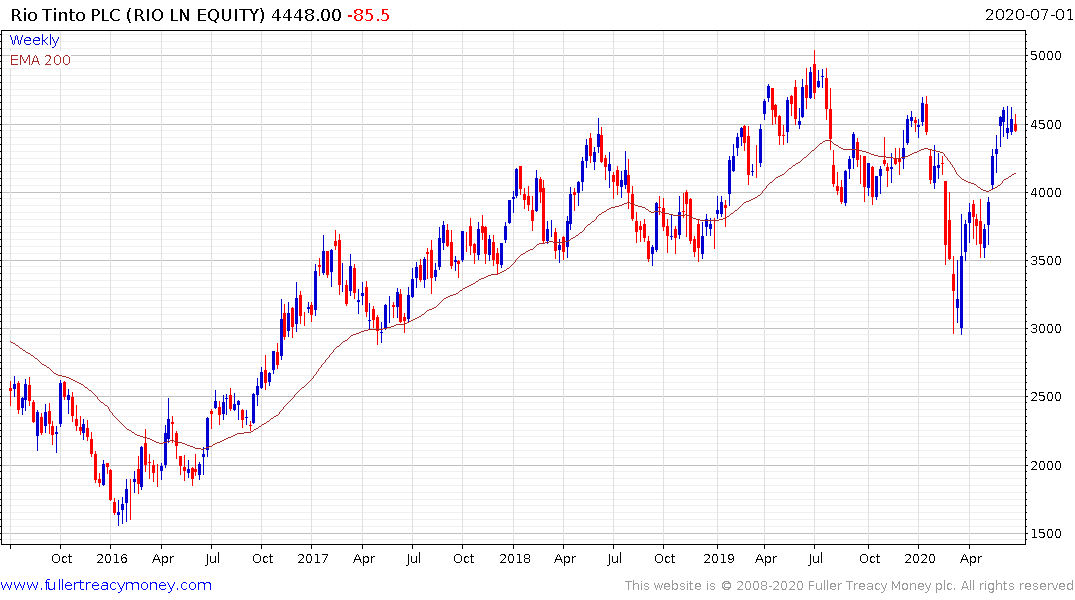 Rio Tinto has jumped 50% since March and is back testing the 4500p level. Some consolidation of recent gains appears likely but a sustained move below the trend mean would be required to recovery potential.
Back to top