Petrobras Punished by Wall Street for Caving on Fuel Prices
This article by Peter Millard for Bloomberg may be of interest to subscribers. Here it is in full:
The reaction was swift and severe. Petrobras Chief Executive Officer Pedro Parente woke up this morning to a wave of downgrades from the same Wall Street analysts who had been praising him since he took the helm of the state-controlled oil producer two years ago.

Bank of America Merrill Lynch, Morgan Stanley and Credit Suisse Group AG all cut their recommendations after Parente announced a 10 percent cut in wholesale diesel prices late Wednesday to help the government negotiate an end to a nationwide truckers strike that has wrought havoc on Latin America's largest economy.

"The just announced diesel price reduction in response to truckers' protest is likely to materially damage Petrobras' perceived independence in a way that may be difficult to recover," Frank McGann, an analyst at Merrill Lynch, wrote in a report where he cut his recommendation on the company's American depositary receipts to neutral and his price objective to $17.

"We think that the investment case for Petrobras has been seriously damaged, and the risk profile has risen."

While Parente said Petrobras isn't bowing to pressure and that the temporary measure doesn't mean a change in its pricing policy, shares extended losses in after hours trading to as low as $13.40 in late New York trading.
Petrobras is a major constituent in global high yield benchmarks so its decision to cut price against a rising oil price environment is not especially good news. Along with Turkey and Argentina, the risk in the high yield sector has increased this year.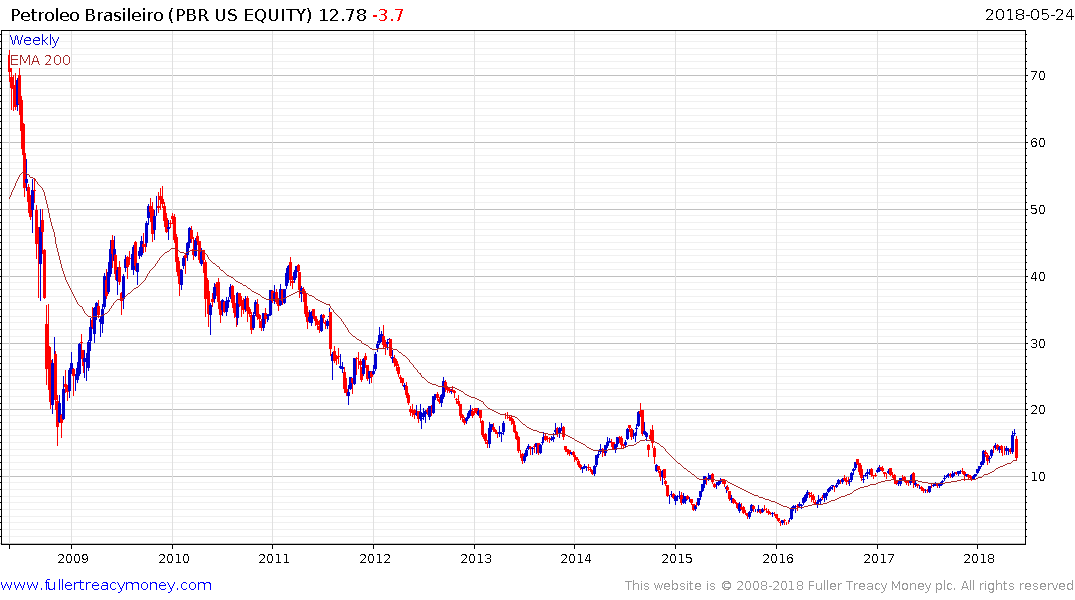 Petrobras pulled back violently today to close the overextension relative to the trend mean and will need to rally soon if potential for continued higher to lateral ranging is to be given the benefit of the doubt.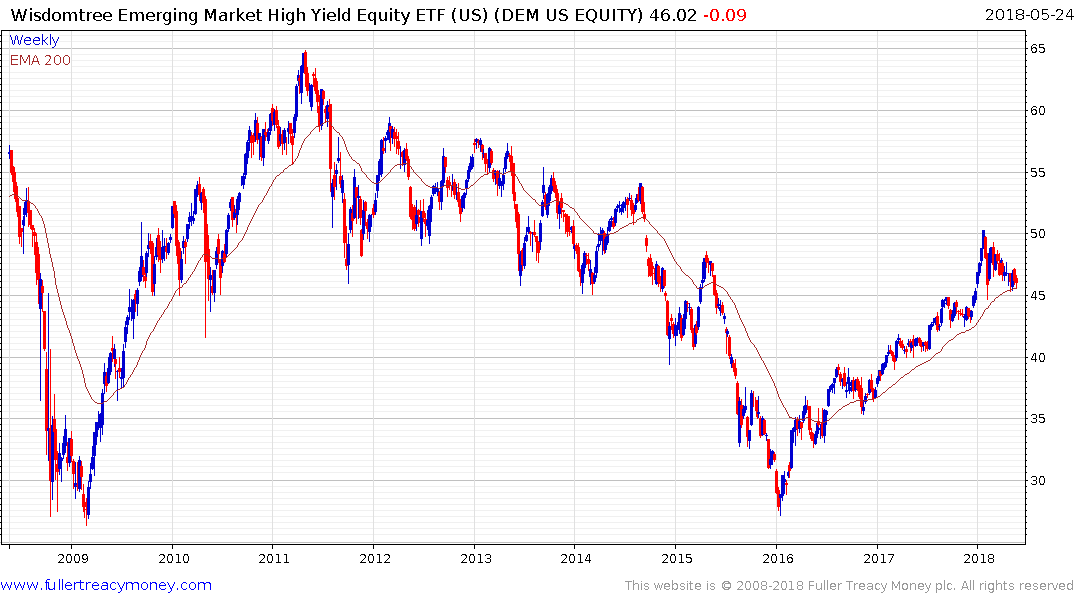 The Wisdomtree Emerging Market High Yield Equity ETF on the other hand is concentrated on Taiwan, China, Russia and South Africa. It has returned to the region of the trend mean within an otherwise reasonably consistent medium-term uptrend but will need to hold the $45 area if it is to remain consistent.
Back to top