Oil Bears Miss Biggest Rally Since 2012 as Rigs Withdraw
This article by Moming Zhou for Bloomberg may be of interest to subscribers. Here is a section:
The United Steelworkers union, which represents employees at more than 200 U.S. oil refineries, terminals, pipelines and chemical plants, began a strike at nine sites on Sunday, the biggest walkout called since 1980. A full walkout of USW workers would threaten to disrupt as much as 64 percent of U.S. fuel production.

The U.S. oil rig count dropped to a three-year low of 1,223, Baker Hughes said Jan. 30. Drillers idled 352 oil rigs in eight weeks.

Royal Dutch Shell Plc, Occidental Petroleum Corp. and ConocoPhillips alone said they would reduce spending by almost $10 billion this year.

Chevron Corp. cut its drilling budget by the most in 12 years and said it may delay some shale projects. The company is targeting $35 billion in capital projects this year, from $40.3 billion in 2014.

"Oil production growth should be flat or declining by May or June unless there's some substantial recovery in oil prices," James Williams, an economist at WTRG Economics, an energy-research firm in London, Arkansas, said by phone Jan. 30.
Falling prices necessitate that those heavily impacted by the decline act. Oil companies cutting investment is an expected response and they will be slow to ramp back up now that they have relearned how swiftly prices can fall when supply exceeds demand. Striking union workers introduces a fresh dynamic and could act as a bullish catalyst if they succeed in withholding supply from the market.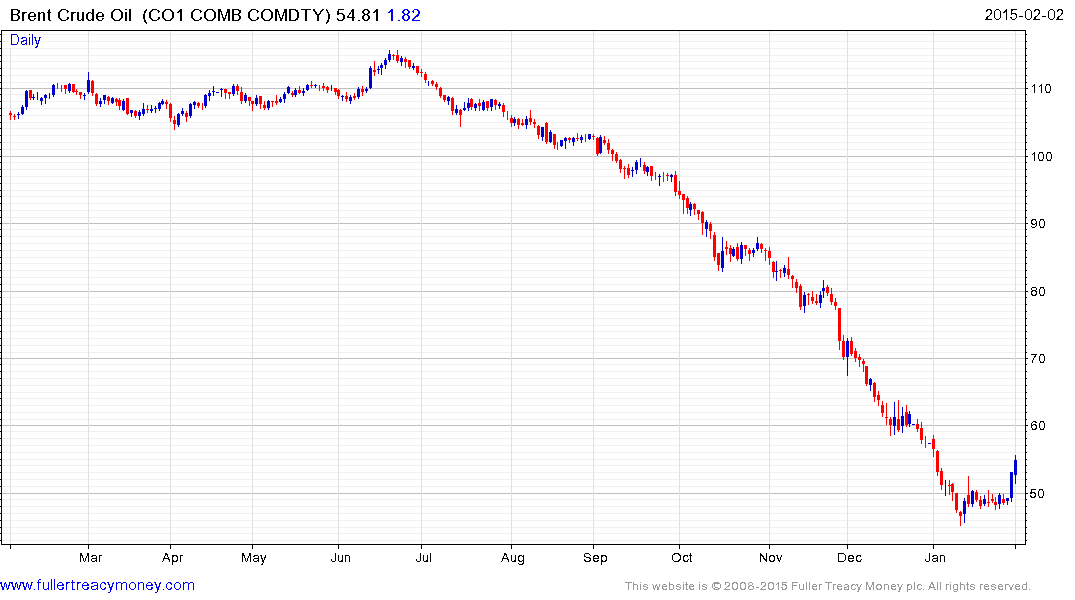 Brent Crude rallied by an additional $1.80 today to take the bounce to almost $10 from the mid- January low. This is the largest rally since the onset of the decline in June and suggests short covering is underway. Considering the speed and depth of the decline there is ample room for mean reversion and an unwind of the short-term oversold condition. However once this rally has run its course a potentially lengthy period of support building will probably be required before a return to medium-term demand dominance will be in evidence.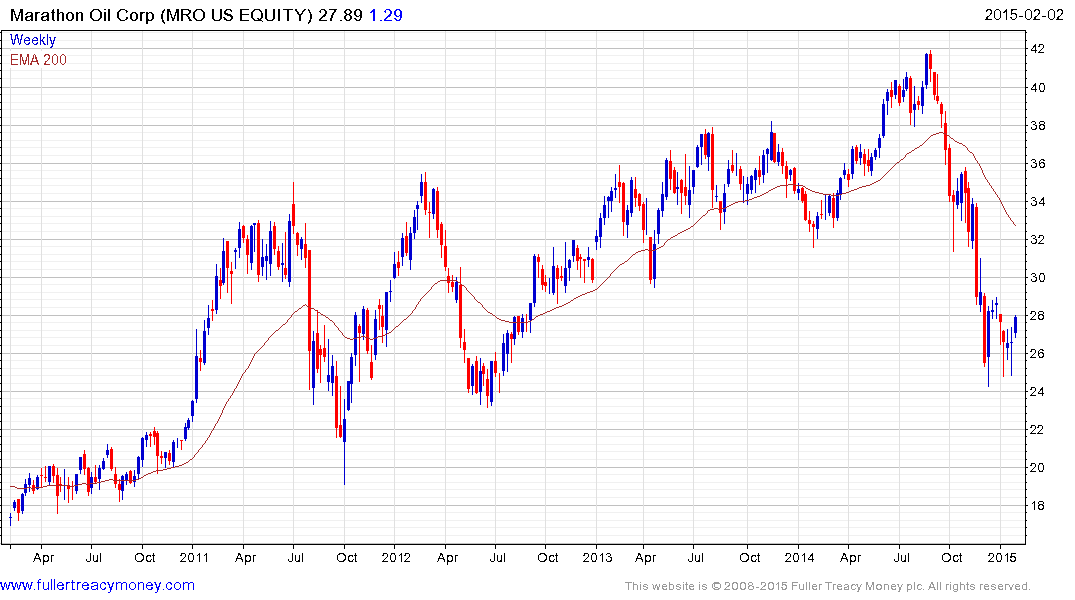 Clicking through the various oil related sectors of the Chart Library. The majority of Oil Majors found support in the region of their December lows in January and are now bouncing. Marathon Oil is representative.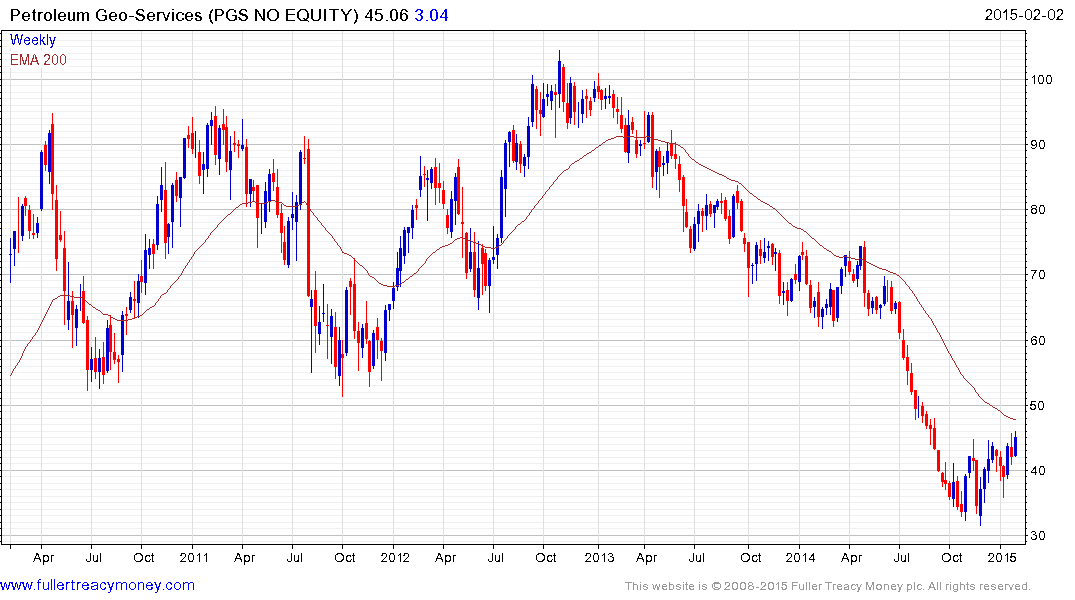 Within the Oil Service sector many shares exceeded their December lows in January but are now bouncing setting up potential for failed downside breaks. Norway's Petroleum Geo-Services has been leading to the upside and extended its advance today.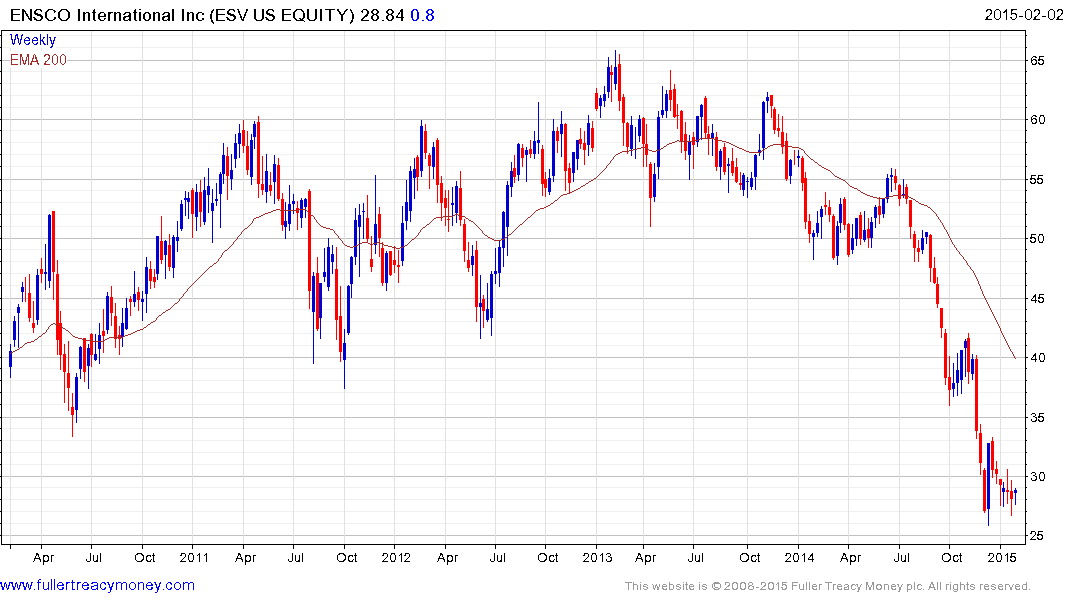 The drilling sector has been where the expenditure cuts have hit hardest and some related companies have experienced precipitous declines. Ensco has been exhibiting relative strength since late December and is now firming from the region of its low.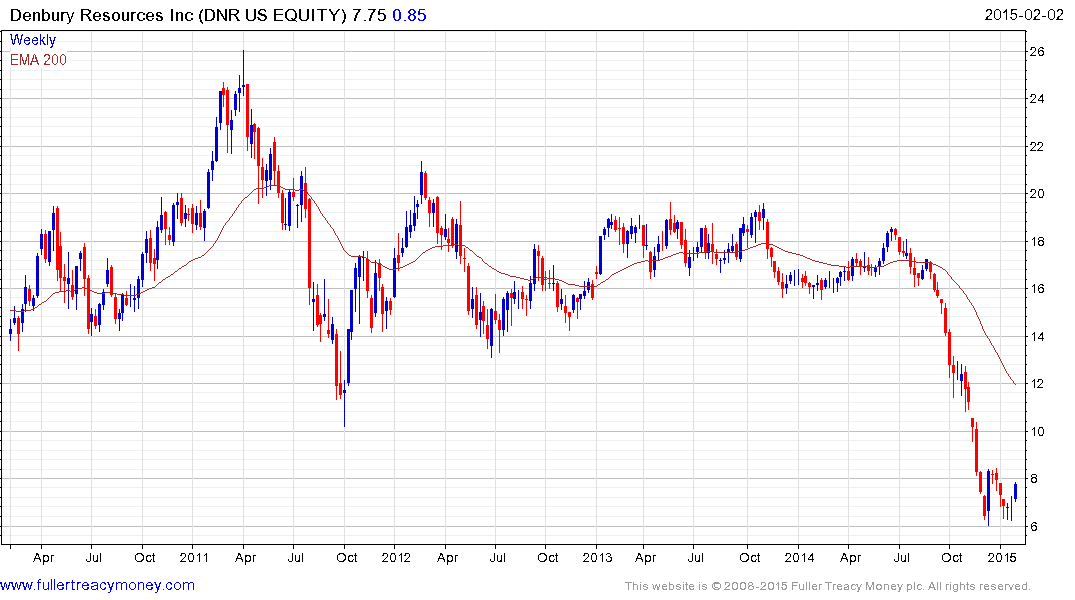 Among shale oil drillers Denbury Resources posted an upside weekly key reversal in December, and found support above its low last week.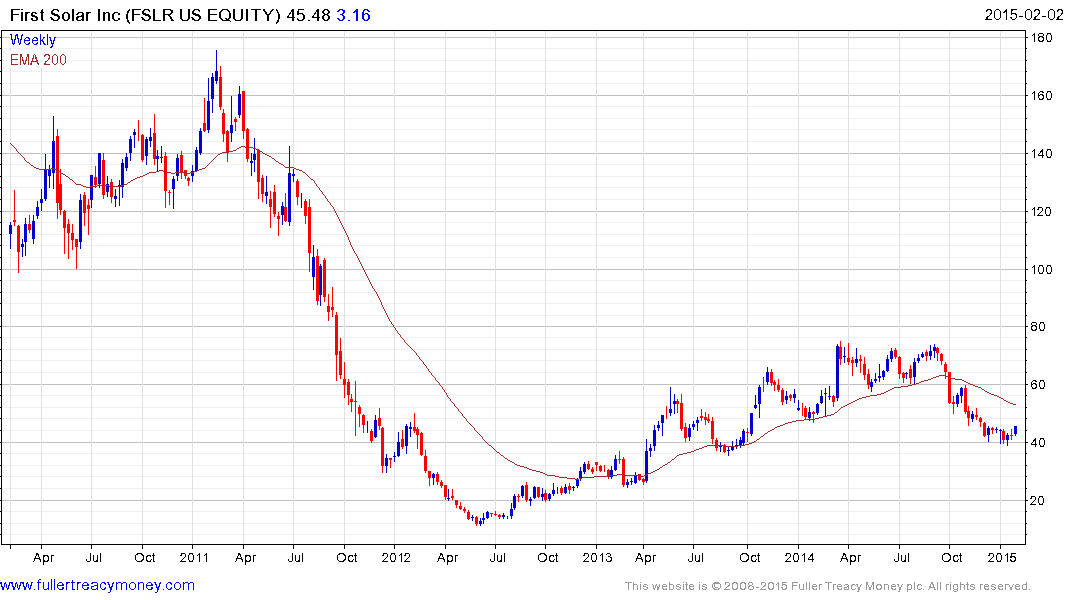 Companies in the solar sector had also experienced sharp declines and bounced today. First Solar is representative.
Back to top