Musings from the Oil Patch Ocotber 24th 2017
Thanks to a subscriber for this edition of Allen Brooks' ever interesting report for PPHB. Here is a section:
If you are Saudi Arabia, a one-product (oil) economy, and you are watching the aggressive adoption of government policies around the world to stop the sale of internal combustion engine cars, you have to be concerned. Given that France and the UK have announced bans on the sale of ICE vehicles by 2040, auto industry executives are assuming China will adopt a similar date. The Netherlands just adopted a 2025 ban on the sale of new ICE cars, with a 2030 date for all ICE cars to be off Dutch roads.

?For China, the world's largest car market, having sold over 28 million cars last year (nearly a 14% year-over-year increase), the banning of ICE vehicles will shrink the need for, and eventually eliminate motor fuels, which will have a material impact on Saudi Arabia's long-term oil export opportunities. When considering that Saudi Arabia has been fighting Russia and Iran to gain an increased share of the Asian, and especially Chinese, oil markets, anything threatening the long-term success of that fight is of concern, even if it is a future event.

Is the industrial policy to ban ICE vehicles a signal of the impending end of the Petroleum Age, much like Sheik Yamani predicted? Is that prospect part of the motivation behind Crown Prince Salman's plan to sell off a portion of Saudi Aramco, either in an initial public offering or through a direct sale to sovereign wealth funds to raise money now for diversification investments? In a way, current industry developments and future prospects are similar to the forces that drove OPEC's formation in 1960. A brief review of history may help put into perspective why OPEC is struggling to remain relevant now, and will likely continue to struggle in the future.
Here is a link to the full report.

The argument about the exact timeline for when renewables will represent a dominant position in the energy mix and in the transportation sector continues to receive a great deal of attention. However, the bigger picture is that energy providers, who have little choice but to adopt very long-term perspectives, have already concluded that the heyday of the oil market has passed. That should help to inform our view of what the medium-term perspective on the energy markets is.

Energy security tends to be omitted from a lot of the discussions relating to the growth of renewables. It is certainly true they are intermittent and batteries still have some way to go in term of innovation but they are domestic. When countries are dealing with increasing deficits and unfunded liabilities it makes sense to take measures to which boost domestic supply. The oil majors are still adjusting to a lower for longer market profile but domestic US production is increasingly competitive at prices below $50. That suggests the USA is now a pivotal swing producer in the global market which also removes some of the need for international adventurism.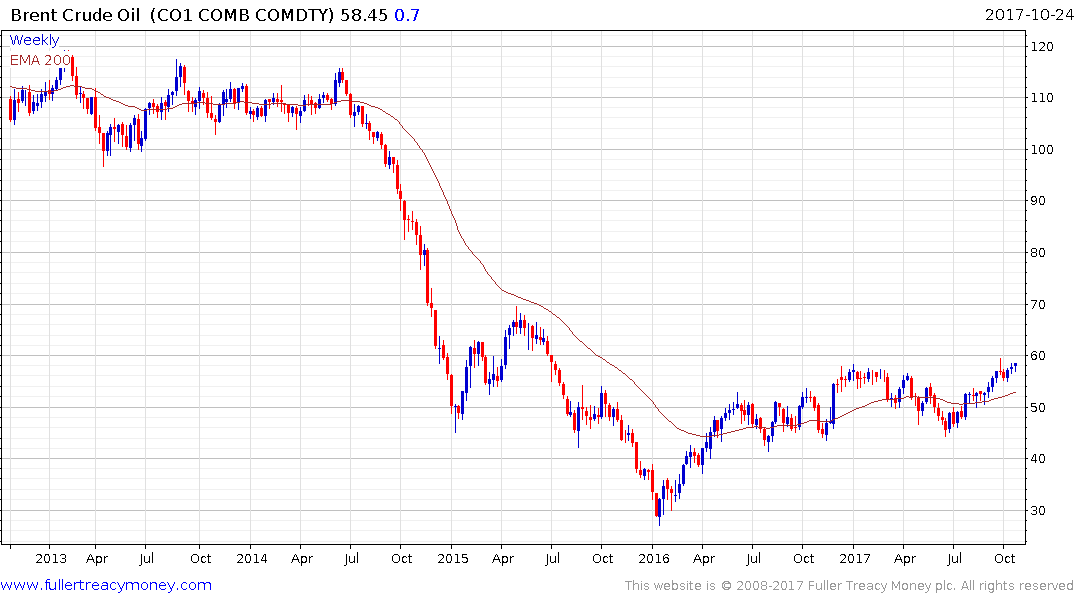 There are long-term considerations but in the short-term the conventional fundamentals of the market are still influenced by OPEC, geopolitics, US shale and the rationalisation of the oil services sector. Brent Crude has trended higher in a consistent manner since June and the latest range has a similar amplitude to that posted in August. A sustained move below $55 would be required to question near-term scope for a successful break above $60.

Here is a link to last week's edition of Musings From the Oil Patch which also discusses the future of the energy mix.
Back to top