Major lithium-ion battery manufacturer planning output that may rival entire 2015 LIB market: analysts
This article by Michael Allan McCrae for Mining,com may be of interest to subscribers.
LG Chem, a major South Korean lithium-ion battery manufacturer, is increasing its cell manufacturing capacity to such an extent that it may surpass the entire LIB market in both output and raw material consumption from just three years ago.

Roskill, industry analysts that ran the numbers on LG Chem's planned output, says that South Korean manufacturer plans to increase capacity to 90GWh in 2020 from a previous forecast of 70GWh.

"Assuming 100% of output was to be NMC532, 90GWh would require around 100kt of cathode, containing 40kt nickel, 22kt cobalt, 16kt manganese and 50kt lithium (carbonate equivalent), and 90kt of anode materials which could be 100% graphite," writes Roskill.

"If producing at capacity, LG Chem's LIB output and raw material consumption would be greater than the entire LIB market in 2015."

LG Chem, South Korea's largest chemical company, is one of the top five LIB manufacturers. It makes batteries for the Ford Focus, Chevrolet Volt and Renault ZOE.

LG Chem has been making deals to ensure it has raw material. This past spring Zhejiang Huayou Cobalt and LG Chem announced they are planning a cathode material facilities with capacity of 40,000tpy and 100,000tpy capacity planned for future. It also signed deals other raw material deals with Nemaska Lithium and Ganfeng Lithium.

While cobalt and lithium prices are currently falling, Roskills says cell manufacturers are locking in supply and ". . . that activity in the sector continues at a rapid pace."
The auto-manufacturers sector remains under stress because of continued issues with revelations about emissions cheating; most recently in Japan. The cost of meeting current emissions standards not to mention the tightening of regulations slated for the next few years represents a significant cost for just about all conventional car manufacturers. The fact the majority of manufacturers are planning on releasing electric vehicles is as much about responding to Tesla's success as it is about the challenge of meeting regulations that are now going to be enforced.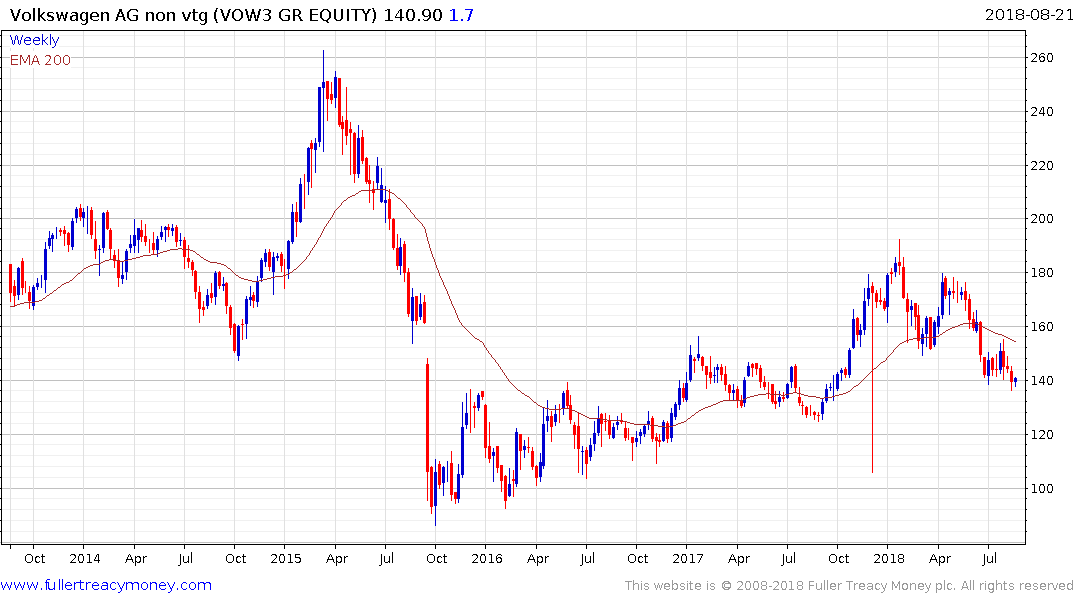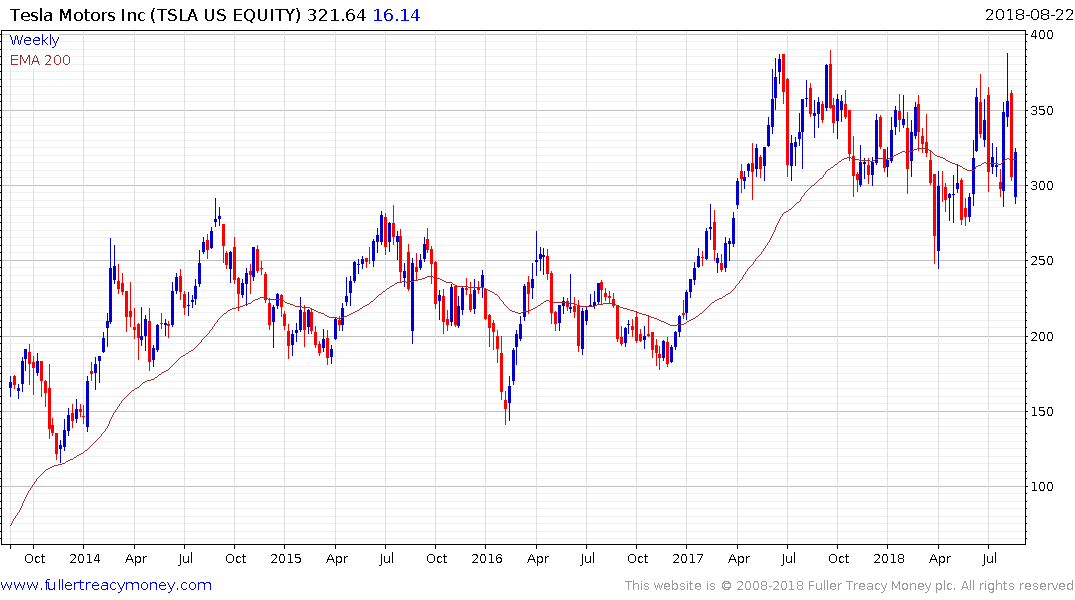 Embarking on its Gigafactory construction project resulted in Tesla's share ranging in a volatile manner until it was completed. LG Chem's project is likely to be at least as expensive and therefore represents a headwind because it will be at least three years until it generates income from the investment.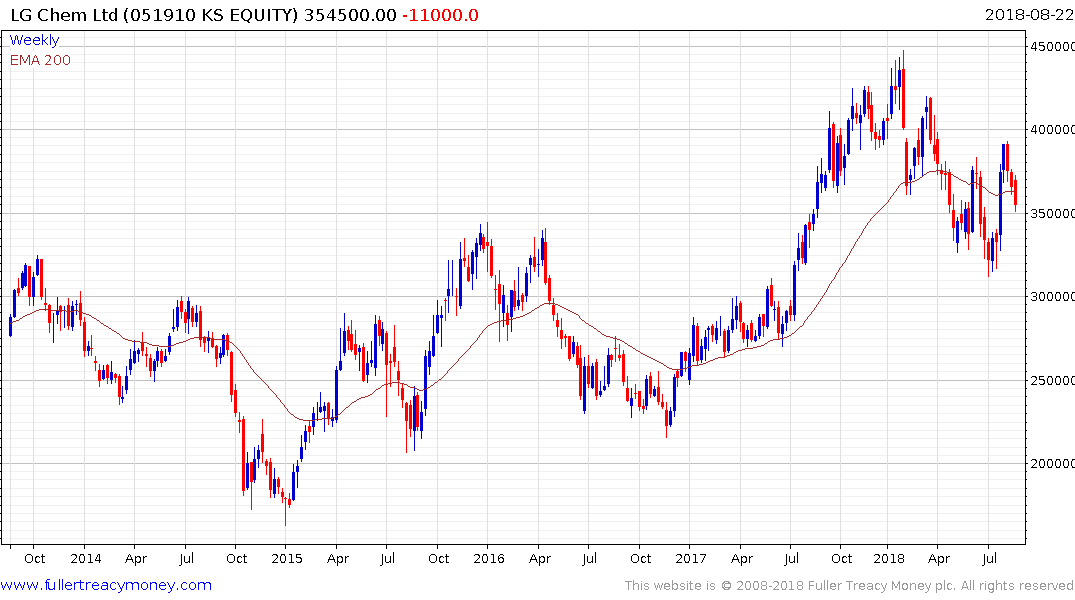 Additionally, LG Chem is not the only company planning on a massive infrastructure spend. CATL, which is China's largest battery manufacturer is also planning on spending a great deal of money to become the world's largest battery manufacturer.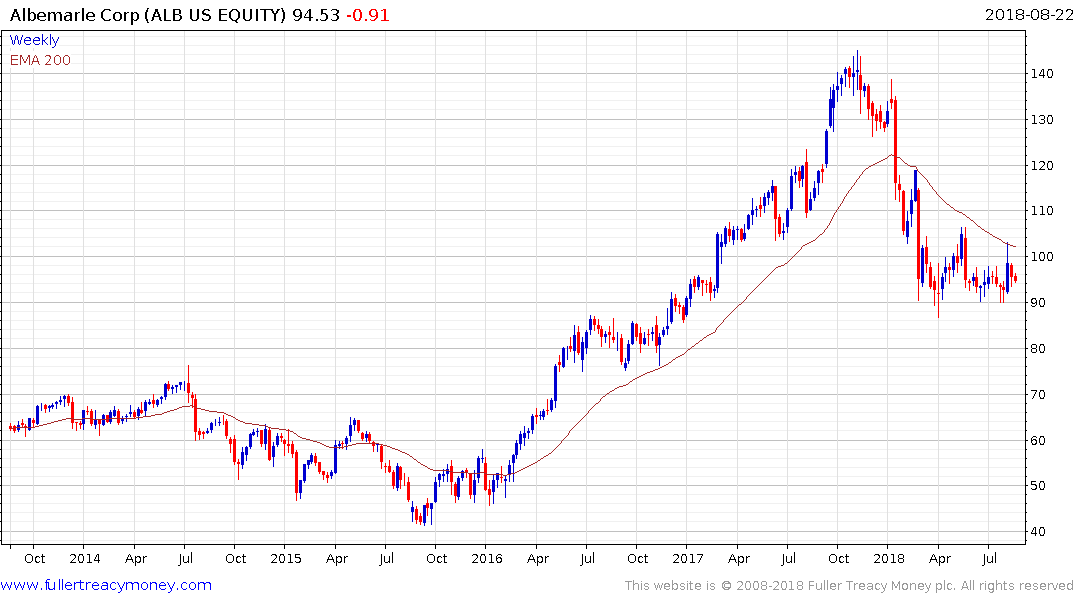 Massive investment has been underway for at least the last three years in the lithium mining sector aimed at supplying these factories. Part of the reason related mining stocks are underperforming is because supply is coming to market ahead of the projected demand jump.
Back to top