From cars to power grids: battery technology from Daimler is accelerating the transition to renewable energy generation
This article from Daimler highlights its entry into the domestic and commercial energy storage sectors. Here is a section:
Daimler is entering into business in the field of stationary energy storage plants with its one hundred percent subsidiary Deutsche ACCUmotive. The first industrial-scale lithium-ion unit is already on the grid and is being operated by the partner companies The Mobility House AG and GETEC Energie AG. For business with private customers in the area of energy storage in Germany, Daimler AG is planning to collaborate with EnBW AG. Daimler is also aiming to enter into cooperation with other sales and distribution partners both in Germany and at international level. "Mercedes-Benz energy storages provide the best confirmation that lithium-ion batteries Made in Germany have a viable future," says Harald Kröger, Head of Development Electrics/Electronics & E-Drive Mercedes-Benz Cars. "With our comprehensive battery expertise at Deutsche ACCUmotive we are accelerating the transition to sustainable energy generation both on the road and in the field of power supply for companies and private households. The technology that has proven its worth over millions of kilometres covered in the most adverse conditions, such as extreme heat and cold, also offers the best credentials for stationary use. We have been gathering initial experience in this field since 2012."
Daimler was in the news last month for its introduction of driverless haulage vehicles to Nevada following the state's legislation on autonomous vehicles. The company's entry into the domestic and commercial energy storage sectors is equally ground breaking and suggests it has ambitions of being a pioneer in the future of transportation and energy storage.

Commercial Energy Storage has been around for a while but is only now gaining the critical mass necessary to move the needle in terms of earnings for the companies involved. Home Energy Storage is a totally new phenomenon and represents a meaningful step forward in the growth of distributed energy production, use and storage. Not only will it help smooth out the peak to trough swings in the demand profile for electricity but it will make electric vehicles more attractive propositions.

In the domestic energy storage sector Tesla, Daimler and Sma Solar Technology are the primary investment avenues.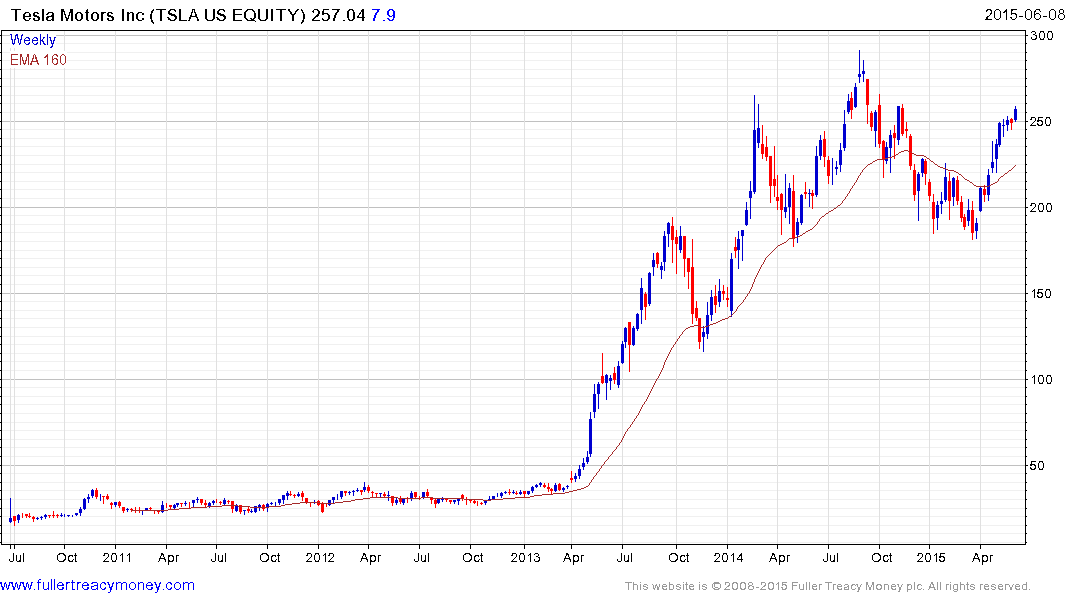 Tesla is better known for its cars but is primarily a battery company. The share continues to extend its rebound from the March lows and a sustained move below the 200-day MA would be required to question medium-term scope for additional upside.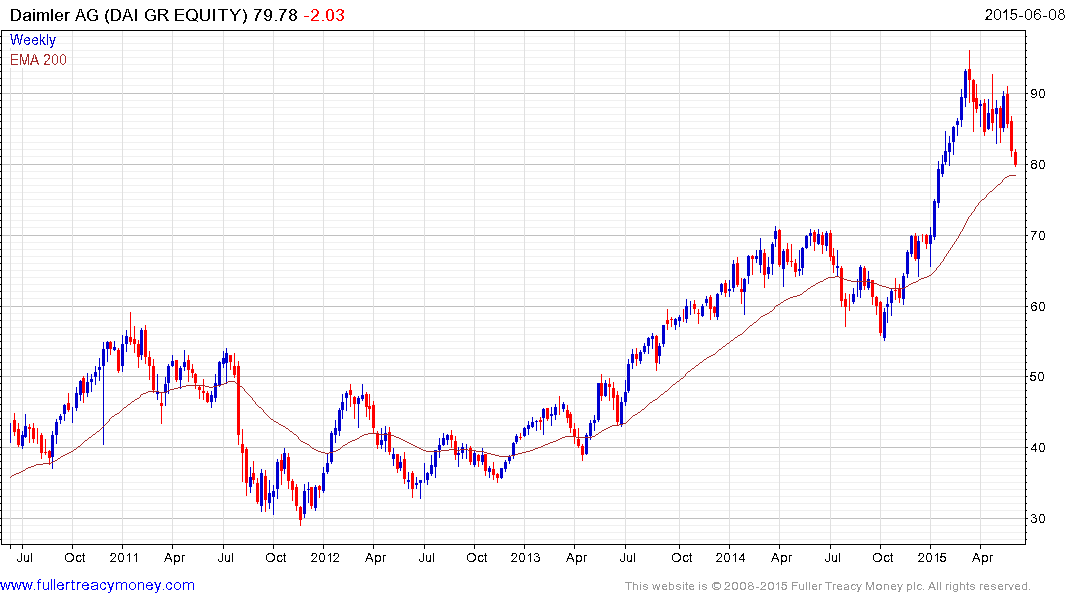 It will be a while before autonomous vehicles and energy storage represent more than a negligible portion of Daimler's earnings. The share has now closed its overextension relative to the 200-day MA and is short-term oversold following nine consecutive sessions to the downside. A clear upward dynamic will be required to check the decline.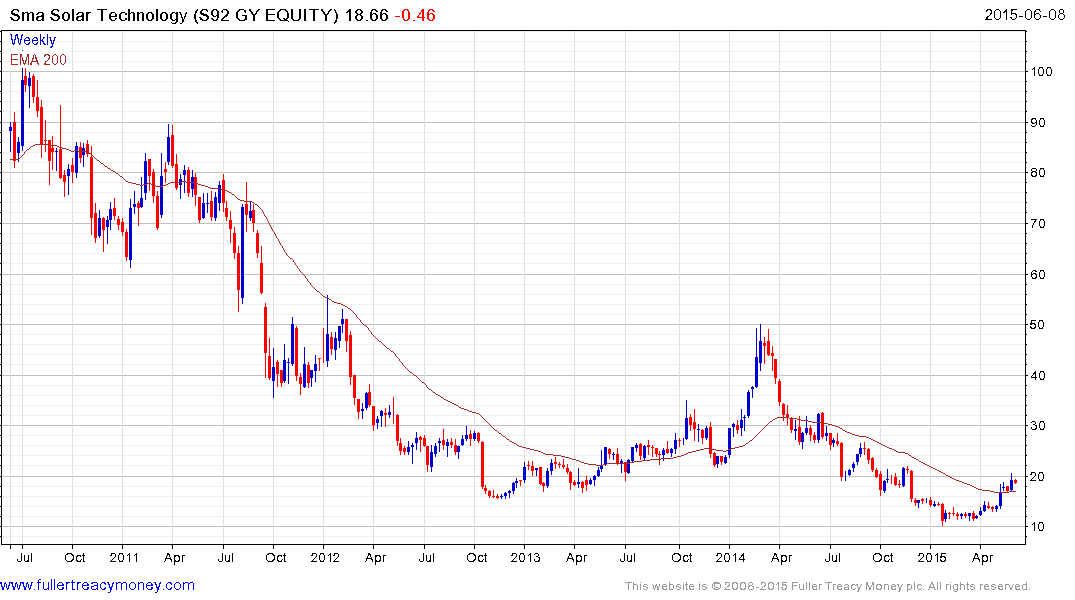 Sma Solar Technology saw its price collapse as competition in the solar inverter sector increased. It released its home battery more than a year ago and this probably represents the company's greatest potential growth avenue. The share has doubled since January and a sustained move below the 200-day MA would be required to question medium-term recovery potential.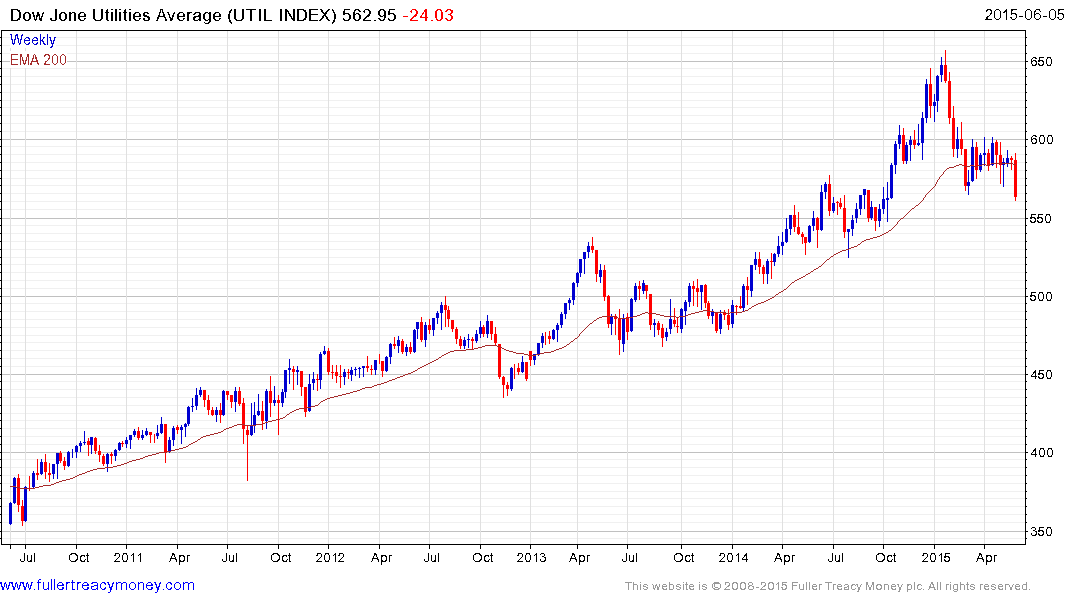 The utilities sector has long been associated with the bond market due to the stability of its cash flows but domestic energy storage represents a potential threat. The Dow Utilities Index hit an accelerated peak in January and broke down from its three-month range last week. A sustained move above 600 will be required to signal a return to demand dominance and to check potential for a further test of underlying trading.
Back to top