China Banks Stockpile Record $1 Trillion of Foreign Exchange
This article from Bloomberg news may be of interest to subscribers. Here is a section:
Some officials "may see the foreign-exchange liquidity as a feather in China's cap, and some may worry that the surge is flighty," said George Magnus, a research associate at Oxford University's China Centre. "It's fine when the flows are coming in, but a big problem for financial stability when they try and go the other way."

For Magnus, the increase in dollar deposits is "random and most likely temporary," and will slow when other nations recover from the pandemic.

While it lasts though, the situation offers an opportunity for China to implement reforms and loosen its grip over its tightly controlled capital borders.

"China will take the chance of flush dollar liquidity to make its cross-border flows more balanced," said Becky Liu, head of China macro strategy at Standard Chartered Plc in Hong Kong. "Policy makers in the coming two to three years will keep widening channels for funds to leave the country."
China's accumulation of Dollars as a result of the relative strength of the economy during the pandemic should naturally put upward pressure on the currency. The rally over the last year is at least a partial reflection of that. The big question is how do they loosen capital controls while also discouraging capital flight?
The crack down on cryptocurrency mining and trading is at least partially aimed at ensuring that any easing of policy does not result in citizens using these vehicles to "jump the wall". It's one thing to allow the movement of institutional money from the mainland to Hong Kong and quite another to allow unfettered access for everyone to the outside world.
Additionally, China is on the cusp of releasing its own digital currency and is clearing the field so it will face no competition or arbitrage opportunities in the domestic market. The plan to deliver full transparency into how money flows and who holds it is the ultimate in state oversight and intrusion into the lives of citizens. That's about as far from the libertarian ideal of independence from government issued fiat currency as one might imagine.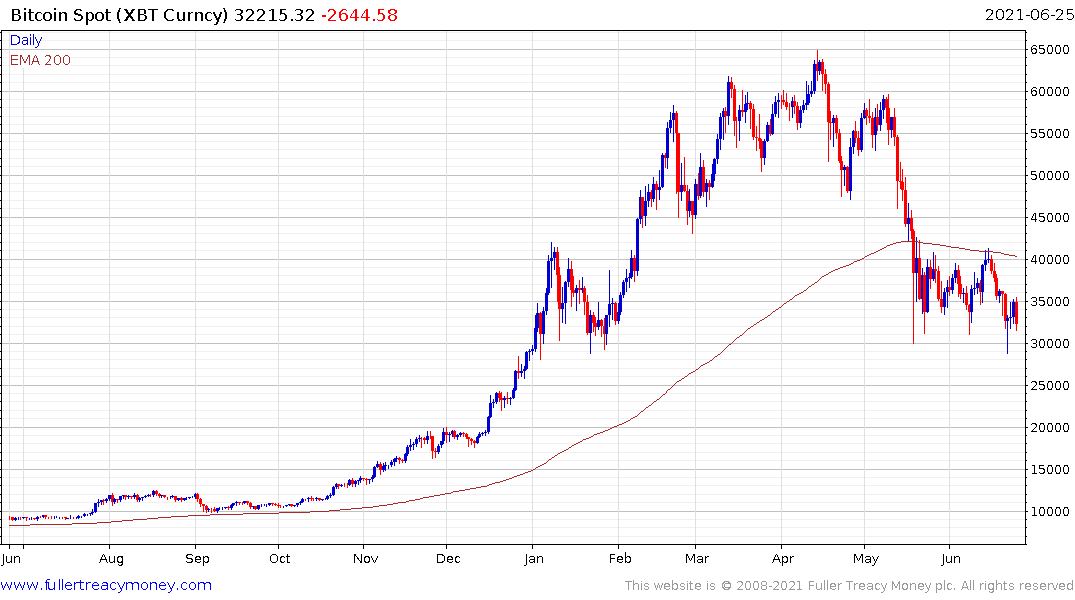 Excising the world's second largest economy from the market is acting as a significant drag. The price dropped back to test the lower side of the range near $30,000 today, which was a new closing low. Every other time it has tested this level there has been an intraday bounce. The absence of that move today is setting up a make-or-break weekend of trading for bitcoin.
Back to top